Through Good Times And Bad
Mr. Bill's Seafood Express in Lake Charles reopens with a new look, same great food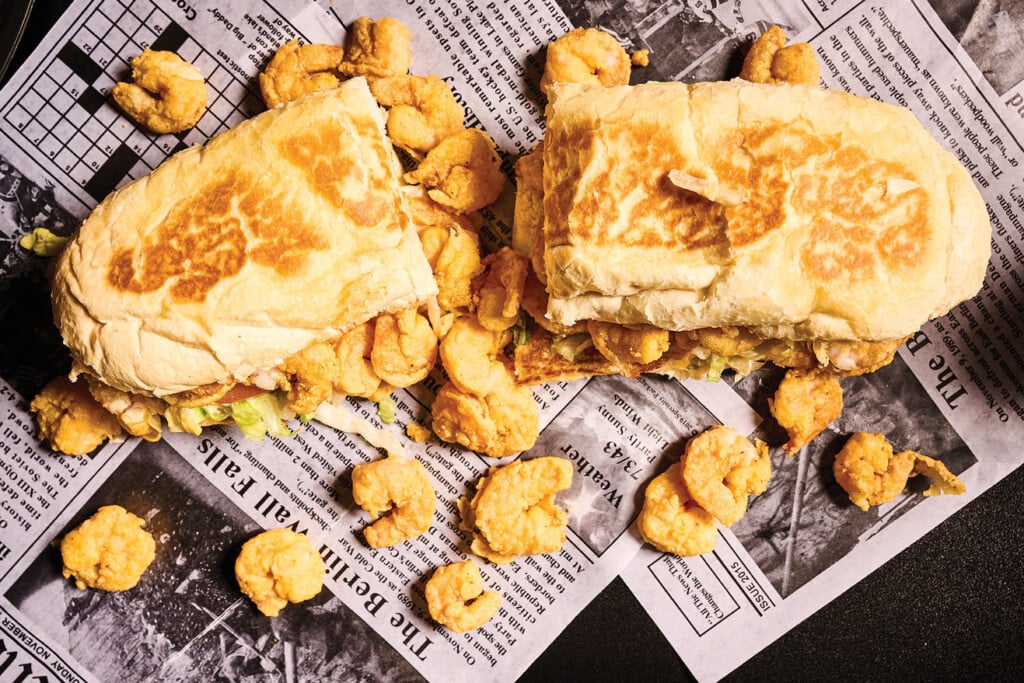 Resourceful and committed restaurant owners share a similar trait exhibited by successfully married couples. How on Earth can someone compare participants in the culinary industry to people who developed a personal relationship that evolved into a union? Well, both restaurant owners and couples have decided to stick it out through the good times and bad; for better or worse.
In Lake Charles, Jason Guillory, and his cousin Chad Pousson — owners of Mr. Bill's Seafood Express — just reopened their restaurant located near McNeese State University.
Prior to 2020, the year locals in South Louisiana witnessed COVID-19, hurricanes and historic freezes and flooding, Mr. Bill's was the consummate hole-in-the wall restaurant. It was open for nearly three decades and had a loyal following.
Boiled crawfish, fried seafood, stuffed potatoes, and plate lunches were the restaurant's calling card. A down-home and family atmosphere bolstered Mr. Bill's experience. Here, strangers had been known to share a table and become friends while eating po' boys.
The restaurant's décor was always simple — white walls were covered with newspaper clips and pictures featuring McNeese State University athletic greats and moments.
Visitors could even see longtime kitchen staff prepare delicious food because the restaurant's dining and cooking area were divided only by a counter with a cash register.
Nature, by way of big storms, beat up the old Mr. Bill's building. After a tussle with the insurance company and lots of out-of-pocket cash for repairs, Guillory and Pousson reopened Jan. 4, 2023.
On that day, the guys expressed their excitement by serving a plate lunch with barbecued pork steak, baked beans and rice dressing.
"We wanted to make this a family sports bar," Jason Guillory explains. "This is a place where mom and dad can come with their kids. While the parents talk, the children can watch TV and all of them get good food."
Since Guillory bought the restaurant from family members in 2005 (Pousson became a partner several years later) boiled crawfish have been the big revenue generators. Once the season ended, the guys worked hard the rest of the year, but it was a struggle, Guillory said.
While rebuilding the restaurant after the storm, the men installed a bar that jazzes up the relaxed atmosphere just a tad.
Aside from crawfish, the fried shrimp are a customer favorite. "Well, we've been voted best fried shrimp in Lake Charles for years," Guillory said.
The hamburgers and fried oysters are also menu items that regular customers order.
Since opening again, customers have flocked to Mr. Bill's. Being able to serve food and get community love in return has left an impression on Guillory.
"
This is humbling. We have always given back to McNeese and our customers by being here and supporting. To see it all come back to us is incredible. Sometimes, I get emotional," Guillory said.
It is amazing to see food professionals stick it out when it would be easy to give in.
Love of good food, good people and a strong community are the reasons Guillory and Pousson keep on keeping on. For better or worse.
Mr. Bill's Seafood Express
500 E. McNeese St.
Lake Charles
337-477-9746
Try This!
1
Best way to start a meal here
Hand-battered pickles and jalapeño served with jalapeño ranch dressing makes the mouth pleasantly simmer.
2
Seafood
Two pieces of fried catfish fillets and six shrimp. Guillory says the art of making good Cajun-inspired food is to keep it simple and showcase the seafood — mission accomplished.
3
Eat the beef
A half-pound pepper jack hamburger topped with mayo, lettuce, tomato, pickle and onion is a quick and tasty way to curb hunger.