Gulf Coast Twist
Spoonbill Watering Hole in Lafayette combines cooler-than-cool vibes with avant garde eats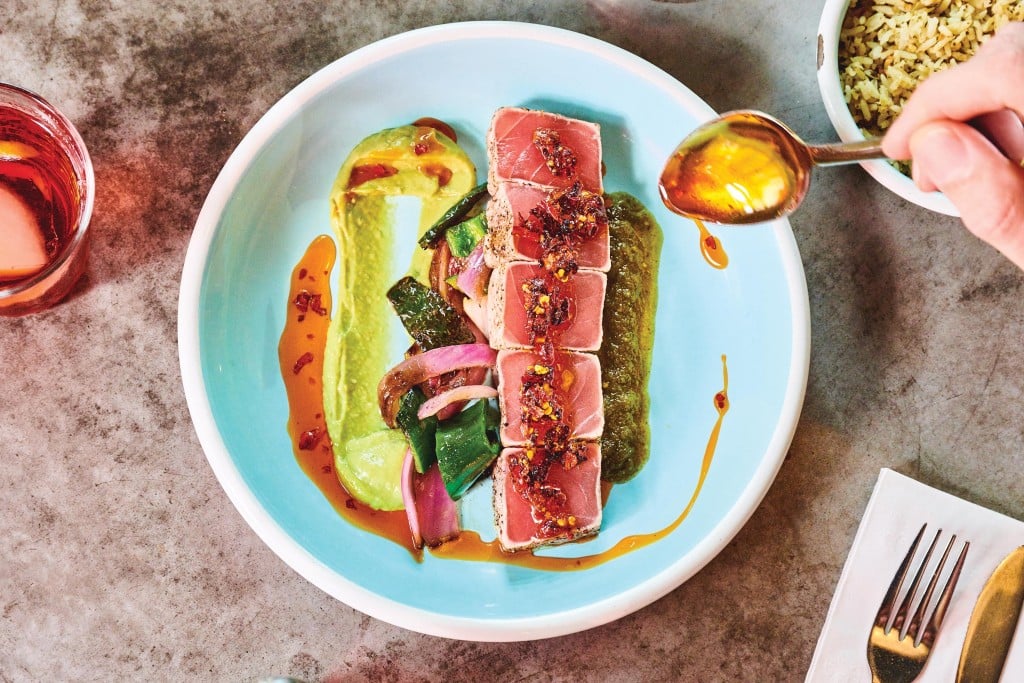 Lafayette Chef Jeremy Conner had one stipulation prior to joining forces with two other investors and concocting a plan to open up a new restaurant in Lafayette. Based on his personal experience — which like most kitchen professionals consists of time working in great, OK and dubious working conditions — Conner wanted to make sure that any enterprise into which time and sweat would be invested was "the perfect situation."
Based on the delicious food, cool location and customer satisfaction levels observed at the Spoonbill Watering Hole and Restaurant, Conner got his wish.
The short version of what makes the Spoonbill a place inquiring foodies should visit:
• Cool decor that features the roseate spoonbill bird (a natural creation that is pink, stately and wonderful to look at in the bayou) along with a patio dining area that provides a full view of downtown Jefferson Street.
• An attentive front-of-the-house staff that understands the menu and will recommend dishes.
• A casual atmosphere which emphasizes what restaurant partner Stephen Verret refers to as "party up' which means either before or after a night out, the whole Spoonbill staff wants to make sure a patron is satisfied outwardly and internally.
• Dishes that come out of the kitchen are creative and feature big and bold international flavors with a Gulf Coast twist.
One dish that deserves attention from a Spoonbill Watering Hole patron is the seared tuna. According to the restaurant menu, the dish is "rare seared Gulf tuna over avocado crema with cast iron roasted poblano and red onion topped with green dragon sauce and chili oil."
The green dragon sauce is a creation from one of Conner's former staffers. "We used to make candied jalapeno relish in the past. We had a cook named Pavena (family from Laos, who lived in New Iberia) who moved on, but she liked to play around in the kitchen. Basically, she made a batch of jalapeno sauce but pureed it. I have to give her credit. We named it green dragon sauce to go along with our red dragon sauce," Conner said.
Visitors to the restaurant will notice a number of menu items that seem different and even a bit avant garde. Such is the flavor experience that Conner and his business partners (Stephen Verret and Adam Loftin) want patrons to experience.
Conner admits that there are a plethora of excellent home cooks in the Acadiana region which raises the stakes for his kitchen crew. His team's mindset is to introduce flavors and cooking techniques that take eaters on a trip.
"I have a little advantage from an outsider's perspective. I was born in Alabama, but spent time working in restaurants in Pensacola, Florida. Over there, we have a lot of Gulf Coast influence. Pensacola seafood is very important on the plate. I bring that style of cuisine along with influences from Asia and Central America which are presented on our plates," Conner said.
Visit the restaurant's website. Look at the menu items and corresponding images. You will be tempted.
In the Bayou region, this James Beard-nominated restaurant is the epitome of epic atmosphere and flavors served in a casual setting.
Try This!
1
Crab Quesadilla
Subtle seafood flavor emanates from this dish consisting of Louisiana blue crab, herbs and cheeses tucked neatly between flour tortillas.
2
Burger
Order one, most patrons do. Aside from a great flavored patty, the potato roll may actually be the secret of this Spoonbill kitchen creation.
3
Street Corn Salad
Thoughts of exotic locales may percolate in the mind after eating this flavorful treat.
4
Sunday Brunch: Brie Toast
Visit the Spoonbill website, look at the picture, and chances are you have decided this dish is a must have.
Spoonbill Watering Hole and Restaurant 
900 Jefferson St.
Lafayette
337-534-0585
spoonbillrestaurant.com