Shock and Aww Yeah
The Steamboat Warehouse in Washington is celebrated by diners and media alike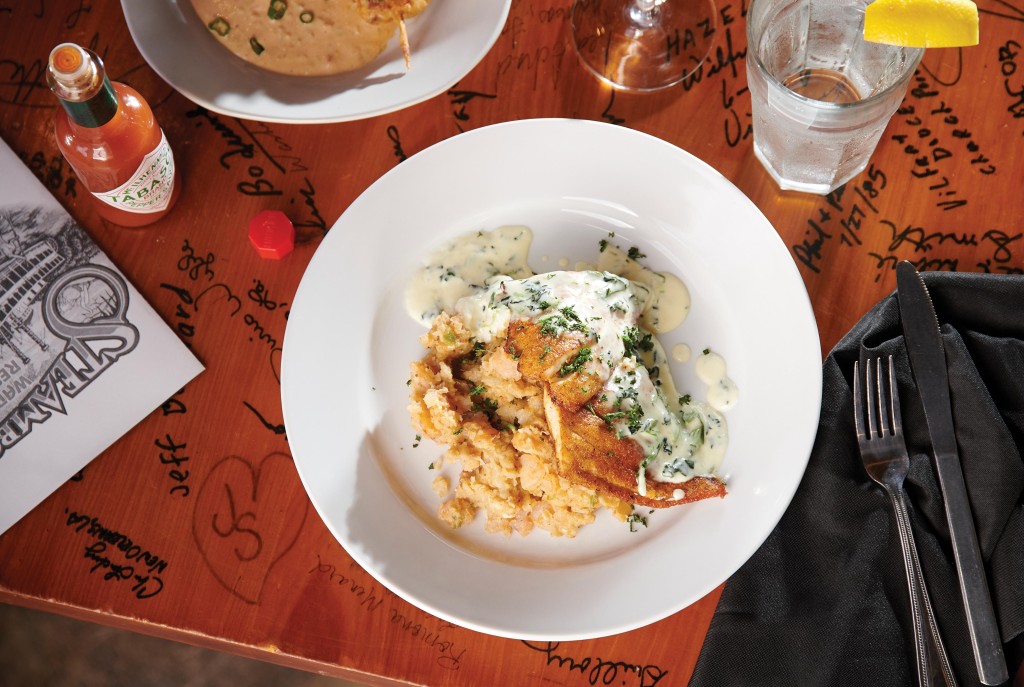 People who love to indulge themselves on meats, seafood and vegetables prepared with strong Cajun-inspired influences know they are at a happy place when visiting the Steamboat Warehouse restaurant in Washington.
What diners may not know is that the shock and awe they experience eating food prepared in the restaurant's kitchen is equally shared by the culinary maestro responsible for the creations.
Port Barre resident Chef Jason Huguet probably pinches himself every day after waking in order to prove his life is not a dream.
For starters, at the age of 30 Huguet became the owner of the rustic warehouse (constructed in 1823) restaurant. Since then, the chef has grown a loyal customer following, created over 30 award-winning dishes, been featured in numerous broadcast and print media outlets and established a wonderful staff.
As a side note … the chef started working in the same restaurant as a teenage busboy in the 1990s.
"A lot of people ask me how soon did I know I wanted to be a chef and I say it is almost like something happened and the career chose me. I never said when I was growing up 'I want to be a chef' … it just happened. It is a blessing how it all happened from beginning to end," Huguet said.
He is not being flippant in explaining what seems like an easy career path. Things just fell into place and Huguet worked hard the rest of the way.
The guy caught the eyes of established chefs and restaurateurs early in his career.
Graduated top of his class in 2000 from the Chef John Folse Culinary Institute in Thibodeaux. Worked at K-Paul's Louisiana Kitchen in New Orleans with kitchen stops in Texas before coming back to his culinary home at the Steamboat.
Since taking over the eatery, the menu advertises Huguets list of hits.
For instance, the Sidesaddle Angels are an appetizer that won Huguet a medal at a food contest. The dish consists of shrimp stuffed with oysters, wrapped in applewood smoked bacon, and then fried and plated with a remoulade sauce.
A fan of seafood, Huguet's Redfish Lafourche is a flavorful dish featuring the salt water fish broiled in lemon butter and garlic then placed on a bed of blue crab and Gulf shrimp stuffing which is all topped with a florentine sauce.
Huguet notes that most of the dishes on the menu have an individual story. One of which stands out to him is on the appetizer list.
"The Black Forest Tenders are the result of a patron. He came in one night and asked me to cut up a filet mignon and fry the pieces," Huguet recalls.
What started out as a questionable request, is now a top seller.
Another menu grabbing dish, that happens to be one of Huguet's favorite to prepare, is the Softshell Cypremort.
Huguet loves to eat soft shell crabs, and putting this prize-winning dish together gives him goosebumps. The crab is stuffed with shrimp and crab meat, deep fried and served on angel hair pasta with an herb cream sauce drizzled on top and finished with shredded Parmesan cheese.
Has shock and awe registered in your mind yet? Imagine what is going on in Chef Huguet's mind and spirit as he relishes all the fun, flavor and happy customers.
It's like a never-ending dream for all involved.
Try This!
Savory Sampling
1
Stuffed Bell Pepper
An award-winning appetizer that melds a veggie, seafood and a cream sauce.
2
Steamboat Gang Plank
One of the restaurant's standard menu items that never loses its appeal. A ribeye, bread and crawfish étouffée … the foundation of a stupendous dinner.
3
Seared Tuna
Chef Huguet likes this dish a lot. Seared tuna finished with a neat drizzle of blue crab cream sauce. This is going to get a foodie's attention.
Steamboat Warehouse Restaurant
525 N. Main St.
Washington
337-826-7227
steamboatwarehouse.com