Hot Diggity Dog!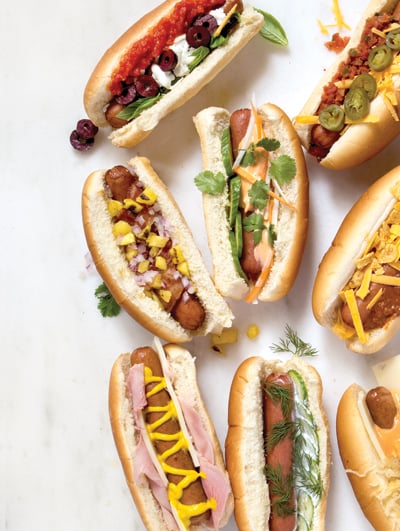 My penchant for hot dogs goes back to my childhood, and it began with my father spoiling me when Mama wasn't around. Papa was a Boy Scout leader for years and was a big believer in cooking over a wood fire. During most weekends, he could be found at his fire pit frying fish or making a gumbo or bouillabaisse. When the fire smoldered down, he declared it was the perfect fire over which to "roast a weenie" fitted on the end of a wire coat-hanger. There was always a stash, either in the 'fridge or in the freezer, of red weenies. No matter if we didn't have hot dog buns, a slice of Evangeline Maid white bread made a perfect wrap for the blackened dog when it came off the fire. A squirt of Zatarain's Creole mustard and maybe a few slivers of whatever cheese was hanging around paired quite nicely with my weenie.
As I skipped along my culinary trail, I was happy to find hot dog poor boys dressed with yellow mustard and a hearty chili on toasted crusty French bread at several poor boy shops in New Orleans. During my four years of living in the French Quarter, I ate my weight in Lucky Dogs, which I often consumed (loaded with lots of chili, onions and sweet pickle relish) on my walk back to my apartment after imbibing at the various bars in my neighborhood. In 1964, I visited the World's Fair in New York City and was introduced to a Coney Island hot dog, which featured a warm wiener nested on a soft bun topped with chili, a a good amount of chopped onions and squirts of yellow mustard.
In recent years, I have become quite a fan of the hot dog at an old Tastee Freeze in downtown St. Martinville. The bun is really a small, crusty French bread (not as big as a poor boy but larger than a regular hot dog bun), and the wiener is big and long, which fits perfectly in the bread, and all is covered in a delicious house-made chili and topped with grated cheddar cheese. It's good and is often my Saturday lunch treat when I'm working in my yard.
And now that the long, leisurely days of summer have arrived, I'm itching to build a fire in the fire pit (like Papa's) and roast some weenies, but I'm anxious to try some new innovative dogs. Of course, you'll have to make your choice of the wiener (also called franks), and there is certainly a wide variety now on the market. Big and juicy, slender and long, some are labeled "all beef" and others well, you know what I'm talking about – made with a variety of "meats." Use regular hot dog buns, toasted pistolettes, French bread or whatever bread strikes your fancy. The wieners can be roasted over an open fire, boiled, or zapped in the microwave. I sometimes put them on a cookie sheet in a hot oven. You're only limited by your imagination, right? Here are some ideas to inspire your creativity.
My husband, Rock, offers this idea – wrap your wiener in bacon, stick it on the end of a straightened wire coat hanger and stick in the fire. The bacon will crisp up, and the juices flavor the dog. Tuck it into a toasted hot dog bun slathered with yellow mustard and garnished with caramelized onions (do this in a cast-iron skillet). You can turn it into a BLT by dressing it with shredded lettuce and finely chopped tomatoes sprinkled with a few grindings of black pepper.

In the mid 1800s, German immigrant butchers began selling various sausages in varying sizes. They called the long, thin ones "daschund" sausages. Over time this evolved into the term "hot dog."

I found some hot-dog-size veal sausages, which make a great substitute for the wiener. Brown the sausages in a cast-iron skillet and plunk them on a toasted pistolette (halved) and dress them with aioli (garlic-flavored mayo) and crumbles of bleu cheese.
A nephew of mine swears by his Frito-dog – a hot dog with chili, cheese and crumbled Frito chips on a bun. His children tell me his nacho dog that features minced jalapenos, salsa and shredded cheese is their favorite. Maybe add some refried beans or guacamole.
If Asian cuisine strikes your fancy, try this Vietnamese-inspired hot dog that is like a banh mi, dressed with pickled veggies, fresh cilantro, mint, and mayo spiked with sircacha mayo, much like one I found on the website Serious Eats. The site also showcased a Tiki dog "wrapped in bacon, brushed with teriyaki sauce at end of cooking, placed on a toasted bun, then topped with diced grilled pineapple, chopped red onion, and a light drizzle of more teriyaki sauce."
How about a pizza-inspired hot dog with shredded mozzarella and basil, pizza sauce, and black olives?
Go Greekish with tzatziki sauce, marinated thinly sliced cucumbers and a sprinkling of chopped fresh mint or dill fronds.
Since I am a big fan of Reuben sandwiches, try dressing the dog with sauerkraut, Swiss cheese and Thousand Island dressing.
Try a Cubano, adding thinly slices ham, Swiss cheese and a good dab of mustard to your hot dog.
A six-year-old great niece suggested plopping a roasted dog on a hot baked potato (cut in half) and adding sour cream, chives, bacon bits and grated cheddar.
And we must not forget pigs-in-the-blanket for youngsters – spread a dab of a mixture of mayonnaise and mustard on the blankets before you roll them up and pop them in the oven.