Visual Vocabulary
Lafayette artist Dusty Reed combines folk art and cubism to create works drawn from Cajun life in South Louisiana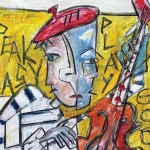 To see more of dusty reed's work visit cajunpicasso.com
"One look at Dusty Reed's paintings filled with fragmented, angular imagery and you'll know why he's called the Cajun Picasso. Like Pablo Picasso, who drew inspiration from African tribal art, Reed's art is in a sense a "tribal art" drawn from Cajun life in South Louisiana.
That similarity begs the question — did Picasso directly influence his painting style? No, Reed says, it came to him naturally. It was a visual vocabulary that arose from his imagination and experiences growing up in a Cajun family. A musician's frottoir, a shrimp boat, faceless eyes staring out from a canvas, and other elements of his visual vocabulary appear on canvas as somewhat familiar yet obscured in a mass of abstract juxtapositions. Like earlier Cubists, this is Reed's way of telling stories and portraying Cajun culture from multifaceted perspectives.
"I didn't go to art school," says Reed, "but I knew everybody loved Picasso. I didn't know any more than that. That was just a way to paint something Cajun in my language. I didn't want to do what everyone else did. And that's how I wanted to tell the story of Louisiana through the Cubist lens. The only thing similar to Picasso is the Cubist nature."
Born in Lafayette in 1981 and with undergraduate and graduate degrees in education and communications from the University of Louisiana Lafayette, Reed began his career not as an artist but as a teacher. In 2006 he decided to be a painter. He liked the "freedom of expression" art gave him. While in graduate school, he painted more and more to develop his own distinctive style while selling his work in a local gallery. That's when he got the name "Cajun Picasso."
"The gallery director came up with the name," Reed says. "I was painting this little figure I call the Bowtie Guy, a man with a top hat, no face and a bowtie. The gallery owner told the director that I had to paint something more Cajun. It was Cajun to me. I was kind of put off by that and that's when I started painting in straight lines in that Cubist style. When I showed up with two of my paintings, the gallery director said it's like Picasso but like Cajun, Cajun Picasso. And that stuck."
Pleased with the title, Reed has another name for his mixed-media paintings and found-object assemblages. He calls them "Colk Art" — a combination of Cubism and folk art that "brings folk art to a fine art level while using the tendencies of the folk artist."
After a decade of owning his own gallery, Reed now shows his "Colk Art" at the Lafayette Art Association & Gallery, where he has his studio, and at eight other locations in Louisiana and Mississippi. He also likes to do art festivals such as the Festivals Acadiens et Créoles in Lafayette and the Peter Anderson Festival in Ocean Springs, Mississippi. Such outings enable him to talk with people, to reveal "little secrets" in his paintings and to see their reactions to his work.
"I don't have to sell it," he says. "The comments they make are validation and a drive for me to produce more. In my heart I know what I'm doing is right and feels right but hearing that from someone else is so great. I love sharing the stories of Louisiana. Being an artist is lonely. It's part of you and you just can't turn that off."
Lonely, yes, but knowing his art is in homes across the country lessens that loneliness. In a sense, Reed says, "I'm part of their lives."