Catch And Release
Lafayette nature Photographer Gary Meyers finds endless inspiration in Acadiana's lush landscapes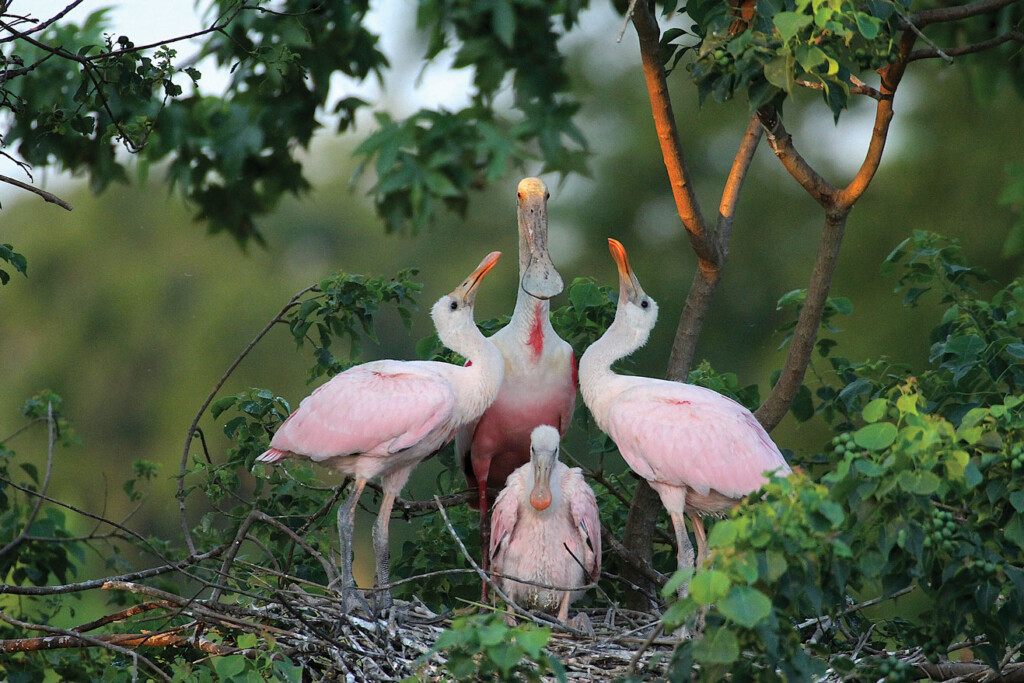 Lafayette nature photographer Gary Meyers gives new meaning to the old sportsman adage, "catch and release." With his camera and kayak, Meyers — dressed in camouflage — moves quietly through the swamps and bayous of Louisiana's Acadian parishes, capturing thousands of split-second images of the region's natural beauty.
Born and raised in Lafayette, the 66-year-old Meyers has spent most of his life fishing and exploring the region's watery landscape. Places such as Henderson Swamp, Belle River, Atchafalaya Basin, Bayou Teche, Bayou Benoit, Lake Martin, Two O'Clock Bayou, Lake Fausse Pointe and the names of local wildlife management areas roll off his tongue like a railroad conductor calling out approaching whistle stops. With his camera, he moves through those dark waters in his kayak with the stealth of an alligator approaching its prey.
"When you are out there in the wild moving around in their territory, you have to be quiet," he says. "Sometimes it will take me 20 minutes to paddle 30 yards just to get a little closer to something. It's knowing what their habits are, what spooks them and taking your time and being careful."
Over the years, just being there has resulted in a stunning body of images such as a chevron-winged white heron gliding through a misty cypress swamp, a ruby-throated hummingbird feeding upon a Turk's cap flower or flowering water hyacinths framed against a foggy backdrop of cypress trees.
"When I'm coming out of the swamp," he says, "I'll stop and get something to drink. Because I'm wearing camo, people standing around think I've been out hunting. They ask, 'Did you do any good?' And I say, 'Yeah, I probably got 13- or 1,400.' And they say, 'What?' And I say, 'Well, I shot them with a Canon.' Then I tell them I'm taking pictures with my Canon camera. I always get a few chuckles out of that. When I was doing a lot of fishing, we did catch and release, now I shoot and release."
Though Meyers' interest in photography began as a hobby about 35 years ago, he took it up seriously 17 years ago. Then COVID-19 hit and he lost his job managing a sign printing shop. Now in forced retirement, he can devote more time to exploring those familiar landscapes. It has become his passion.
"It's just being outdoors among the wildlife, the cypress trees, the sunrises, the sunsets," says Meyers, who prefers to shoot during the so-called "golden hours" two to three hours after sunrise and before sunset. "It's quiet and serene. I'm just enamored with the outdoors, everything from bees and butterflies and birds. I may have a thousand shots of a roseate spoonbill, but I always want to get a better one."
Paddling alone through a vast swamp can have risky moments. Meyers recalled the time he got too close to a nesting female alligator. She came out with her teeth exposed, hissing loudly. He judiciously back paddled, stating, "Oops, sorry, mama." Another time a water moccasin struck at his leg but didn't penetrate his jeans. From then on, he has worn boots with snake leggings.
When Meyers is not out alone in the swamps, he gives guided swamp tours for professional and amateur photographers who come from all over the United States and Europe.
"They come to see the scenery and to get out into the swamps," says Meyers. "I stay within 80 miles of Lafayette. I take them out in the kayaks and sometimes I do it from the shoreline to shoot pelicans, shore birds and seagulls. Sometimes I shoot where the birds nest, so you can see the breeding plumage. It's hard to guarantee you'll see a black bear or bobcat, but the birds are easy."
While some people have told him they live vicariously through his images, others have suggested he could make more money photographing weddings and graduation ceremonies. He has a perfect reply:
"I tell them if I take a bad picture of an egret, it doesn't want its money back. It just doesn't interest me. I'd rather be outdoors. I enjoy being out there."
MEET THE ARTIST
Gary Meyers
Hometown Lafayette
Age 66
How long he has traveled in the swamps I've been going into the swamp since I was 6 or 7. I did a lot of bass fishing when I was young but didn't hunt much. When I look back and remember all the stuff I saw when I was fishing, I'd say, 'Man, I wish I had my camera then.'
Web facebook.com/imagehunter1naturephotography