The Biedenharn Museum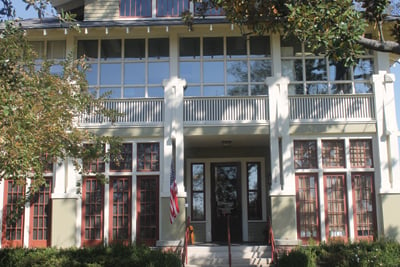 It's the classic image of a classic American drink: Coca-Cola in a glass bottle. And we have a local businessman and politician named Joseph A. Biedenharn to thank for this icon.
Biedenharn owned the Biedenharn Candy Company in Vicksburg, and in 1894 he and his brother Herman had the bright idea of putting Coca-Cola into bottles for their customers to enjoy away from the store's soda fountain. That simple idea was revolutionary, and it made the Biedenharns the first to ever bottle Coca-Cola.
Joe Biedenharn guided his company's growth as it opened bottling plants in Louisiana, Mississippi, Texas and Arkansas, expanding it into the ninth-largest bottling corporation in the country. His success didn't stop there, and in 1925 Biedenharn bought a crop-dusting business with other entrepreneurs. That business grew steadily, eventually morphing into another household name: Delta Air Lines.
In 1913, Biedenharn moved to Monroe and began bottling operations at a small plant. He spread his wings even more in his new hometown, becoming an important part of the Monroe community as City Commissioner. Under Biedenharn's tenure, Monroe saw its first paved streets.
Biedenharn and his wife, Annie, built a stately home in Monroe along the Oachita River which is now operated as the Biedenharn Museum and Gardens. The property receives 25,000 to 30,000 visitors a year, and is part Coca-Cola museum, part historic home, part Bible museum and part botanical gardens.
Tours are offered and run an hour and a half. The Coke Museum is a highlight, and visitors pose for selfies with the 1890s Coca-Cola delivery truck, the company's first. Also present are a replica of a vintage soda fountain, vintage Coke advertisements, and scores of other Coca-Cola memorabilia. Visitors can watch a demonstration of the original bottling process and buy throwback, bottled Coca-Cola for five cents from a vintage vending machine.
The home itself is also open on tours and remains furnished as it was when Biedenharn's daughter, Emma Louise, aka "Emy-Lou," resided there until her death in 1984. Emy-Lou, who was an opera singer in Europe before World War II, collected obscure Bibles and religious artwork, now housed in a separate building included in the regular tours. Her impressive collection includes a 1611 King James Bible, several art Bibles and a page from the 1454-'55 Gutenberg Bible.
Emy-Lou's other hobby was gardening, and the home is surrounded by English walled gardens she spent decades developing. Statues, water fountains, a wide diversity of plants and a conservatory are all accessible to visitors on a self-guided basis and are popular with photographers. Occasional events like concerts and plant sales are also held on site.