Tapas & Treats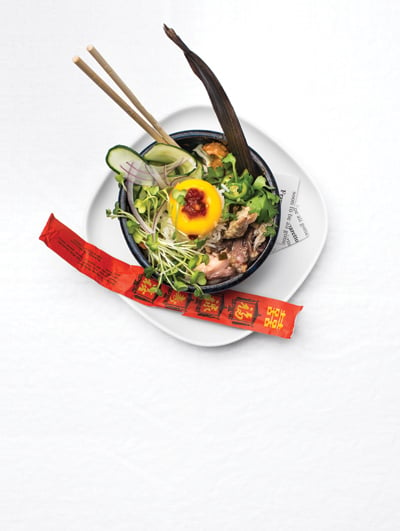 While the wave of restaurants serving small plates has much to do with the historical popularity of Spain's tapas or China's dim sum traditions, the 2007 downturn in the global economy also contributed to the revolution. Diners not comfortable parting with $30 for a single entrée perceived spending the same amount for a variety of smaller dishes as a value. At the same time, the increasingly informal approach to dining coupled with heightened diner sophistication and the return of cocktail culture led to an adventurous gastronomic spirit. With these factors at play the small plate trend is sticking around.
With a heritage that embraces charcuterie and its attendant array of condiments it seems destined that Acadiana diners would embrace a dining style that allows them to mix and match.
With its sexy, atmospheric bar and craft cocktail selection, Pamplona has long been a popular destination for tapas in Lafayette. Sure bets from the kitchen include Chicken Sofrito ( $9), and bacon-wrapped dates ($5) stuffed with Gorgonzola cheese and served with an almond puree. The Morcilla-Quail Egg ($7) tops a black boudin patty with a fried quail egg; fried goat cheese croquettes ($5) are laced with a Balsamic reduction, honey, and toasted almonds; and duck fat fries ($6) need no further explanation.
Every days is a fun day at Bread & Circus Provisions. Chef Manny Augello makes all of his "seriously playful food" in house, selling his smoked meats, pickles and condiments with influences that span Cajun, Italian and Japanese cuisines in a bright, decidedly hip atmosphere. His small plate offerings include a screamingly fresh nightly farmer's market vegetable preparation served on the cheap for $4; sugar cane shrimp ($12) with fried bread, pickled pig ear and a Worcestershire-cane syrup glaze; the wood-roasted tuna collar, sadly an underutilized fish part, served up with a bourbon and ginger glaze, egg yolk, shaved vegetables and rice for $10. If you go for Augello's hen-based gumbo or The Ramsey, a vaguely obscene sandwich special he cobbles together from pimento cheese, crisp-fried chicken skins, and tasso on white bread, plan to eat it yourself. Some things are simply too good to share.
Social Southern Table and Bar has packed in the beautiful people since it opened with an extensive menu of fun foods meant for sharing and beer and cocktail programs to match. Charlie Goodson, the well-regarded restaurateur behind Charley G's Steakhouse, successfully stepped out of his comfort zone when he made the move to overhaul a tired old Chinese eatery into a chic and expansive, yet weirdly cozy, gastro-pub. The food here is as daring as Charlie. Check out chicken-fried green tomatoes with creamy jalapeno ranch dipping sauce($9); crab nachos with crispy wonton chips, spicy mayo, yuzu guacamole, and tobiko ($9); grilled pink shrimp with shaved summer squash salad, sweet corn and buttermilk dressing ($14). Leave room to polish it off with a slice of the orange Dreamsicle cake ($8) or the S 'mores Cobbler ($8).
Georgia native Nathan Gresham has proven his lasting power, filling the tables in his ochre-hued Baton Rouge bistro with diners sharing small plates of steamed mussels with salmon belly, fennel, tomatoes in a white wine broth ($11), potato gnocchi, butter poached lobster, cipollini onions and bacon lardon in a lemon cream sauce ($13), "General Tso's" pork cheeks with green onions and sesame ($12), and "Pho" Lamb meatballs with stone ground grits ($12).

BONUS BITE
Check the website—it's either just opened or just about to open but Chef Chris Wadsworth's new place, Goûter, is on our radar. The chef at Triumph Kitchen and formerly of Restaurant IPO, Wadsworth has teamed up with his wife Sommer, an avid hunter and outdoor devotee like himself, to create a restaurant with a focus on "all things Louisiana." Their Facebook page drops a hint of things to come: Rabbit back strap with pan gravy. Yum. gouterrestaurant.com

• Beausoleil Bocage Village Shopping Center, 7731 Jefferson Hwy, Baton Rouge, (225) 926-1172, Baton Rouge, beausoleilrestaurantandbar.com
• Bread & Circus Provisions 258 Bendel Rd, Lafayette, 337.08-3930; bandcprovisions.com
• La Pamplona 631 Jefferson St., Lafayette, (337) 232-0070, pamplonatapas.com
• Social Southern Table and Bar 3901 Johnston St., (337) 456-3274, socialsouthern.com