Summer Seafood
A simple supper for the season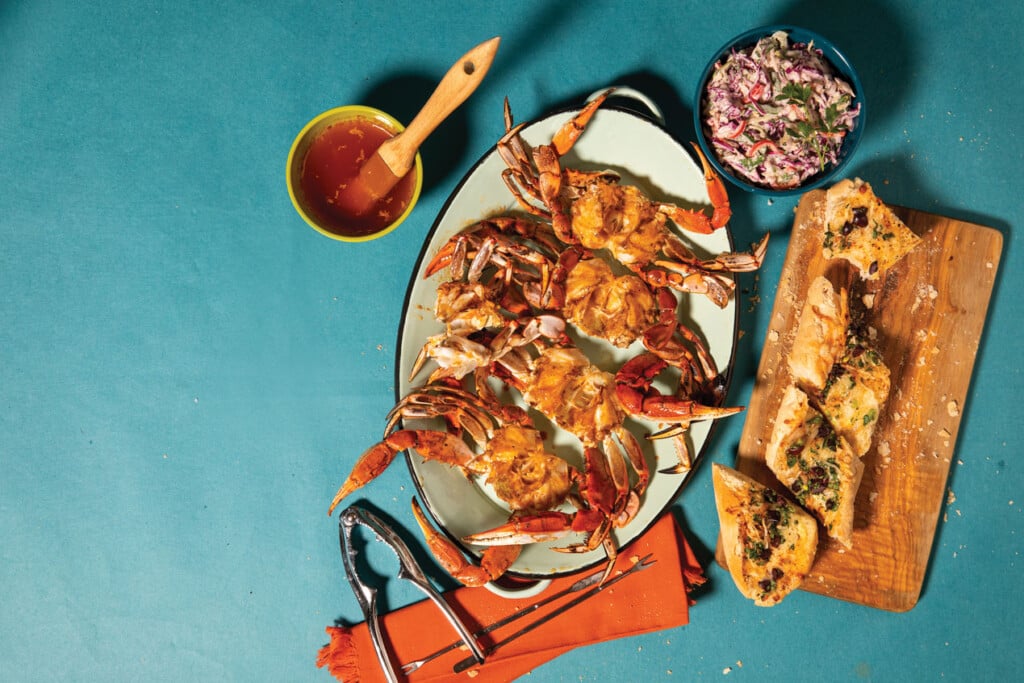 When I was a youngster, my family celebrated Labor Day weekend by gathering for what we considered was the last holiday of the summer. Mama and Papa's menu for the day never changed. Barbecued chicken, cooked long and slow on the locally made grill fashioned with a 55-gallon barrel. The aroma tickled our taste buds. Sides were potato salad tossed with Mama's homemade mayonnaise, green bean casserole and French bread from LeJeune's Bakery in Jeanerette slathered with barbecue sauce. Dessert was plenty of homemade ice cream.
But there were times we spent the holiday weekend at our camp at Cypremort Point on Vermilion Bay where we caught dozens of crabs from our covered pier. There, the menu was a plethora of crab delights.
Everyone helped with peeling the crabs so we ate as we supplied crabmeat to the cooks who labored over the stoves throughout the day.
Main Dish
Henry's Barbecued Crabs
These barbecued crabs are a creation of an old friend, Henry Mayer.
2 dozen live blue crabs
salt
cayenne pepper
2½ sticks butter, melted
2 tablespoons Zatarain's
Concentrated Shrimp & Crab Boil
1 teaspoon garlic powder
1⁄3 cup fresh lemon juice
1 tablespoon Worcestershire sauce
1 teaspoon paprika
1. Run very hot tap water over live crabs in sink. This will stun them so they can't pinch. Pull the back off the crab, clean out dead man fingers, lungs and center of the crabs. Crack claws, but do not remove the shells. 
2. Sprinkle crabs generously with salt and cayenne. Combine butter, liquid boil, garlic powder, lemon juice, Worcestershire and paprika in a small saucepan. With a basting brush, brush about one-third of the sauce all over crabs.   
3. Place crabs, cavity side down, on a medium to low fire and close lid of the pit. Cook for about 10 minutes. Turn crabs over and fill cavities with more butter sauce. Close lid and cook for another 10 to 15 minutes. Time will vary according to the heat of the fire and the size of the crabs. Brush remaining butter sauce on crabs and serve immediately. Makes 6 servings
On the Side
Italian Cheese Bread
2 large or 4 small loaves of French bread
1 stick butter, melted
1 cup mayonnaise
1 cup shredded mozzarella cheese
1 cup grated Parmesan cheese
1 teaspoon garlic powder
¼ teaspoon freshly ground black pepper
²⁄3 cup chopped black olives
½ cup chopped green onions
¼ cup chopped parsley
Paprika
1. Preheat the oven to 375 F. 
2. Cut loaves in half lengthwise. Spread bread evenly with melted butter. Spread mayonnaise evenly over butter. Sprinkle cheeses over mayonnaise and sprinkle with garlic powder and black pepper. Top with olives, green onions, parsley and sprinkle with paprika. Place loaves on a sheet pan and bake until cheese is melted, 10 to 15 minutes. Slice and serve immediately. Makes about 10 servings
On the Side
Best Coleslaw
2 cups shredded white cabbage
2 cups shredded red cabbage
1 cup shredded spinach
1 green bell pepper, thinly sliced
1 red bell pepper, thinly sliced
1 cup thinly sliced red onions
2 tablespoons chopped pickled jalapeños
½ cup chopped fresh parsley leaves
1 cup mayonnaise
¼ cup sour cream
1 tablespoon fresh lemon juice
3 tablespoons Creole mustard
1 teaspoon salt
¼ teaspoon freshly ground black pepper
2 teaspoons sugar
1. Toss cabbage, spinach, bell peppers, onions, jalapeños, and parsley in a large salad bowl. 
2. In a small bowl, combine mayonnaise, sour cream, lemon juice, mustard, salt, pepper and sugar and mix well. 
3. Add mixture to  salad bowl and toss to mix thoroughly. Cover and refrigerate for at least one hour. Makes 6 to 8 servings