Sizzle Season
Flank steak with veggies offers flavorful simplicity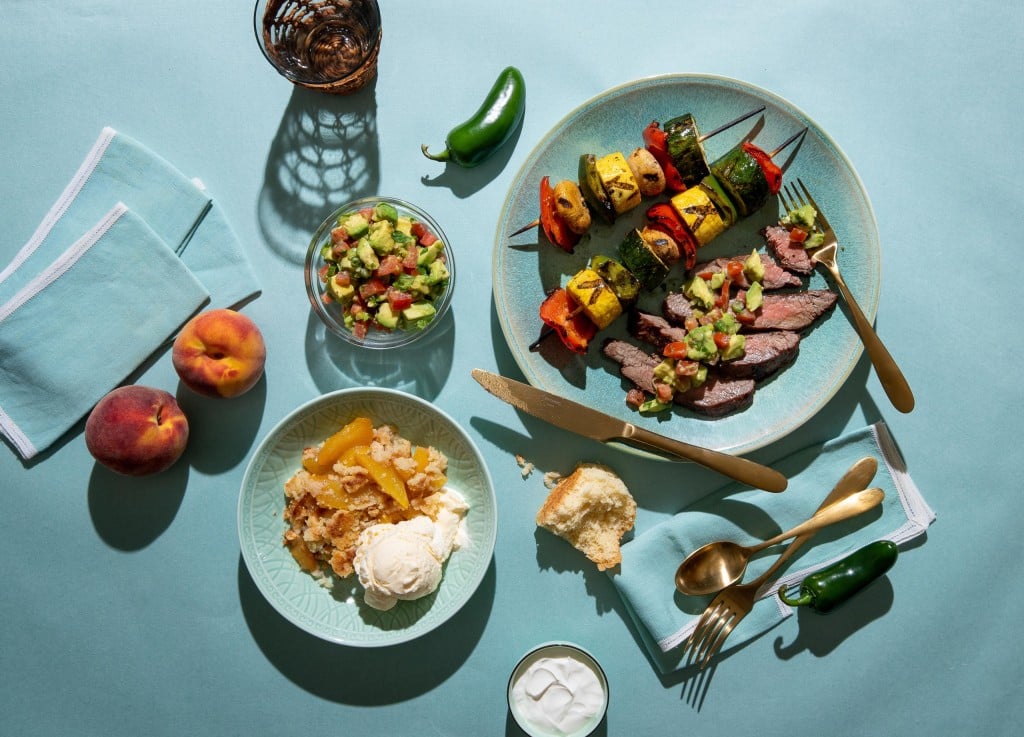 Spring is not the only thing in the air. Last evening, a gentle breeze carried the aroma of food cooking on grills. My nose tingled as I tried to determine who was cooking what. Someone was definitely flipping hamburgers. Then a whiff — that I think came from down the bayou — of shrimp possibly bathed in lemon butter. Somewhere to my rear, a great cloud of blue smoke indicated someone was tending chicken and possibly a slab or two of pork ribs.
It's that time of year when everyone is eager to gather in the yard, on the patio, around the pool or on the deck. Any occasion is a reason for a get-together. These days, just about anything can and does find its way to the grill — shrimp, fish, chicken, steaks, burgers, brisket and even a wide assortment of vegetables.
Grilling is probably one of the healthiest methods of food preparation since most of the fat content is burned off over the hot coals and fresh herbs and spices are all that is needed to bring out the true tastes and flavors. There's just nothing better, as far as I'm concerned, than something cooked outdoors over an open fire.
Main Course
Marinated Flank Steak with Guacamole
Makes 4 servings
½ cup olive oil
½ cup plus 2 tablespoons fresh lime juice
2 tablespoons soy sauce
½ cup plus 2 tablespoons freshly chopped cilantro leaves
1 medium-size yellow onion, thinly sliced
2 tablespoons chopped garlic
2 tablespoons seeded and chopped jalapeno peppers
salt, freshly ground black pepper and cayenne to taste
1 flank steak, about 1½ pounds
2 tablespoons chopped green onions (green and white parts)
2 medium-size Hass avocados, peeled, pitted and diced
1 medium-size tomato, diced
sour cream
Combine oil, ½ cup of lime juice, soy sauce, ¼ cup of cilantro, yellow onion, garlic and 1 tablespoon of jalapenos in a large shallow dish. Season with salt and peppers. Put flank in marinade, cover and refrigerate for three to six hours, turning once or twice.
Prepare grill. Remove flank from marinade. Grill for five to seven minutes, depending on desired doneness, on each side.
Meanwhile, combine green onions, avocados, tomatoes, remaining lime juice, cilantro and jalapenos in a small bowl and mix gently. Season with salt and black pepper.
When ready to serve, slice meat across the grain into thin strips. Serve with guacamole and garnish with sour cream.
On the Side
Squash and Pepper Kabobs
Preparations can be simple and quick. Fresh vegetables from your garden or roadside stands can be grilled on skewers or in wire baskets.
Makes 4 servings
1½ pounds yellow squash (or zucchini)
1 medium red bell pepper
1 medium green bell pepper
1⁄3 cup olive oil
2 tablespoons red wine vinegar
1 teaspoon minced garlic
2 teaspoon chopped fresh thyme or ½ teaspoon dried thyme
½ teaspoon salt
¼ teaspoon freshly ground black pepper
10 to 12 large button mushrooms, cleaned and stemmed
Cut squash (or zucchini) crosswise into one-inch slices. Halve green and red bell peppers and remove seeds and stems. Cut into one-inch squares.
In a large bowl, whisk together oil, vinegar, garlic, thyme, salt and pepper. Add vegetables and toss to coat evenly. Let stand for about 30 minutes.
Prepare the grill. Remove vegetables from marinade. Reserve marinade. Thread squash, pepper and mushrooms alternately onto skewers. Arrange on rack and grill, turning occasionally, and brushing with reserved marinade, until lightly browned, about 8 to 10 minutes.
Dessert
Peach Crisp
It's a little early for Ruston peaches, but any kind of peaches will work for this dessert.
Makes about 6 servings
4 cups sliced peaches
¾ cup sugar
½ teaspoon ground cinnamon
1 cup all-purpose flour
1 stick cold butter, cut into chips
6 scoops vanilla ice cream
Preheat the oven to 375 F.
Combine peaches with 1⁄3 cup of sugar and cinnamon in a large bowl and toss to coat evenly. Put mixture into an eight-inch square baking pan.Set aside.
Combine flour and remaining sugar in a bowl. Cut in butter with a pastry blender until mixture is crumbly. Sprinkle mixture over peaches and bake for 35 to 40 minutes. Remove from oven and cool slightly. Serve with scoops of ice cream.
TIP
If you want to try your hand at grilling fruit, try this: Cut a fresh pineapple into large spears and sprinkle with a little brown sugar. Grill for a few minutes, then serve with ice cream or yogurt.