Recipes: Pecan Treats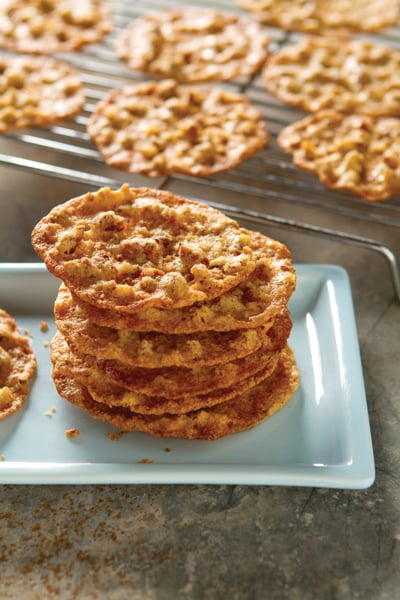 This morning the noise caused by pecans bouncing on the tin roof of my office sounded like I was being blasted by machine guns. Not only were the squirrels having a hey-day, but there was a stiff breeze, signaling a cool front, sending a shower of nuts down from my prized pecan trees. The sound of the rat-tat-tat triggered a memory stored deep in my brain.
When I was a youngster, I was often sent to Tante Belle's for a sleepover on Friday nights while my parents had a date night. I happily stuffed my cotton flannel nightgown (Tante Belle's house was not very warm, heated only by small gas heaters) in my red overnight bag and skipped through the yard to her house next door. We often had our supper in her kitchen, made cozy by the heat from the stove where a pot of seafood gumbo simmered. She always had sugar cookies (ti gateau sec) to enjoy with our hot chocolate before bed.
She was an early riser, but I often followed her to the kitchen, still warm from the night before, where we had steaming cups of cafe au lait sweetened with raw sugar from the nearby mill and cornbread generously drizzled with pure cane syrup. Conversation was usually about what we would do for the rest of the morning.
Her house had a tin roof and if we heard the pinging of pecans, Tante Belle suggested we get dressed, pick pecans in the yard, and shell enough to make a pecan pie. On our hands and knees, with woolen scarves wrapped around our heads, we had more than enough pecans in no time at all.
---
OLD-TIME PECAN PIE
3 eggs
1/2 cup sugar
1 rounded tablespoon all-purpose flour
1 1/2 cups dark corn syrup
1 teaspoon vanilla
1 cup pecans
1 (9-inch) unbaked pie shell
Preheat the oven to 350 degrees.
Beat the eggs. In a separate bowl, combine the sugar and the flour. Mix well. Add the sugar mixture to the eggs. Add the corn syrup, vanilla and pecans. Stir gently to mix. Pour the mixture into the pie shell and bake for 45 minutes to an hour, or until the filling sets. Cool before slicing to serve.
If we got on a roll in the kitchen, Mama allowed me to spend another night at Tante Belle's, so we could make pecan lace cookies (my father's favorite), and creamy pralines for my brother, Henri Clay, who had a big sweet tooth.
---
PECAN LACE COOKIES
6 tablespoons butter, softened
4 tablespoons plus 1/2 cup sifted AP flour
1 teaspoon double-acting baking powder
Pinch of salt
2 cups sugar
2 eggs, well beaten
1 teaspoon pure vanilla extract
2 cups coarsely chopped pecans
Preheat the oven to 400°F.

With a pastry brush, spread 2 tablespoons of the softened butter over two large baking sheets. Sprinkle each baking sheet with 1 tablespoon of the flour and tip the pan from side to side to distribute the flour evenly. Invert the baking sheet and rap it sharply to remove the excess flour. Combine 1/2 cup of the flour, the baking powder and the salt, and sift them together in a bowl. Set aside.
In a deep bowl, cream 2 tablespoons of the butter by beating it and mashing it against the sides of the bowl with the back of a spoon until it is light and fluffy. Add the sugar, beat in the eggs and the vanilla, and stir the flour mixture into the batter. Then add the pecans.
Drop the batter by heaping teaspoonfuls onto the prepared baking sheets, spacing the cookies about 3 inches apart. Bake for 5 minutes or until the cookies have spread into lace-like 4-inch rounds and have turned golden brown. Let the cookies cool for a minute or so, then transfer them to wire racks to cool completely.
Let the baking sheets cool completely, then coat them with the remaining 2 tablespoons of butter and 2 tablespoons of flour, and bake the remaining cookies.
The cookies can be stored in an airtight container for up to a week.
---
CREAMY PRALINES
1 pound light brown sugar
1/8 teaspoon salt
3/4 cup evaporated milk
1 tablespoon butter
2 cups pecan halves
Mix the sugar, salt, milk and butter in a heavy pot. Cook over low heat, stirring constantly, until the sugar dissolves. Add the pecans and cook over medium heat, stirring often, until it reaches the soft-ball stage (234 to 240 degrees on a candy thermometer). Remove from heat.
Allow to cook for a couple of minutes, then stir rapidly until the mixture begins to thicken and lightly coats the pecans. Drop by tablespoon onto wax or parchment paper. When the pralines have cooled, gently lift from the surface with a knife and store in an airtight container.
---
COCOONS (SANDIES)
1 cup butter
1/3 cup sugar
2 teaspoons water
2 teaspoons vanilla extract
2 cups all-purpose flour
1 cup chopped pecans
Confectioner's sugar
Tante Belle knew that I loved cocoons (or sandies), so she always made time to help me with these. Cream the butter and sugar together in a mixing bowl. Add the water and vanilla, and
mix well. Add the flour and pecans, and mix well. Cover and chill the dough in the refrigerator for 2 to 3 hours.
Preheat the oven to 350 degrees.
Shape the dough into small balls, about the size of a walnut. Bake on an ungreased cookie sheet until slightly golden, about 20 minutes. Cool slightly and then roll the cookies in confectioners' sugar.
Store in airtight containers.
---
WHISKEY BALLS
1 (10 to 12 ounce) box vanilla wafers, crushed
2 tablespoons cocoa powder
1 cup confectioner's sugar
1 cup very finely chopped walnuts or pecans
2 tablespoons light corn syrup
1/2 cup rum or brandy
Extra confectioner's sugar for rolling
One time, we made whiskey balls and we both got a little "silly." Combine all of the ingredients in a large mixing bowl and mix well. Form into 1-inch balls and roll in the confectioner's sugar. Store in an airtight container in the refrigerator for up to two weeks.
Oh, didn't we have fun! I think I'm inspired to invite a couple of my grand-nieces for a sleepover soon. Maybe we can make pecan memories, too.