Pure and Simple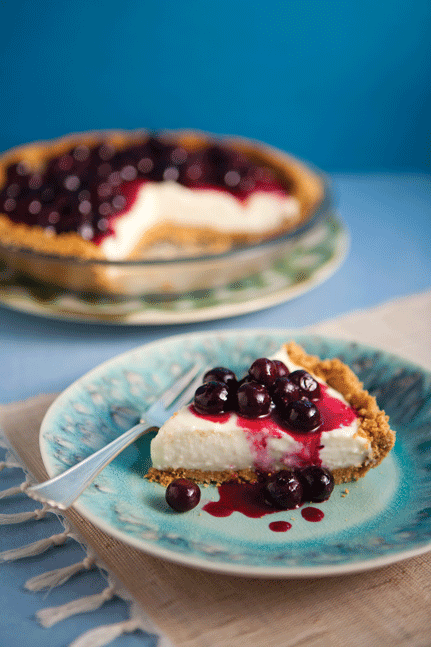 Summer has just recently officially arrived, and already everyone is complaining about the heat and humidity. I happen to love summertime. I adore the long, leisurely days when I can kick back; chill out; and enjoy a meal, the menu for which is dictated by whatever is garden-fresh, such as berries, tomatoes, eggplant, squash, zucchini or whatever else I can find at local farmers markets. My husband sometimes will supply speckled trout, still-kicking shrimp or crabs he catches at Vermilion Bay.
Life moves more slowly in Louisiana than it does in the rest of the country. People come home earlier from work – or does it just seem so because the days are longer? Entertaining is less formal, and the days are planned not by the clock but rather by the position of the sun.
My father once told me that he liked nothing better than a summer meal. He explained his reasons while he and I drank our morning cups of coffee sitting on the wharf at our camp at Catahoula Lake. Folklore has it that the lake, situated just outside the Atchafalaya Basin levee system, was created by an earthquake. Supposedly, the quake ripped open a huge cavern about 500 feet wide, 2 miles long and more than 100 feet deep. "Cata-oula" is an Indian word meaning "lake of sacrifice." Indians held the belief that the lake, which produces fine fresh fish and sweetmeat crabs, swallowed up an entire Indian village when the earth gave way. They also believed that the waters had magical powers, and they often came to bathe and make pilgrimages, asking the gods to keep them safe and protect them from evil spirits.
"As soon as we finish our coffee and before we have breakfast, you and I are going to pick some blackberries," he quietly explained. "We can have some for breakfast with sweet cream, and the rest will be used for a cobbler, which will be dessert for supper tonight."
By the end of the day, we not only had a bucket of blackberries, but we also had received (from a neighbor) a basket filled with homegrown tomatoes, eggplant and sweet corn.
When the hot and humid days roll in, I embrace the idea of gathering ingredients from the wild, my garden or the local farmers market and perhaps from the waterways, rather than from supermarkets.
Then there is the anticipation of the meal – what can I do with all of these fresh ingredients? I recall my Great-Aunt Belle, who used to tell me that when planning a meal, I should take consideration of all the senses: sight, hearing (yes, listen to the steaks sizzling on the grill or hear the chicken frying), touch, smell and taste.
With all of these memories in mind, I offer you some of my favorite summer dishes.
BLUEBERRY CREAM CHEESE PIE
1 8-ounce package cream cheese, softened
1 14-ounce can sweetened condensed milk
1/3 cup plus 1 teaspoon fresh lemon juice, divided
1 teaspoon pure vanilla extract
1 prepared graham cracker pie crust
4 cups fresh blueberries, rinsed and picked over
1 cup sugar
2 tablespoons cornstarch

Beat the cream cheese in a mixing bowl until light and fluffy. Beat in the condensed milk. Add 1/3 cup of the lemon juice and the vanilla, and mix well. Pour the mixture into the pie crust, and chill until firm, about 3 hours.
Combine the blueberries, sugar, cornstarch and the remaining teaspoon of lemon juice in a large heavy-bottomed saucepan over medium heat, and cook, stirring often, until the juice thickens. Remove from the heat, and cool completely.
To serve, slice the pie into wedges and top with the blueberry topping. Serves 6
CRABMEAT LOUIS
1 pound lump crabmeat, picked over for shells and cartilage
Salt and freshly ground black pepper
Hot sauce
3 tablespoons finely chopped celery
1 tablespoon finely chopped green onions
1 tablespoon capers
3 teaspoons finely chopped fresh parsley leaves
1/3 cup mayonnaise
2 teaspoons Creole mustard

Combine all of the ingredients in a mixing bowl, and mix well. Cover, and refrigerate for at least 1 hour before serving. Serve with party crackers or toast points. The mixture can also be spooned over thick tomato slices or into avocado halves. Serves 8 to 10.
When tomatoes are in season, I serve them for just about every meal.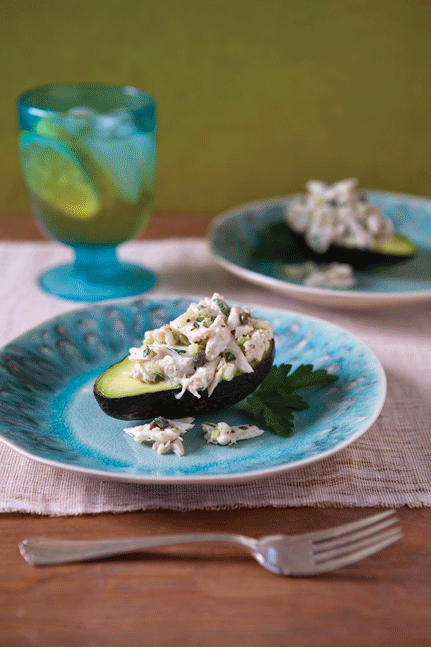 MY TOMATO SALAD
4 firm, ripe large tomatoes, cored
2 tablespoons fresh lemon or lime juice
3 tablespoons virgin olive oil
1 tablespoon snipped fresh chives
6 fresh basil leaves, shredded
1/2 cup crumbled feta cheese
Salt and freshly ground black pepper to taste

Slice the tomatoes, and arrange on a shallow platter. Sprinkle with the lemon or lime juice, olive oil, chives, basil and feta. Season with salt and black pepper. Serve immediately or slightly chilled. Serves about 6.
FILLET OF BEEF WITH RED PEPPER-BUTTER
10 tablespoons butter, at room temperature
1/2 cup finely chopped red bell peppers
1/2 teaspoon cayenne
1 1/2 teaspoons salt
4 beef tenderloin fillets, each about 2 1/2 inches thick (each 6 to 8 ounces)

In a small mixing bowl, combine the butter, bell peppers, cayenne and salt, and mix well. Line a shallow plate or platter with wax paper. Shape the butter mixture into eight 2-inch rounds, and place them on the wax paper. Cover, and refrigerate until firm, about 1 hour. Remove from the refrigerator, and set aside while you cook the steaks.
Either grill the steaks or broil (about 6 inches from the heat) until a meat thermometer registers 140 degrees (rare) or 160 degrees (medium) or to desired doneness. As soon as they come off the grill or out of the oven, spread the pepper- butter over each steak. Serve immediately. Serves 4.
SHRIMP QUICHE
Pastry:
2 cups minus 2 tablespoons bleached all-purpose flour
2 tablespoons white cornmeal
2/3 cup solid vegetable shortening
1 teaspoon salt
1/3 cup milk
Mix together the flour, cornmeal and salt in a mixing bowl. Add the shortening. Using a pastry blender or your fingers, blend the shortening into the dry ingredients until the mixture resembles coarse meal. Add the milk, and mix together until the mixture leaves the sides of the bowl and forms a ball. On a lightly floured surface, roll out the pastry, and fit it into a regular-size quiche pan or 4 small quiche pans.
Filling:
1 pound boiled shrimp, peeled and coarsely chopped
1/2 pound Swiss cheese, coarsely chopped
1 3/4 cups heavy cream
3 tablespoons all-purpose flour
3 eggs, lightly beaten
Salt, black pepper and cayenne

Preheat the oven to 375.
Distribute the shrimp evenly on the bottom of the quiche pastry. Arrange the cheese evenly over the shrimp. Combine the cream, flour and eggs. Season with salt, black pepper and cayenne, and mix well. Pour the mixture over the cheese and shrimp. Bake for about 35 to 40 minutes or until a knife inserted in the center comes out clean. Serves 4.
BAKED EGGPLANT WHEELS WITH CHEESE
1 large eggplant, about 1 pound
Salt, freshly ground black pepper and cayenne to taste
8 to 10 pats butter
1 medium-size yellow onion, thinly sliced
8 to 10 thin slices havarti or Swiss cheese
2 to 3 tablespoons olive oil

Preheat the oven to 350 degrees.
Trim the ends of the eggplant, and then cut it crosswise into 1/4-inch slices. Arrange the slices in a single layer on the bottom of a large glass baking dish. Season with salt, black pepper and cayenne. Put a pat of butter on each slice, followed by a slice of onion. Top with the slices of cheese, and drizzle evenly with the olive oil. Bake until tender, about 20 minutes. Serve immediately. Serves about 4.
MASHED POTATOES WITH PESTO
1/2 cup firmly packed fresh basil leaves
1/4 cup olive oil
1/4 cup grated Parmesan cheese
1 small garlic clove, chopped
1 tablespoon plus 1 1/2 teaspoons salt, divided
6 medium baking potatoes (about 2 1/2 pounds), peeled and cut into 1-inch dice
6 tablespoons butter
1/2 cup sour cream
1/2 teaspoon freshly ground black pepper

To make the pesto, combine the basil, olive oil, cheese and garlic in a food processor, and purée to a smooth paste. Set aside.
Boil the potatoes in water seasoned with 1 tablespoon of the salt. Cook until the potatoes are tender, about 20 minutes. Drain the potatoes, and immediately transfer them to a large bowl. Mash or beat the potatoes until they are smooth. Add the butter, sour cream and the pesto. Season with the remaining salt and the black pepper. Serve warm. Serves about 6.