Pizza Party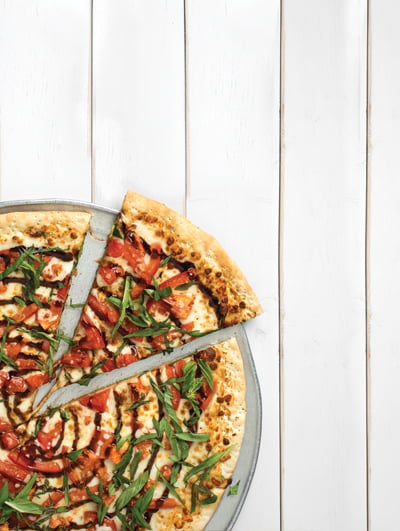 Nearly five billion pizzas are sold every year throughout the world and toppings are customized to reflect cultural preferences. In India, pies are topped with pickled ginger, minced mutton and tofu. The toppings of choice in China are Thousand Island dressing and eel. Russians go for a fishy mixture of sardines, tuna, mackerel, salmon and raw red onions, presumably making date night chaperones unnecessary.
Pizzerias in Acadiana make wise use of the region's bounties from both land and sea, offering pies topped with Cajun charcuterie, as well as shrimp and crab.
Since 1988, Tony and Elaine Pierrottie have offered their much beloved hand-tossed pies at the Pizza Shack, their humble brick storefront on Edith Street in Opelousas. Today, the Shack is the area's only independently owned pizzeria and pizza devotees flock to the spot. The favorite pie is Ferdie's special with toppings of pepperoni, Canadian bacon, Italian sausage, hamburger, onions, jalapeño, green peppers, mushrooms, Savoie's smoked sausage, bacon, shrimp and tomatoes.
In 2010, David Buck and Johnny Raymond took on historic downtown Breaux Bridge's most noxious eyesore when they restored the old Domingues Motors building and transformed it into Buck & Johnny's, a chic pizzeria. The pie here is cut into squares, which has zero impact on the flavor, but raises controversy nonetheless. The Steakhouse pie is a divine affair with roasted garlic cream sauce, mozzarella, Parmesan and bleu cheeses, thinly-sliced prime rib, sautéed mushrooms and caramelized onion. The aptly named Caveman tops a base of red sauce with mozzarella, ground beef, smoked pork and Italian sausages, applewood smoked bacon and smoked chaurice.
---

Ferdie's special at the Pizza Shack in Opelousas.
---
The meats here all come from nearby Poche's Meat Market, the standout beer is Bayou Teche's LA-31 Bière Pâle from Arnaudville, and Baby's Coffee from right across town is in the mugs.
Mariano and Bertha Alesi established Alesi Pizza House, Lafayette's first authentic Italian pizza parlor, in 1957 at the intersection of Cameron and Bertrand streets based on recipes from Mike's Sicilian mother. Now in its third generation of family management — the couple's grandsons handle daily operations — little has changed since the business moved to its current Johnson Street location in 1962.
Though rightfully famous for their pizza, Alesi's is equally well known for exceptional, authentic Sicilian-style pasta and stuffed noodle dishes. The seafood manicotti can be ordered with either Alfredo sauce or a tomato and wine reduction sauce and the stuffed cannelloni can be ordered with ground meat and cheese or spinach, veal and cheese.
A newcomer to the Lafayette scene, Pizza Artista was recently opened by locals Scott and Cynthia McClaskey, and Kirk Miller, all senior-level executives in other pizza operations. With very reasonable prices, this is already a popular spot and guests can create their own pizza or partake of signature or chef-inspired varieties based on Cajun flavors. The options here are endless with traditional, whole-grain and gluten-free doughs; Alfredo, barbecue, Marinara, pesto and Thai peanut sauces; and mozzarella, gorgonzola, smoked gouda, vegan, cheeses, as well as traditional pizza toppings. Then there are the protein, vegetable and "finishing" options.
If it seems too overwhelming, go for the Cajun macque choux (Alfredo sauce, mozzarella, onions, bell pepper, roasted garlic, corn, fresh tomatoes, Cajun sausage and tasso), the Boucherie (American cheese, boudin, Cajun sausage, onions, green onions, ghost pepper and Mozzarella blend, cracklin' and Steen's 100% Pure Cane Syrup) or the Swamp Daddy (spicy red sauce, mozzarella, smoked gouda, crab, crawfish, shrimp, andouille, tasso, Cajun sausage, bell pepper and green onions).

Alesi Pizza House, 4110 Johnston St., Lafayette, 337-984-1823, alesipizzahouse.com
Buck & Johnny's Pizzeria, 100 Berard St., 337-442-6630, buckandjohnnys.com.
Pizza Artista, 5409 Johnston St., Lafayette, 337-706-7631, pizzaartista.com
The Pizza Shack, 1242 Edith St., Opelousas, 337-948-4838, pizzashackopelousas.com
---
Bonus Bite
The Baton Rouge Epicurean Society celebrates its 10th Anniversary Fête Rouge at L'Auberge Casino & Hotel Baton Rouge, Aug. 25 and 26. The event showcases prominent Baton Rouge chefs and fine wines from around the world.
The celebration includes a wine dinner, Food & Wine Fête with 40 chefs vying for top placement, a silent auction and Fête du Vin, a premium tasting with rare wines. Tickets at FêteRougeBR.com.
---