Lost Desserts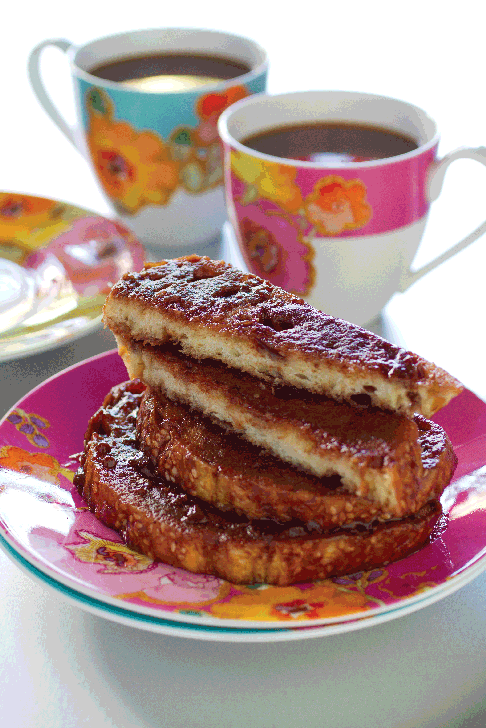 "I want the cookies with the dots," my 5-year-old great-nephew announced.

We were standing in front of the cookie case at a local grocery store. The attendant graciously dropped two of the cookies into a white paper bag and handed it over to J.T. with a smile.
"He always gets the same ones," she said, laughing.
Clutching his bag, he was happy as we made our way around the store. I plucked a bag of Pepperidge Farm Milanos (my personal favorite) off the shelf and dropped them in the cart. While we waited for my order in the meat department, J.T. and I discussed our cookies. We agreed that we would enjoy them once we got home to share them with Papa Rock, my husband (who, by the way, J.T. thinks is my daddy).
Over cookies and cold milk, I explained to J.T. that when I was a youngster, we rarely had store-bought cookies.
"We made little sugar cookies called ti gateau sec. Another great treat, especially for special holidays, were les oreilles de cochon – fried pastries formed in the shape of pigs' ears and drizzled with cane syrup. Sometimes we made gateau de sirop, a syrup cake that was often served as dessert but also could be Sunday morning breakfast."
He stared at me with wide brown eyes and then turned to Papa Rock.
"Maybe we could make these sometime," he suggested.
J.T. is always up for anything. (For example, several months ago, Papa Rock told him that they could train his chocolate Lab, Cocoa, to talk just like the dog on the Bush's beans television commercial. J.T. had no reservations and agreed to give Cocoa some speaking lessons.)
J.T. also has the memory of an elephant. A week later he called to ask when we were going to make those pigs' ears and the "other stuff."
We settled on a date and invited a couple of his cousins to join us on the appointed day. Everyone was given a task. J.T. and Papa Rock were in charge of rolling out the pastry for the pigs' ears. Eli and his sister (known in the family as Sister) were going to tackle the sugar cookies. All of us were going to try our hand at the syrup cake.
Ti Gateau Sec
1 stick (1/4 pound) butter,
at room temperature
1/4 teaspoon mace
1/8 teaspoon ground nutmeg
1 cup sugar
2 large eggs
1 teaspoon pure vanilla extract
1/3 cup evaporated milk
1/8 teaspoon salt
3 teaspoons baking powder
3 cups all-purpose flour
• Combine the butter, mace, nutmeg and sugar in a large mixing bowl. Beat with an electric mixer until soft and fluffy.
• Add the eggs, and beat again until thick and smooth. Add the vanilla, and beat again. Add the evaporated milk, and blend.
• In another mixing bowl, sift together the salt, baking powder and flour. Add this mixture to the butter mixture, and stir in one direction until all is incorporated. The dough will be thick and slightly sticky. Form into a ball, wrap in plastic wrap, and chill for at least 1 hour.
• Preheat the oven to 350 degrees. Line a baking sheet with parchment paper. Lightly dust a work surface with flour.
• Divide the dough into two equal portions. Gently pat one portion into a flattened ball, and put it on the flour-dusted surface. Gently roll out the dough into a circle about 9 inches in diameter and 1/4-inch thick. Cut the cookies with a 2-inch cookie cutter, and place them on the prepared baking sheet about 1/2 inch apart.
• Gather the scrapes, roll it out, and cut more. You should have about 14 cookies per portion of dough. Bake until lightly golden, about 15 minutes. Remove from the oven, and let cool for about 5 minutes. Then, with a metal spatula, carefully lift the cookies off the pan, and transfer them to a wire rack to cool completely.
• Repeat with the remaining portion
of dough. Once the cookies are cooled completely, they can be packed between sheets of wax paper in airtight containers. Makes about 28 cookies.
Now on to the pigs' ears.

Les Oreilles de Cochon

1 egg
1/2 cup milk
2 cups all-purpose flour
2 teaspoons baking powder
1/2 teaspoon salt
Vegetable oil for deep-frying
1 cup sugar cane syrup
1 cup chopped pecans
• Beat the egg until foamy. Add the milk, and blend. Sift the flour, baking powder and salt together twice. Add this to the egg mixture, and blend.
• Cut off a small portion of dough about the size of a walnut, and roll it out on a lightly floured board until very thin. Repeat with the remaining dough.
• Pour about four cups of the vegetable oil into a deep, heavy pot, and heat the oil to 350 degrees. Drop each piece of the rolled-out dough into the hot oil, give each piece a twist with a long-handled fork, and fry until lightly golden. Drain on paper towels.
• Boil the syrup until it forms a soft ball when dropped into cold water, and then drizzle it over the fried pastries. While the syrup is still warm, scatter the chopped pecans over the pastries.
• Because they are so delicate, I remember my Tante Mae showing me how to gently layer them between sheets of wax paper in cardboard boxes she kept for just such an occasion. Makes 4 to 5 dozen.
The syrup cake was a favorite of my father's, and he often requested it on Sunday mornings for breakfast. He would cut the cake into cubes and submerge them into a bowl of hot café au lait. Mama, on the other hand, liked to serve little squares of the syrup cake to her lady friends who dropped by for coffee. A bowl of sweet whipped cream was passed around so the ladies could dab a bit on their cake.

As you can imagine, everyone back in the old days had her own version of the syrup cake. Mama's was denser than my Aunt Grace's, which was moister and richer, made so by the addition of molasses and eggs. Here is Mama's recipe.
Gateau de Sirop

2 tablespoons butter
1 large egg
1 cup pure cane syrup
2 cups all-purpose flour
1 teaspoon baking soda
1 cup boiling water
1 cup pecan halves
Whipped cream
• Preheat the oven to 350 degrees. Put the butter into a baking pan. Put the pan in the oven just long enough to melt the butter. Remove the pan from the oven, and tilt the pan to spread the butter evenly. Set aside.
• Beat the egg in a large mixing bowl. Add the syrup and the flour, and mix well to blend. Add the baking soda to the boiling water, and then add the mixture to the syrup-flour mixture. Be careful when adding the baking soda-boiling water mixture as it will bubble. Pour the batter in the prepared pan; cover the top of the batter with pecan halves; and bake until a cake tester comes out clean, about 20 minutes. Serve warm with whipped cream. Serves 6 to 8.
Papa Rock and I packed each child a bag in which to take their goodies home. I thought everyone was pleased until J.T., when he gave me a goodbye hug, whispered in my ear, "Don't forget to come get me next week to get some cookies with dots at the grocery store."
And Now a Word From Our Readers
In our August/September and October/November issues, we asked readers to send in some of their favorite lost recipes. We also announced the same on our Web site. Here are some of the best. For their troubles, the winners will each get a $100 gift certificate from Rouses. The response was greater than anticipated. We hope to run some of the other recipes in future issues. Meanwhile, get stirring.
Torte de Vieux Temps
1 block oleo or 1/2 cup Crisco
1 1/2 cups sugar
2 eggs
1 tablespoon plus 1 teaspoon
baking powder
1 teaspoon vanilla
1/2 cup milk
4 cups flour
Cream the sugar and oleo together. Add the eggs, and beat again. Add the baking powder and vanilla, and beat again. Add the milk and flour, and stir to combine. Bake at 350 degrees for 15 minutes.
Submitted by Anna Elledge of Lafayette

Dot's Tarte a la Bouille
Custard:
1 large can evaporated milk
(reserve can for measuring water)
1 small can evaporated milk
(reserve can for measuring water)
1 cup flour
1 cup sugar
4 eggs
1 tablespoon vanilla
1 stick butter

Dough:
2 sticks butter
2 cups sugar
5 eggs
1 teaspoon vanilla
2 tablespoon baking powder
4 to 6 cups flour
Note: This recipe makes three pies. Use shallow pie pans and not deep dish.
For the custard: Empty both cans of evaporated milk into a small saucepan, and add one large can of water and 1/2 small can of water to the pan. Heat until it forms a scum on top. In a separate bowl, stir together the flour, sugar and eggs until smooth, adding some milk if necessary to thin the mixture. Pour the egg mixture into the milk mixture (cooking on stove) slowly, stirring all the while. Cook until thick, stirring rapidly so the mixture won't get lumpy. Remove from heat. Add the vanilla and butter. Cover. Let cool for 30 to 45 minutes.
For the dough: Cream the butter and sugar. Add the eggs one at a time. Add the vanilla. Then mix in the dry ingredients. Roll out the dough, and put it in three pie pans, saving some for strips for the tops. Add the custard. Roll out the remaining dough, and cut strips to place crisscrossed on top of pies. Bake at 375 degrees for about 25 minutes or until browned.
Chocolate Bread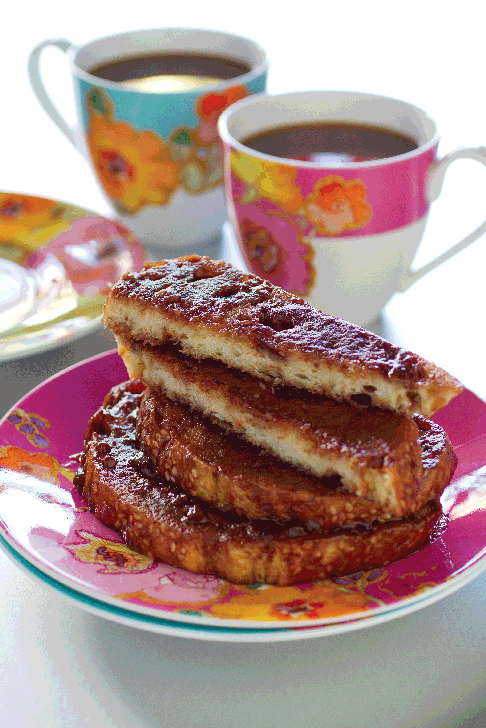 3 cups sugar
3 tablespoons cocoa powder
1 cup evaporated milk
2 tablespoons margarine
16 slices white bread
In a medium saucepan, mix the sugar and cocoa powder, and then add the milk and margarine. Cook on medium fire, stirring constantly, until the mixture gets to almost the soft-ball stage (235 to 245 degrees on a candy thermometer, or when the syrup forms a soft ball when dropped into very cold water). Lower the heat slightly, and with a fork, carefully dip each slice of bread into the syrup on both sides, coating well. Do the coating of bread as quickly as possible. Repeat this process until all slices are dipped and well-coated. Place each slice one on top of the other, but do not stack more than four slices high. You should have a total of four stacks at the end. Then slice stack into fourths to serve. Serve hot or cold.
Submitted by Cindy Roy of Duson