Local Flavor
The dishes at Regatta Seafood and Steakhouse in Lake Arthur cater to residents' distinct palates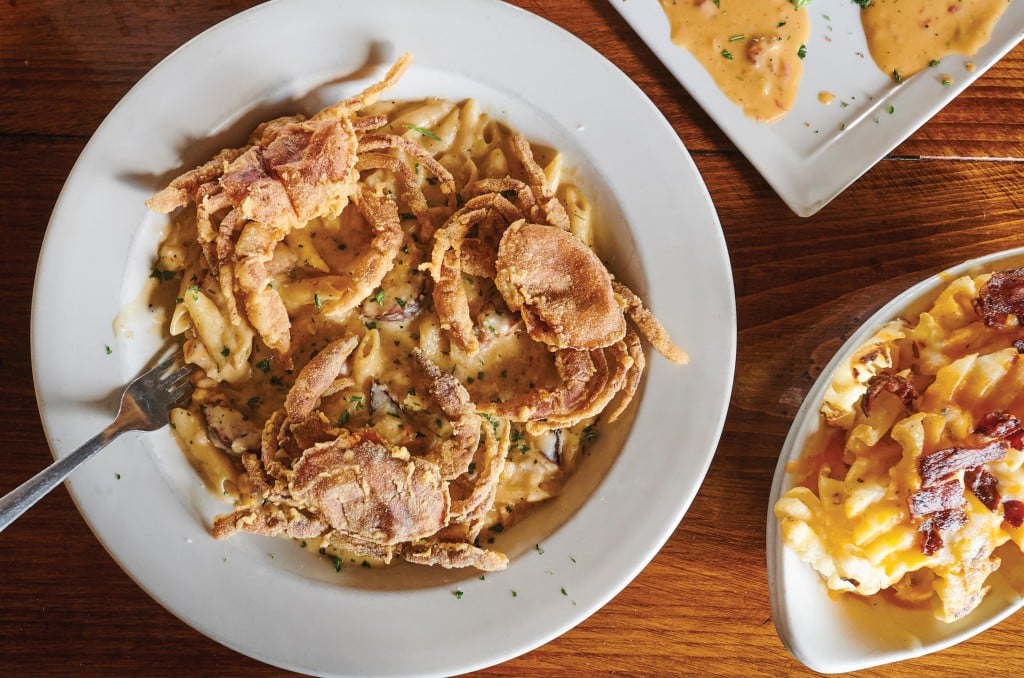 Regatta Seafood and Steakhouse
508 Hawkeye Ave.
Lake Arthur
337-774-1504
regattarestaurantla.com
It's Friday afternoon and small waves on this city's namesake lake gently caress the piers underneath a restaurant where quintessential bayou-style food is served.
Patrons at various tables are devouring copious amounts of today's lunch special, "all you can eat fried catfish."
"Oh, we pride ourselves on this lunch special. Everybody loves it and wants to take advantage of it on Fridays," explains 25-year-old Cassy Boudreaux who oversees the restaurant floor at Regatta Seafood and Steakhouse in Lake Arthur. "They like the way we prepare the cornmeal battered fish."
Owned by Rayne residents David and Warren Guidry, the Regatta has developed a reputation as being an eatery where the goodies coming out of the kitchen are on par with the exquisite natural setting the restaurant sits within.
Newcomers beware. The decision on what to eat and where — inside the main dining hall or the outside covered deck viewing the lake and Spanish moss-covered oak trees on the coast — is going to be difficult.
"The Guidry family wants an atmosphere where people want to come and enjoy themselves. Customers love the view, even in the winter," Boudreaux says.
In the kitchen, Taydum Pollard, 23, oversees dishes that represent her Cajun heritage. Pollard — a graduate of SOWELA Technical Community College's culinary program — is from Lake Arthur and understands the local palates.
Her version of crawfish étouffée pleases many diners.
"My grandfather's recipe is a big part of the étouffée. I like it a little thick and flavor balanced," she says.
Another flavorful menu item is the Regatta Grilled Duck Breast, which is prepared by grilling the poultry and serving it with brandy mushroom cream sauce.
"I'll give one little secret to the flavor in the cream sauce," Pollard says with a grin. "Worcestershire."
Boudreaux and Pollard mention that Thursday nights, 10-ounce grilled ribeyes are served for $10.99.
"Oh, the people around here love Thursday steak night. The restaurant is packed," Pollard says.
Other dishes that peak the interest of regular customers according to Boudreaux and Pollard are: fried green tomatoes, bread pudding, crawfish mac and cheese and soups of the day.
Pollard, prides herself on using ingredients that pay homage to Jeff Davis Parish culinary traditions.
"I've been able to tweak dishes here at the restaurant and people have responded positively. The Guidrys have given me full reign in the back of the house," she said.
Like most cooking professionals, smiles are what Pollard is looking for.
"I like to feed people. When you grow up in the South with big families, cookouts and everything, you see people eat. Even on bad days, good food will make them smile. And that is a joy to me. Seeing people smile when they eat our food.
"A packed restaurant, with people eating and cuttin' up, that's the best. I love it," Pollard says.
Try This!
1. Lafitte's Seafood Salad
There may be no better way to eat your veggies than to have them topped with grilled shrimp, crawfish and fried oysters.
2. Point Au Chene Pasta
There is no reason to complain about anything when a plate of fried soft shell crab, pasta and corn maque choux with andouille sauce is placed in front of you.
3. The Saint Elmo
Anything associated with a ribeye is worth the time of day right? Then try poor boy with ribeye, sautéed onions, mayo, lettuce and tomatoes.