Impossible n'est pas français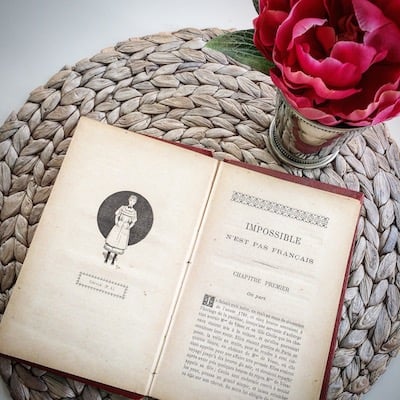 For today's Bon Vivant, I originally planned to write about local cookbooks. As a dedicated home cook, the owner of more than 25 cookbooks, the editor of "The Essential Louisiana Cookbook," by Stanley Dry (published by Renaissance Publishing) and a person who often reviews them for New Orleans Magazine, it's a subject near and dear to my heart. About four of my cookbooks are centered on French cuisine. The most recent purchase was "The Little Paris Kitchen: 120 Simple But Classic French Recipes," by Rachel Khoo. It not only has fabulous recipes, but also charming photos of the adorable author eating, drinking and shopping for food all over Paris and, of course, cooking. I am an unabashed Francophile. Which I suppose is the reason the terrorist attacks in Paris on Nov. 13 affected me — like so many around the world — so deeply and why over the past few days, my earlier idea to write about local cookbooks seemed to fall short.
It's not that I don't care about or am not aware of bombings in Beirut, Kenya and, frankly, violent attacks all over the world. I do care and I am aware. In fact, as a journalist I tend to be hyper aware, as do my colleagues, due to the way we consume news, which is to say often more widely and voraciously than the average bear. But as a Francophile who yearns unceasingly to visit France and who lives in a city steeped in the country's history and culture, the attacks on Paris moved me in a visceral way.
There are so many aspects of French culture I love and admire. Signs of it are everywhere in my life. Case in point, this blog has a French title and celebrates the French philosophy behind the name. At home, books by Collette, Voltaire, Flaubert and Maupassant, as well as about a dozen tomes on French style, decorating, culture, language and travel (and one about Marie Antoinette) line my bookshelves. French films and those set in France are always in my Netflix and Amazon queues and I love learning about French history, especially that which ties together France and America. My own French, after two semesters in college and a failed attempt at a class a few years ago, is — how do you say — dismal. But I still adore the language and plan to sign up for a class at Alliance Française de la Nouvelle-Orleans in the coming year. Friends who know of my passion gift me French-themed items, such as replica vintage French posters, maps of Paris, journals with bistro scenes and most recently, a tiny, glittery Eiffel Tower ornament. I suppose with a name like Melanie, this affinity was bound to happen, but other than that, I can't think of any reason for my obsession with a place I'm sorry to report I haven't yet visited. Italy, yes; France, sadly no. But, it is on my list and I intend to get there as soon as time permits. Until then, I'm quite content living in the most French city in the United States. New Orleans' French history and continued Frenchness is in no small part one of the many reasons I wanted to live here in the first place.
Which is why after hours upon hours of reading reports of the bombings Friday and into Saturday morning, I had to disconnect. Friends and acquaintances living in Paris and visiting had already checked in as safe via the new Facebook safety check feature, my French colleague's family and friends were safe and I needed to step away from the Internet. So, I took a walk.
Walking is one of the ways I decompress and it's an effective way to process information, meditate or both. It also is one of the best ways to see New Orleans (or any city for that matter) and, as one of my French gurus Mireille Guiliano tells me, is a tres Parisian endeavor. As I ambled through Uptown, then into the Garden District I passed over Jackson Street, making a point to pass by the Alliance Française, which was empty, as it had cancelled its previously planned gardening day in the wake of the attacks. Continuing on through the Central Business District, I walked by the French Consulate on Poydras. Earlier in the day, the Counsel General issued several statements via social media about the attacks, the vigils planned for the following days and the overwhelming outpouring of support they already had received from all over the city and the state.
You see, while the French founded New Orleans in 1719 and it — and the state of Louisiana — subsequently changed hands in the coming centuries, the tie of the city and the state to France seems never to have been broken. French immersion schools are easy to find and employ French teachers, many of whom were at the vigil on Sunday, as reported by the New Orleans Times-Picayune. It's not uncommon to hear native Louisianans speaking French, Cajun French or Creole French throughout the city. Napoleonic Code is still the law of the land for a variety of issues and the laissez-faire attitude abounds, for better or worse. French cuisine is of course ubiquitous — merci beaucoup — and French festivals and the culture's joie de vive are alive and well.
Nowhere is all of this more apparent than where I ultimately ended up on my Saturday walk — the French Quarter (or Vieux Carré). As I ambled through the Quarter, per usual I reveled in those things that, in addition to the food, permissiveness and esprit de joie, speak to and celebrate the city's French heritage. Elements, such as the architecture, street names and monuments, especially the gleaming Maid of Orleans Joan of Arc statue near the French Market, exude the city's inherent Frenchness.
The French are of course resilient and have survived and thrived despite war, famine, plague, revolution, takeovers by dictators, bombings and countless other terrible events. That resilient spirit was clearly handed down to the people of New Orleans and employed during the rebuilding of the city after Hurricane Katrina. I'm reminded of the French proverb, "Impossible n'est pas français," which translates to "nothing is impossible," or "there's no such thing as can't," which in many ways embodies that irrepressible spirit.
As I write this, stories of Parisians responding to the call to go out to the restaurants, bars, cafes and brasseries as a way to both pay tribute to the victims of the attacks and to support the café owners are being published across the web. People are hashtagging their café photos #jesuisenterrase (a play on January's "Je suis Charie" movement after the Charlie Hebdo attacks, which translates to "I am on the cafe terrace") of lattes and croissants, books and sidewalk scenes as a show of defiance toward ISIS. No one will tell the French that they can't have "liberté, égalité, fraternité," — it is after all their motto. They might be afraid, but they will heal and brilliantly persevere as they always have.
Mayor Mitch Landrieu posted to Facebook after the Paris attacks, "We stand shoulder to shoulder with the people of France…" and I think it's safe to say in this case he echoes the sentiments of New Orleans residents, who feel such special kinship toward the French. I know he speaks for this Francophile. It's disheartening to consider the depth of violence existing in the world, especially at this moment. I don't know how we as citizens of the world, not just America or France will overcome it, but I believe impossible n'est pas français.