Houma – City of the Year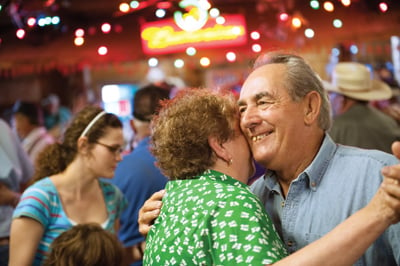 For all the reasons to journey here, and all the reasons to put down roots – high-performing schools, safe neighborhoods, expanding and diverse entertainment options, enough jobs for practically everyone and a thick catalog of natural splendor – Terrebonne Parish President Michel Claudet mentions something we honestly forgot to consider when naming Houma Acadiana Profile's City of the Year.
"There's something in the water," Claudet says. "It's home. There's a sense of family down here, and I think we're keeping more of our young people, and we're seeing people from other parts joining us and staying with us for all we have to offer. It's definitely a great place to live. Of all the positive lists being made these days, name one and we're on that list."
Well, let's check.
Houma is Louisiana's second most-exciting city (ranking just behind New Orleans), according to Movoto, a national online real estate firm. Forbes designated Houma as the No. 8 fastest-growing small city, home to workers ranked No. 6 in fastest-growing wages. Houma enjoyed the 15th highest GDP growth in the U.S., thanks mostly to good times in the oil patch and offshore. Houma's Rougarou Festival – a 3-year-old, family-friendly Halloween extravaganza complete with bands, vendors and a spooky parade route through downtown – caught the collective eyes over at USA TODAY, which named it a Top 10 costume party nationwide. And an annual survey conducted by the Centers for Disease Control and Prevention certainly gave Houma residents even more reason to smile when the Cajun community finished as the No. 2 Happiest City.
Though officially a town of just 33,000 (Census reports don't include the unincorporated Bayou Cane area, which nearly doubles the population) Houma has been and continues to be the cultural and commercial epicenter for the traditional agro-centric communities of Terrebonne Parish. Even with New Orleans a mere 45-minute car ride away, make no mistake, when locals tell you they're "going to town," that means they're going to Houma – a distinction that's never really changed over the years, even if everything else has.
---

Roasted red pepper and Parmesan chargrilled oysters at Cristano Ristorante.
---
Powered by a vibrant economic climate largely immune to troubles found in other parts of the country, Houma of yesterday doesn't resemble Houma today. Quaint, homey mom-and-pop dining establishments like A-Bear's Café are now neighbored by recognizable national brands like Chipotle (which opened in January 2015) and Texas Roadhouse (which opened in summer 2014), to name a few. Infrastructure projects such as a thoroughfare connecting Highways 311 and 24 should open up much-needed commercial space to appease a swelling population base that shows no signs of tempering, thanks to state-best unemployment rates.
Long-standing attractions like Southdown Plantation, Bayou Terrebonne Waterlife Museum and the best saltwater fishing excursions on the planet continue to strengthen and showcase Houma's Cajun heritage while newer events like the Bayou Beer Festival – a booze-tasting bounty featuring breweries from around the South – cater to a growing number of new-age, local adults who've decided to pursue their personal and professional aspirations at home.
And re-enforcing Houma's reputation as a great place to raise a family, two new projects will offer kids diverse recreation options for years to come. Last fall, civic leaders broke ground at the Bayou Country Sports Park along Highway 311. The 100-acre complex comes with a $23 million price tag and, upon completion, will feature athletic fields (softball/baseball/soccer), tennis and volleyball courts, bike paths, and even a designated area for four-legged friends to run around without a leash. Then, this Spring, the Fireman's Skate and Bike Park (an ode to former Bayou Cane Fire Chief Jerry Gautreaux) is scheduled to open next to the Houma-Terrebonne Civic Center.
---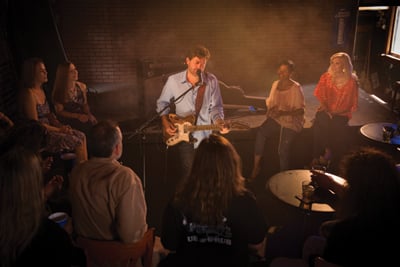 Wetlands preservation activist and award-winning musician Tab Benoit has strong ties to the region – he graduated from Vandebilt Catholic High School and owns the city's Tab Benoit's Lagniappe Music Cafe.
---
"For people in these bayou communities, Houma is 'The Experience' – the dining experience, the shopping experience and the entertainment experience," Claudet says. "Anything you need you can find, and anything you want do to, you can do. Take something like Christmas shopping. Yes, you could drive to New Orleans and deal with traffic and headaches and everything that comes along with all that. Or you can come to Houma and shop at the same types of stores without the turmoil."
For all it has going for it, Houma's best brag involves its recent string of economic prosperity that's gone relatively unrivaled anywhere in the state, and in February 2014, anywhere nationally. That month, Houma's 2.8 unemployment rate was the lowest of any U.S. metro area – a feat mostly attributable to plentiful opportunities in the oil and gas sector. By the end of the year, unemployment rose slightly to 4.5 percent, still well below Louisiana and national averages.
Business expansion projects announced in the past 12 months totaled more than $80 million and are predicted to create 1,000 additional jobs. Construction is nearing completion on its 97,000 square-foot expansion (manufacturing and distribution space) at its division headquarters, which will create 33 new jobs. K&B Industries finished building a 200,000 square-foot warehouse and is set to construct a new administration center this year. Other Houma-area companies that expanding or improve their facilities include: Dishman & Bennett Specialty Tools, Settoon Towing, Safe Zone Safety and Training Consultants, Barracuda Oil Tools, Performance Energy Services and PHI.
Two major corporations – both tied directly to the oil and gas industry – recently decided to relocate their headquarters to Houma. DANOS, a strategic construction and production services partner, announced its $10 million new headquarters will bring more than 400 new jobs to the region. Baywater Drilling, a fairly-new operation, is also constructing its new digs in Houma complete with office space, training rooms, a break room kitchen and short-stay living quarters for staff.
"Oil and gas is cyclical," says Katherine Gilbert-Theriot of the Terrebonne Economic Authority. "We all know that, and those companies here know that. So what they've done is diversified within their field. It's not just one sector – they've taken to exporting, handling deep-water and ultra-deep-water projects and also the inland drilling. So those business plans have been altered and tailored to handle slower times."
For instance, Gulf Coast Fabrication – a longtime south Houma staple known for building components of offshore drilling platforms – won a contract to manufacture the foundations for Block Island Wind Farm near Rhode Island. The first-of-its-kind project (an offshore series of wind turbines) will generate 30 megawatts of power: enough to supply close to 20,000 homes. The project is set to begin this year.
"Our economy is as diversified as it can get for a community that depends so much on the oil and gas industry," Claudet says. "This is a place where you can find work, for sure. But it's also a place where, as a business, you can find skilled employees. You talk about resources – our workforce is a resource to be proud of here. The people have a work ethic you don't find everyplace. They're qualified. If they need additional training, there's places to get that training."
While the community leans heavily on oil and gas, Houma also has witnessed a boom of environmental opportunities for workers in recent years. Terrebonne's Department of Coastal Restoration and Preservation (located in Houma) continues to proactively implement its "Comprehensive Plan for Coastal Restoration." The vital first step can be broken down to four objectives: increase the integrity of barrier island systems, increase the vertical accretion of wetland soils, maximize habitat diversity of coastal wetlands and ensure the actions taken by the parish are consist with the state's "Comprehensive Master Plan for a Sustainable Coast."
"This is Bayou Country," Claudet says. "We're surrounded by bayous and we're known for that. Unfortunately, we're one of those areas that have been fighting coastal erosion for quite some time, and while that's created great challenges, it's also brought forth great opportunities. We're on the forefront when it comes to new land management types of jobs, restoration jobs – we're the poster child for that."