Graced by the handprint of George Rodrigue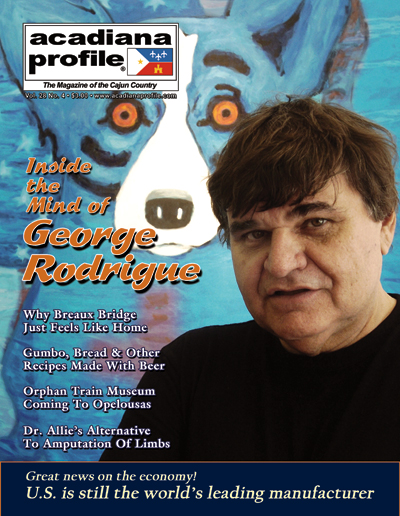 Acadiana Profile lost a longtime friend with the passing of Cajun artist George Rodrigue, on Dec. 14, 2013.
Born in New Iberia in 1944, George lived and painted at various times in Lafayette, New Orleans and Carmel, Calif. He died at age 69 in a Houston hospital after a long battle with cancer.
George Rodrigue was internationally renowned and was best known for his Blue Dog paintings. We're proud to point out that his handprint graced the pages of Acadiana Profile from its earliest days.
After finishing art school in Los Angeles in 1967, George moved to Lafayette and worked for Angers-Bowen & Associates, an ad agency co-founded by my father, Bob Angers Jr., and Kenny Bowen, who would later become mayor of Lafayette. George did graphic design and production for the agency and spent some time doing ad and editorial production work for the magazine.
George's artwork ran on the cover of Acadiana Profile occasionally over the years: in 1975 ("Evangeline"), then in 1999 for the magazine's 30th anniversary edition ("Blue Dog and Jolie Blonde") and most recently in 2009 with a photo of the artist and his famous dog.
Though he was best known for his Blue Dog, there was more to his prolific career than the iconic canine. He was an artist in transition for much of his life, always reinventing himself, coming up with different approaches, from the early paintings he did in his studio in Lafayette to his latest works rendered in his studio in New Orleans.
I watched him with some amazement over the years. He created what I saw as four waves of art – all distinctive and much of it characterized, at least to some degree, by a style he referred to as "naïve surrealism." That's the way he labeled it in an interview in the early 1970s.
---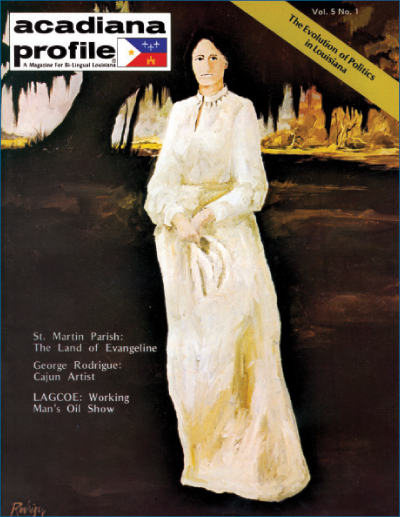 The work of famed south Louisiana artist George Rodrigue was featured in Acadiana Profile magazine a number of times over four decades, including on two covers. The October 1975 edition (left) featured his early works. For the Fourth Quarter 1999 issue (right), Rodrigue's Blue Dog and Jolie Blonde – a symbol of the Acadian people – dressed up to celebrate the 30th Anniversary of Acadiana Profile. The model for Jolie Blonde was Rodrigue's wife, Wendy.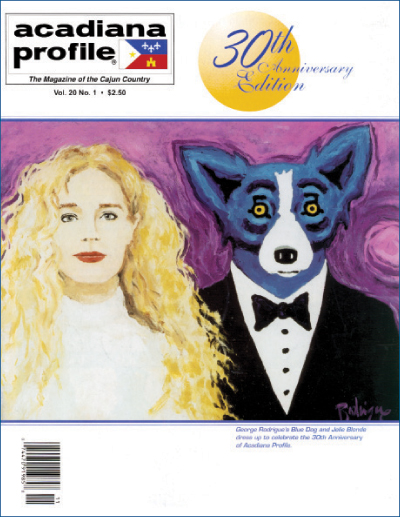 ---
His first notable paintings were of turn-of-the-century Acadians. He referred to them as "other world people" because they were literally from a world away – exiled from their homeland of what is now Nova Scotia to what was a foreign land to them, South Louisiana. Each painting used George's signature moss-draped oaks and included people who seemed to be floating in their new environment, as though they didn't quite belong here but were in the process of settling in.
The second wave of paintings I recall was a slew of Blue Dogs, the first being rendered in 1984. A few of these were even used in national ad campaigns.
Then came George's portraits of famous people, most with the Blue Dog sitting in with the main subjects: Ronald Reagan, George H.W. Bush, Chef Paul Prudhomme and Louisiana governors Huey Long, Edwin Edwards and Bobby Jindal.
The fourth body of work, which George referred to as a "radical departure" from his previous paintings, featured traditional landscapes with his signature oaks. Only this time the oaks were rendered in bright colors as opposed to the dark, brooding tones of his earlier oaks. These were happier oaks, you might say.
Now, some have criticized George's art, particularly his Blue Dog, as crassly commercial, simplistic, same-old-same-old in every painting. I think some of these critics didn't look closely enough and others were just plain envious of the remarkable financial success that came with that ubiquitous dog.
George answered his critics on this subject in a 2009 article in Acadiana Profile.
"People think I paint the Blue Dog, and it's the same blue dog. It's not. But every time I look at it, every time I start, it's a different dog. Different color, different shape, different size. The Blue Dog has been a 15-year process," he said.
Truth is, George Rodrigue left behind a wealth of memorable art that has been surpassed by no other Louisiana artist working in the same genre. Now, he's packed his paint and brushes and has gone on to the domain of the Great Painter, the creator of all creativity.
I imagine George approaching the Pearly Gates and being greeted by the multitude of characters he painted – from Evangeline and the turn-of-the-century Acadians to a bevy of Blue Dogs, spinning and jumping with excitement to see the artist who brought them to life on canvas.
---
Questions or comments about this column can be addressed to tcangers@cox.net.
---