Gifts From the Garden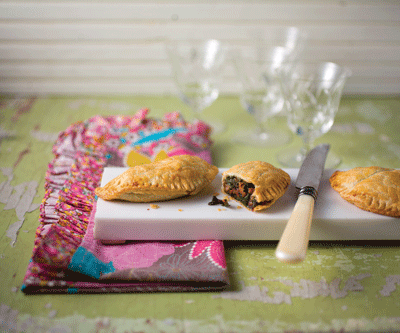 This is a wonderful time of year for cooking and eating. Gardens are lush and glorious, and markets are overflowing with fruits and vegetables of every shape and color. With such an abundance of beautiful produce, it's easy and delicious to make a meal primarily of vegetables, with meat used only as a condiment, a seasoning, a way of enhancing flavor. In today's world, where most of us no longer have any real connection to the land, eating with the seasons is one way of getting in touch with nature's cyclical rhythms.
Simplicity is almost always the best policy, and when it comes to cooking, that is never truer than it is now. With so many beautiful vegetables at hand, the cook's best choice is to do as little as possible to them. The maxim "less is more" could be every cook's guiding principle. Simple preparations free of artifice – that is a worthy goal for anyone who stands over a stove.
The recipes this month all feature seasonal vegetables: turnovers filled with andouille and Swiss chard, the classic Southern dish of green beans simmered with bacon and new potatoes, buttered asparagus topped with an egg and showered with Parmesan and cornmeal-battered zucchini that is pan-fried in olive oil.
A couple of these dishes, along with some raw vegetables (sliced tomatoes, cucumbers, green onions, bell peppers), good bread, perhaps a wedge of cheese, with fresh berries and peaches for dessert: Now that would be a meal worthy of the season.

Andouille and Swiss Chard Turnovers
If Swiss chard is not available, substitute spinach, arugula, beet greens or a mixture of greens.
For filling:
2 tablespoons olive oil
1 medium onion, chopped
4 garlic cloves, minced
1/4 pound andouille
1 bunch Swiss chard
1/4 cup grated Parmesan
Coarse salt and freshly ground
black pepper to taste
Cayenne pepper to taste
In a large skillet, cook onions and garlic in oil on medium heat, stirring occasionally, until onions begin to brown, about 5 minutes.
Remove andouille from casing, and chop. Add to skillet. Discard large stems from Swiss chard; chop enough chard to yield 6 lightly packed cups. Place chard in colander, and wash. Add wet chard to skillet; cover; and cook, stirring occasionally until chard is wilted, about 5 minutes. Remove cover, and cook until any liquid evaporates. Add Parmesan, and season with salt and peppers. Remove skillet from heat, and let filling cool.
For dough:
2 cups all-purpose flour
1 teaspoon salt
2/3 cup lard
7 to 8 tablespoons cold water
2 tablespoons milk (for glaze)
Mix flour and salt in bowl. Work lard into flour with your fingertips or a pastry cutter until mixture is mealy.
Drizzle in water, mixing with a fork, until dough comes together. Knead a few times, and divide in half. Form each half into a disc, wrap in plastic film, and refrigerate for 30 minutes or more.
Preheat oven to 425 degrees. On a floured surface, roll a disc of dough out to a thickness of about 1/8-inch. Cut out rounds of dough 4 inches in diameter. Repeat with the other disc of dough. Combine scraps, roll out again, and cut more 4-inch rounds. You should have 18 to 20 rounds of dough.
Place a heaping spoonful of the filling on a round of dough. Moisten edge of dough with water, fold over, and press with fingertips to seal. Place turnover on an ungreased baking sheet. Repeat with additional filling and rounds of dough. Brush turnovers with milk, and bake in preheated oven until browned, about 15 to 18 minutes. Remove turnovers to a rack to cool. Makes 18 to 20 small turnovers.
Asparagus With Eggs and Parmesan
Asparagus and eggs are often combined in cold salads, but the pairing also
works well as a hot dish.
1 pound asparagus
4 tablespoons butter, divided
1 tablespoon lemon juice
4 eggs
1/4 cup grated Parmesan cheese
Coarse salt and freshly ground black pepper to taste
Break off woody ends of asparagus, and discard. Place asparagus in a nonreactive skillet, cover with water, add a large pinch of salt, and simmer for about 4 minutes. Drain asparagus in colander, and dry off skillet. Add 3 tablespoons butter and lemon juice to skillet, and place on low heat. When butter is melted, return asparagus to skillet, and simmer, shaking pan occasionally, for about 4 minutes. Meanwhile, in another skillet, cook 4 eggs sunny-side-up in remaining tablespoon of butter.
Using tongs, divide asparagus among 4 plates. Top each with a cooked egg, sprinkle with Parmesan, and season with salt and pepper. Serves 4.
Pan-Fried Zucchini
Prepared this way, zucchini is reminiscent of fried green tomatoes. I like these crispy rounds with just a squeeze of lemon, but they're also good with salsa, a homemade herbal mayonnaise or rémoulade sauce.
Olive oil for frying
4 medium zucchini
1 egg, well-beaten with 2 tablespoons water
1/2 cup cornmeal
Coarse salt and freshly ground black pepper to taste
Lemon wedges
Pour about 1/8-inch olive oil in a large skillet, and heat. Trim ends of zucchini, and slice about 1/4-inch thick.
Working in batches, dip zucchini slices in egg, and then dredge in cornmeal. Fry on medium-high heat until golden-brown, turn, and fry other side. Remove fried zucchini, and drain on absorbent paper. Add additional oil to skillet if necessary, and repeat procedure until all the zucchini has been fried. Season with salt and pepper. Serve with lemon wedges or sauce of your choosing. Serves 4.

Green Beans with New Potatoes and Bacon
This dish is sometimes made with ham, but I prefer the taste of smoked bacon here. Use small new potatoes, and do not peel them.
4 thick slices bacon
1 pound green beans
1 cup water
1/2 pound new potatoes
Coarse salt and freshly ground black pepper to taste
Cut bacon into small pieces about 1/2-inch wide. Fry in casserole or Dutch oven on low heat, stirring occasionally, until browned. Meanwhile, snap ends off beans, string them if necessary, and break beans into 2 or 3 pieces. Pour off all but 1 tablespoon bacon drippings. Add water, and scrape up browned bits on bottom of pot. Add beans; cover; and simmer, stirring occasionally.
Meanwhile, in another pot, cover potatoes with water; bring to a boil; and cook until tender, about 10 to 15 minutes, depending on size of potatoes. Drain potatoes, cut in half, and add to beans. Cover, and continue simmering until beans are tender, adding a little additional water if necessary. Season with salt and pepper. Serves 4.