Fête Française
Celebrate Bastille Day in French style with these classic dishes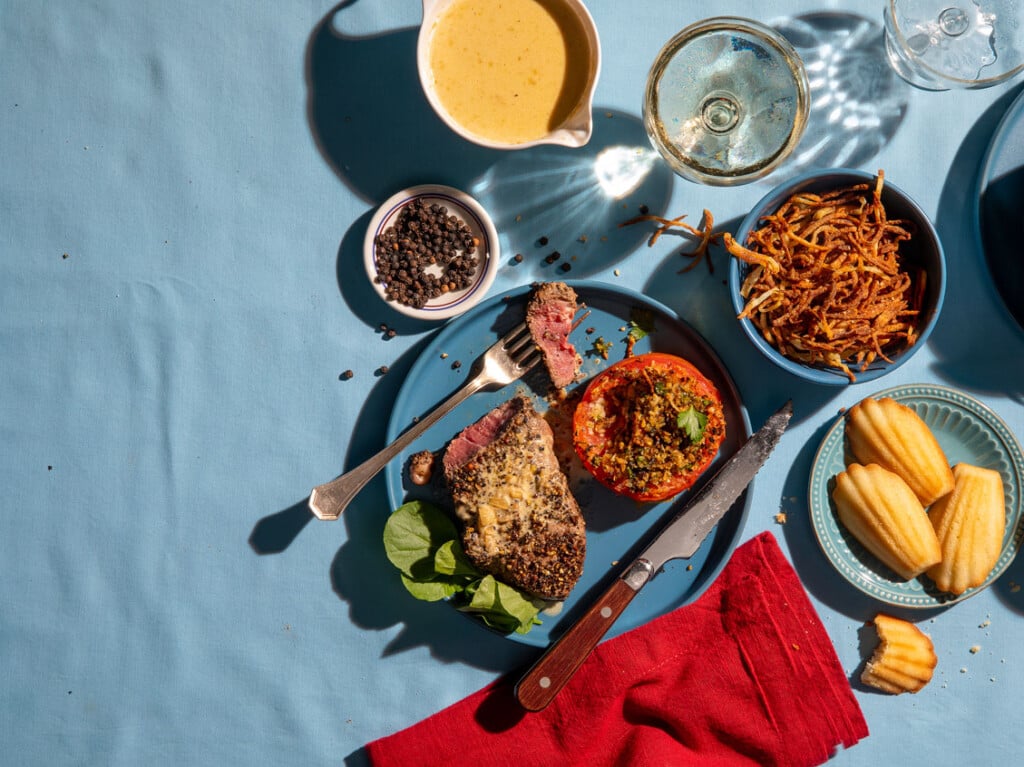 My father's birthday is July 6 so we often celebrated his birthday on the 4th of July, which was a big blowout being that the mid-summer holiday was the peak of our summer gatherings. One year, Papa suggested that since the background of our families is French we should also celebrate Bastille Day. (Or la fête nationale in France, which is celebrated annually on July 14) 
We reused our red, white and blue theme of the 4th since the French flag features the same colors as the American flag, and rather than having a French wine, baguettes and assorted French cheeses, Mama went all out with the menu featuring a classic French fricassee, French bread and delicious chocolate eclairs. 
This year for my Bastille Day celebration, this is my carte du jour.
Offer a French Champagne or aperitifs, like Dubonnet, to stimulate the appetite and begin the fête with rillettes de saumon fumé, (a smoked salmon spread). Follow with a very French (but simple) dinner of steak au poivre, pommes pailles, tomatoes provençale and a simple dessert like madeleines.
Set an intimate table with your best silver, china and crystal, or have a casual affair on the patio or in the backyard. Add songs by Édith Piaf to your playlist and enjoy.
Main Dish
Steak au Poivre
3 tablespoons black peppercorns
4 (½-pound) beef filets, each about ¾-inch thick
Salt
1½ tablespoons vegetable oil
1½ tablespoons unsalted butter
¼ cup minced shallots
½ cup Cognac
1 cup beef broth
2⁄3 cup heavy cream
Cayenne
Watercress or parsley sprigs for garnish
1. Coarsely crush peppercorns with a mortar and pestle or in a peppermill. Press pepper into both sides of steaks and season with salt.  
2. In a large heavy skillet, heat oil and the butter over moderately high heat until the foam subsides. Add the steaks and cook for 2 to 2 ½ minutes on each side, or until they are just springy to the touch, for medium-rare, or longer if you prefer the steaks to be medium.  
3. Transfer to a platter and keep warm. Pour off almost all of the oil in the skillet. Add shallots and cook over moderate heat, stirring, until softened. Add Cognac and cook until the mixture is reduced to a glaze on the bottom of the pan. 
4. Add broth and simmer, stirring, until reduced by half. Add cream and stir occasionally, until it is thickened slightly.  
5. Season with salt and cayenne. Pour sauce into a warmed sauceboat. Garnish steaks with the watercress or parsley and serve sauce separately. Makes 4 servings
On the Side
Tomatoes Provençale
4 medium, ripe tomatoes
3 tablespoons olive oil plus additional for brushing the tomatoes
1⁄3 cup bread crumbs
1 flat anchovy fillet, rinsed, patted dry and minced
1 teaspoon minced garlic
1⁄3 cup grated Parmesan cheese
1⁄3 cup minced parsley
3 tablespoons finely chopped fresh basil leaves
Salt and black pepper 
1. Preheat the oven to 325 degrees. 
2. Cut off top third from tomatoes and discard. Scoop out seeds with a small spoon and brush outside with olive oil. 
3. Put tomatoes, cut sides up, on a lightly oiled shallow baking pan and season the inside with salt and pepper. Bake for 20 minutes. Remove and invert tomatoes over paper towels and let drain for about 15 minutes.  
4. In a small bowl, toss together bread crumbs, anchovy, garlic, Parmesan, parsley, basil and salt and pepper. Divide mixture equally among tomatoes and stuff into the cavities. Sprinkle with the three tablespoons of olive oil. Return tomatoes to baking pan and broil about four inches from the heat for 2 to 3 minutes, or until the topping is crisp and golden brown. Makes 4 servings
Dessert
Madeleines
1 cup all-purpose flour
1 teaspoon baking powder
4 large eggs
2⁄3 cup sugar
1 teaspoon grated lemon zest
1 stick unsalted butter, melted
1. Sift flour with baking powder. Whisk eggs and sugar until thick and pale. Beat in zest, then fold in flour, a third at a time, mixing between each addition. Add butter with the last batch. Cover and chill until it stiffens slightly, about 20 minutes.  
2. Preheat the oven to 450 degrees.  Grease and flour madeleine molds. With a large spoon, pour batter into the molds, so that they are two-thirds full. Bake for 5 minutes. Reduce heat to 400 degrees and continue baking until golden brown, 5 to 7 minutes. Remove from oven and cool for a few minutes before popping them out to cool on a wire rack. Makes 24 cookies