Farm to Table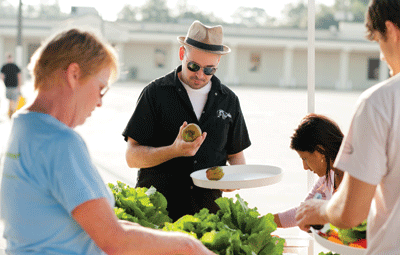 Jolie's Louisiana Bistro
507 W. Pinhook Road, Lafayette
337/504-2382
www.jolieslouisianabistro.com
Manny Augello is not your typical Louisiana chef.
First of all, he was born in Italy.
But that tiny detail has proven no hindrance to his full embrace of Louisiana and its food. In fact, he may be doing as much as anyone in the state these days to bring attention to the food Louisiana produces and the incredible array of possibilities to create with that bounty.
"We focus on the Acadiana table and what it has to provide for us," Augello says. "We change our menus as fast as the seasons change."
At only 25 years old, this young chef has big ideas about the prospects of Louisiana farm-to-table cuisine.
"Farm-to-table cuisine really has a lot to do with personalizing the food we create," he says. "Our customers can know the name of the farm, the name of the farmer and exactly where in Acadiana the farm is. It ties in the community – and the economy."
For example, in late October, a local farmer brought Augello a bumper crop of pumpkins. "We [went] a little pumpkin- crazy," he says. "We [made] pumpkin ravioli, pumpkin fritters. It's fantastic."
Augello says the farm-to-table concept is one way to "give back to home a little bit and taking care of our own first."
He says he believes that the support restaurants can offer local farmers can continue to build a food culture in Southwest Louisiana.
"We support our local butchers, as well – only grass-fed beef and local fish," Augello says.
Augello became Jolie's executive chef in January 2011, after working at the restaurant for three years. Transforming the way the restaurant went about sourcing the food has taken time and energy.
"We spend up to 20 hours a week resourcing our produce," he says. "Tuesday mornings are great. Many of the producers stop by then. We have the cheese lady, our produce-growers and our butchers bringing products to us. It's a cool thing."
For Augello, farm-to-table is not novel: "This is how I grew up. It requires commitment to do it at this level, but it's worth it. There's a reason why watermelons and tomatoes don't grow in the winters, but there's a reason squash does. That's what your body needs. Why wouldn't you cook that way?"
Louisiana's temperamental climate provides occasional challenges, as do the long, hot summers, but Augello says he and his staff are up for it.
"Seasons are plentiful in Southwest Louisiana," he says. "Some of them are very, very short. We have to be resourceful in the summer. We have to find some sort of inspiration. We are very lucky to have a kitchen and the entire restaurant of talented individuals. We put all their vision and creativity to good use. It's a very democratic environment. We let each of our cooks do what they do best."
Augello moved to Louisiana when he was 8 and grew up in the New Orleans area. He's been in Lafayette for six years. The respect he displays for his adopted home shows through in the food he creates, leaving proof that he's acclimated to the land he loves. Augello creates Louisiana flavors that go far beyond the traditional gumbo.
"Right now, people should try our mushroom toast with chili jam," he says. "It showcases Acadiana mushrooms. We've also got an incredible sweet potato gnocchi. We try to use as much as possible for a certain ingredient before we give it to compost. For example, we smoke with pecan shells."
As Jolie's farm-to-table efforts gain momentum, the Lafayette restaurant is attracting attention, even at the national level in the November edition of Bon Appetit. Augello believes the restaurant's clients are beginning to see things in a different perspective.
"Certainly, everything doesn't work for everybody – and then to make it more challenging, once you find things that work, it's time to take them off the menu," he says. "It's difficult. But whether it's the national farm-to-table trend partnered with a little bit of us, people are getting it. I'd like to think that we have something to do with it."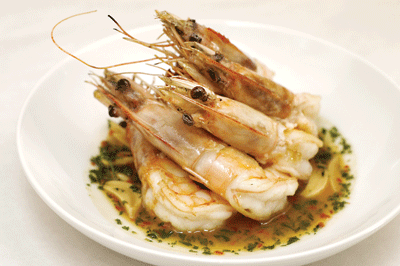 Pamplona Tapas Bar
631 Jefferson St., Lafayette
337/232-0070
www.pamplonatapas.com
At Pamplona, the food isn't always farm-to-table. Instead, it's more often Gulf-to-table or pasture-to-table.
"Here in South Louisiana, a lot of people have pride from where they're from and what their land produces – who we are and where we came from," says Andrew Payne, Pamplona's general manager. "Crawfish is a prime example. People enjoy eating the exotic things that come from far off, but they also want things that weren't frozen and traveled from a long distance. Our clientele is more mindful of that today, more so than yesterday."
Pamplona doesn't stop at keeping seafood and beef local. It also serves local fruit; herbs; quail eggs; and locally produced handmade, stone-ground corn meal and grits.
"It's the best I've ever tasted," says Craig Crosby, executive chef. "And I know grits. I'm from Georgia."
Crosby says Pamplona is looking to expand its farm-to-table offerings. Pamplona has met with great success in working on several special events with EarthShare Gardens, a local gardening cooperative, to create meals based on whatever produce the garden has available.
"Locally produced food is pampered, basically," Crosby says. "It's produced on a smaller scale. On top of that, it's the freshest you can possibly get. Logistically, it's a nightmare, but there's no comparison to the quality."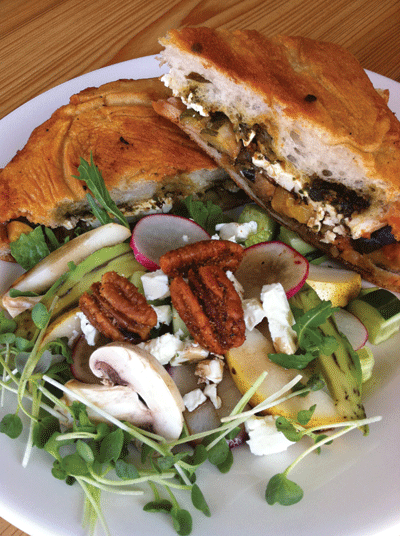 Saint Street Inn
407 Brook Ave., Lafayette
337/534-8112
saintstreetinn.com
Saint Street Inn owners Mary Tutwiler and Nathan Stubbs have years of experience in the food world – writing about food, that is.
After seven years working together at a local media outlet, Tutwiler and Stubbs decided to try their hands at the restaurant business.
"Everything came together at one time," Tutwiler says. "Nathan was at that same point in his career. We went out to lunch together every day for seven years and did a lot of thinking about this. When this building came open for rent, we just jumped. Neither of us has ever run a restaurant before. It's been a roller coaster."
Years ago Tutwiler spent a year in France and shopped daily at local markets. She says that experience shaped her perspective on "the sterility of American supermarkets," and she wanted the new restaurant to be a testament to the difference in food that's grown locally and eaten fresh.
Hence, the Saint Street Inn.
According to Tutwiler and Stubbs, they procure their ingredients from at least 17 providers – including a farmer who delivers 8 ounces of radish sprouts every week, another who only provides an exotic Japanese mustard green and one who brings mushrooms from Breaux Bridge – and they take regular trips to Eunice for grass-fed beef. The journalists-turned-restaurateurs are fully committed to making the farm-to-table concept a reality.
"We're probably still learning how best to communicate what we're doing and how to get that out to people," Stubbs says. "We were pleasantly surprised that we got a lot of immediate response from people who were looking for farm-to-table on a reasonably priced menu. We're keeping food simple and keeping it local – not overcomplicating things."
Tutwiler's been watching and cheering for the Acadiana's farmers market movement for years.
"After the stint at the paper, I was itching to get my hands on something that was hands-on," she says.
Stubbs agrees: "It's been really gratifying getting to meet and know all of the people from the farmers to the shrimpers. We're building out that network of people who are growing their own food and with a passion. Any way to help bring that to the table is gratifying."
Tutwiler says the Saint Street Inn's menu "is driven by what walks in the door that week." One day when 16 pounds of eggplant arrived, Tutwiler and Stubbs had a blast figuring out creative ways to present the aubergine.
"We don't always know what we're going to have on the menu tomorrow," she says. "It's creative, impulsive. It's hard."
Stubbs agrees that the ever-evolving menu is a constant challenge. "But that's the fun thing, as well," he says.
And judging by the response the restaurant has met since its August opening, a lot of people are hungry for the food the Saint Street Inn is bringing from the farms and putting on its tables.