De la Cuisine: Holiday Memories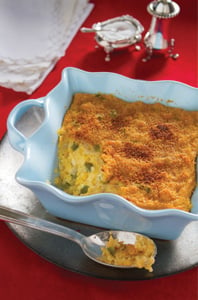 Christmas to me is associated with aromas and fragrances. During my childhood, Papa, Mama and we children attended the joyful midnight Mass at St. Martin de Tours, where the fragrance of fresh pine and cedar garlands tickled my nose. Following Mass, we returned home for a breakfast, which usually included thick slices of baked ham accompanied by skillet-baked corn bread drizzled with thick cane syrup, all washed down with either café au lait or hot chocolate.
By the time we'd changed into gowns or flannel pajamas and snuggled under mounds of quilts, Mama would have shoved a huge stuffed pork roast in the oven to bake well into the next morning. The house was redolent with the incredible aroma of that roast mingling with the garlic, onions and peppers that were stuffed in it.
I remember too the appearance, often while we were still in robes, of Sheriff Fuselier, Papa's closest friend, at the front door bearing a bag of gifts. A big bear of a man, he hugged and kissed us all while doling out small presents to us, a bottle of good bourbon for Papa and a tin of his wife's melt-in-your-mouth pralines made with raw sugar from the local sugar mill. To this day, I can still conjure up the scent of him – Old Spice mingled with a whiff of whiskey!
More often than not, my two great-aunts, Tante May and Aunt Belle, who lived nearby, gathered with us for a hearty breakfast of creamy grits and soft scrambled eggs, pain perdu (lost bread) and a bowl of fig preserves put up the previous summer. There were times that breakfast lasted for a good two hours, and because of that, Tante May called it an old-time Creole déjeuner. Like a Creole goodbye, it seemed like it lasted forever.
Once the breakfast dishes were cleared, it was time to begin the preparations for the celebration meal, which was served at 2 in the afternoon.
The roast emerged from the oven and was set aside to rest. Mama's stove had two ovens and six burners. One oven held a large roaster filled with mallards and pintails (wild ducks shot by Papa at his camp) while the other was reserved for a casserole of sweet potatoes, another of corn Creole (Mama's favorite holiday dish) and yet another for the ubiquitous green bean casserole sprinkled with those canned french-fried onions. Of course, there were always rice dressing with oysters, peas with onions and mushrooms and chicken and oyster patties for good measure.
On the dessert table sat Aunt Eva's many-layered coconut cake; pecan pies from Aunt Lois; and platters of pralines, divinity fudge and rum balls. Oh, how we ate!
Alas, my parents, as well as the aunts and uncles, are gone, but the menu has more or less remained the same, and oh, the aromas bring back so many great memories.

Mama's Stuffed Pork Roast

1 10- to 12-pound fresh ham shank
1 large onion, finely chopped
1 large green bell pepper, seeded and finely chopped
10 garlic cloves, thinly sliced
1 tablespoon salt, plus more for seasoning the outside of the roast
1 tablespoon cayenne pepper, plus more for seasoning the outside of the roast
1 teaspoon black pepper
Vegetable oil
2 cups water (or more as needed)
Preheat the oven to 450 degrees.
Set the roast on a large cutting board or platter. Combine the onion, bell pepper, garlic, salt, cayenne and black pepper in a small bowl, and mix well.
With a sharp boning knife, make several deep slits in the roast spaced several inches apart. Using your index finger, stuff the seasoning mixture into the slits, packing it in firmly. Season the outside of the roast generously with more salt and cayenne pepper. Rub the roast lightly with vegetable oil.
Place the roast in a heavy roasting pan, and put it in the oven. When the bottom of the pan begins to sizzle, carefully add the water. Bake the roast until it browns evenly, 30 to 45 minutes.
More water can be added if the pan becomes too dry. This will mix with the roast drippings and make a dark gravy that can be used now for basting the roast and later poured over steamed rice.
When the roast is well-browned, reduce the heat to 350 degrees; cover; and cook until the juices run clear and the roast is tender, 3 to 4 hours.
Remove from the oven, and cool slightly before carving. Serves 12 to 14.


Corn Creole

3 tablespoons vegetable oil or bacon drippings
1 cup chopped yellow onion
1/2 cup chopped green bell pepper
2 cups cream-style corn
1 large egg, beaten
2 cups milk
1/2 cup yellow cornmeal
Salt and cayenne to taste
Fine dried bread crumbs
Butter
Preheat the oven to 350 degrees.
Heat the oil or bacon drippings in a large, heavy pot over medium heat. Add the onions and bell peppers, and cook, stirring, for about 4 minutes or until soft and lightly golden. Add the corn, the egg and the milk. Cook, stirring occasionally, for 5 minutes. Add the cornmeal, and stir until the mixture thickens. Season with salt and cayenne, and pour into a lightly oiled baking dish. Sprinkle the top with bread crumbs, and dot with butter. Bake for about 30 minutes or until bubbly and hot. Serves about 6.

Sweet Potato Pone
1 egg
1 cup sugar
1 stick (8 tablespoons) butter or
margarine, softened
2 cups grated raw sweet potatoes
1/4 teaspoon salt
1/2 cup milk
1 cup chopped pecans

Preheat the oven to 325 degrees.
Beat the egg with the sugar and butter in a mixing bowl until creamy and smooth.
In another bowl, combine the sweet potatoes, salt and milk, and mix well. Add the butter mixture to the potato mixture, and mix well. Pour the mixture into a lightly buttered baking dish, and bake for 30 to 35 minutes. Remove from the oven, and sprinkle the top with the pecans. Return to the oven, and bake for 30 minutes or until the mixture sets slightly. Serves 6 to 8.

Cina's Pralines
1 pound light brown sugar
(about 3 cups)
Pinch salt
3/4 cup evaporated milk
1 tablespoon butter
2 cups pecan halves
Mix the sugar, salt, milk and butter in a large, heavy pot over low heat, stirring constantly, until the sugar dissolves. Add the pecans, and raise the heat to medium. Stirring often, cook to the soft-ball stage (235 degrees on a candy thermometer). Remove from the heat, and cool for several minutes. Stir rapidly until the mixture begins to thicken and coats the pecans. Drop by teaspoons onto parchment or waxed paper. When the candies have cooled, gently lift them from the paper, and store them in an airtight container. Makes about 2 dozen.