DE LA CUISINE: Fire Away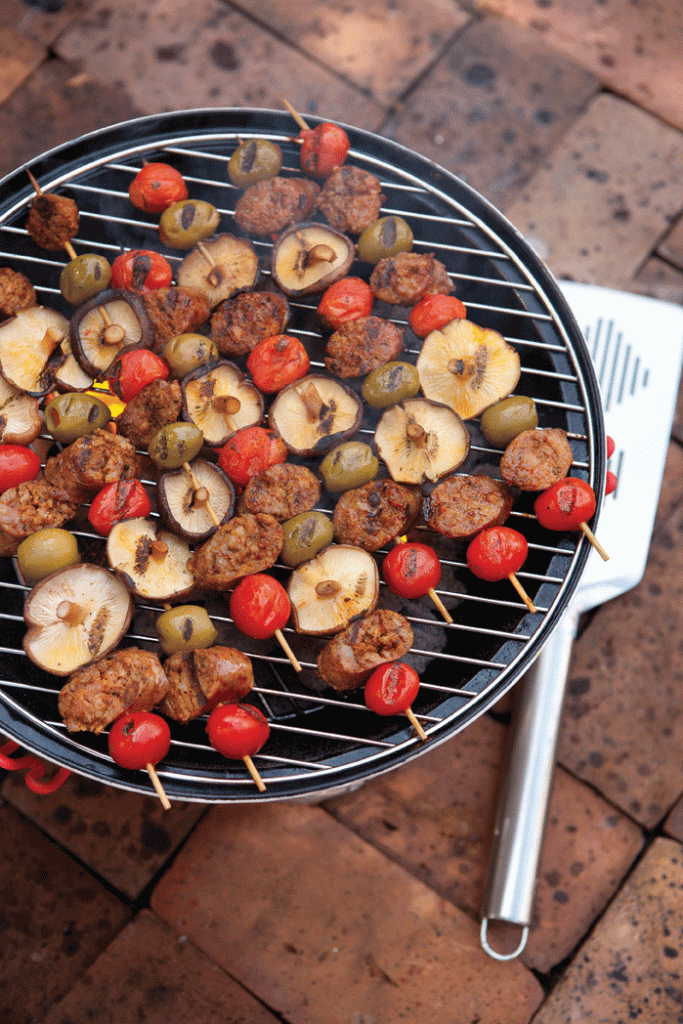 When daylight saving time arrives, I'm ecstatic. Those extra hours of daylight allow me to play in my garden; join my husband for a cruise on Bayou Teche on our small party barge; and enjoy a meal of grilled vegetables and meat, fish or fowl.
It's a bit early yet for home gardens to reach their peak, but I've been cruising the produce departments and roadside vegetable stands to see what's in the offering.
Grilling is easy and quick, and anything cooked over hot coals has a lightly smoky flavor that I love. Brushed with olive oil and sprinkled with fresh herbs, just about any vegetable will brighten with flavor.
If you're worried about vegetables sticking to the grill, you might want to investigate the array of grill racks available at specialty kitchen shops or even your local discount stores. The grill racks rest directly on the top of your grill and are usually easy to handle. You can also thread cubed vegetables or whole cherry tomatoes and such on metal or heavy bamboo skewers. If you're using the bamboo skewers, soak them in water for an hour or so. Be sure you have heavy-duty mitts and gloves as part of your grilling equipment.
I also encourage you to try different marinades for vegetables, as well as meat, fish and fowl. I'm particularly fond of adding citrus juices to marinades while my husband favors making what he calls dry marinades using spices and herbs.
Large vegetables can be cut into slices or wedges. Large mushroom caps, such as portobellos, can be left whole. Tomatoes, squash, zucchini, sweet onions and eggplant are ideal for grilling. You may also want to try asparagus, Belgian endive, whole garlic heads, fennel bulbs and baby artichokes.
Grilled vegetables can be served as a side dish with other grilled foods or as an appetizer. Leftover vegetables are great for tossing with pasta or salad greens for another meal.
Mixed Vegetable Grill
3/4 cup olive oil
3 tablespoons fresh lemon juice
3 tablespoons chopped fresh cilantro leaves
1 teaspoon salt
1/4 teaspoon freshly ground black pepper
1/2 teaspoon hot sauce
1 teaspoon soy sauce
2 fennel bulbs, trimmed and cut in half lengthwise
4 baby artichokes, trimmed
2 whole heads of garlic, unpeeled
2 Belgian endives
1/2 pound shiitake mushrooms, trimmed
12 asparagus stems, trimmed
1 large red onion, cut crosswise into 1/4-inch thick slices
Combine the olive oil, lemon juice, cilantro, salt, black pepper, hot sauce and soy sauce. Whisk to blend.
Bring a large pot of lightly salted water to a boil. Add the fennel bulbs, and cook until just tender, about 8 minutes. Remove, and drain. Drop in the baby artichokes, and cook until slightly tender, about 8 minutes. Scoop them out, drain, and cut in half lengthwise.
Blanch the garlic heads for about 5 minutes in the boiling water. Remove, and drain. Blanch the endives for about 1 minute. Remove, drain, and cut in half lengthwise.
Prepare a fire in a grill. Position an oiled rack 4 to 6 inches above the fire. Arrange the vegetables on the rack. Brush the vegetables with the olive oil-lemon mixture. Grill the fennel, artichokes, garlic heads and onion slices for about 12 minutes; the mushrooms for 6 to 8 minutes; the endive for about 8 minutes; and the asparagus for about 5 minutes. Brush the vegetables several times with the oil mixture while grilling. Serves 6 to 8.

Grilled Tomatoes With Mozzarella
2 medium tomatoes, ends trimmed and cut into 1/2-inch slices (about 8 slices)
Olive oil
Salt and black pepper, to taste
4 slices of mozzarella, each about 1/4-inch thick, at room temperature
1 tablespoon chopped fresh oregano leaves
1 tablespoon chopped fresh basil
Brush both sides of the tomatoes with olive oil, and season with salt and pepper. Grill the tomatoes, about 5 minutes on each side with the lid closed, or until just heated through and not soft. Remove, and top half of the tomatoes with a slice of cheese. Place the remaining tomato slices on top of the cheese. Return to the grill, close the lid, and cook for 2 to 3 minutes or just until the cheese melts slightly. Sprinkle with the fresh herbs.
Serves 4, but can be easily doubled.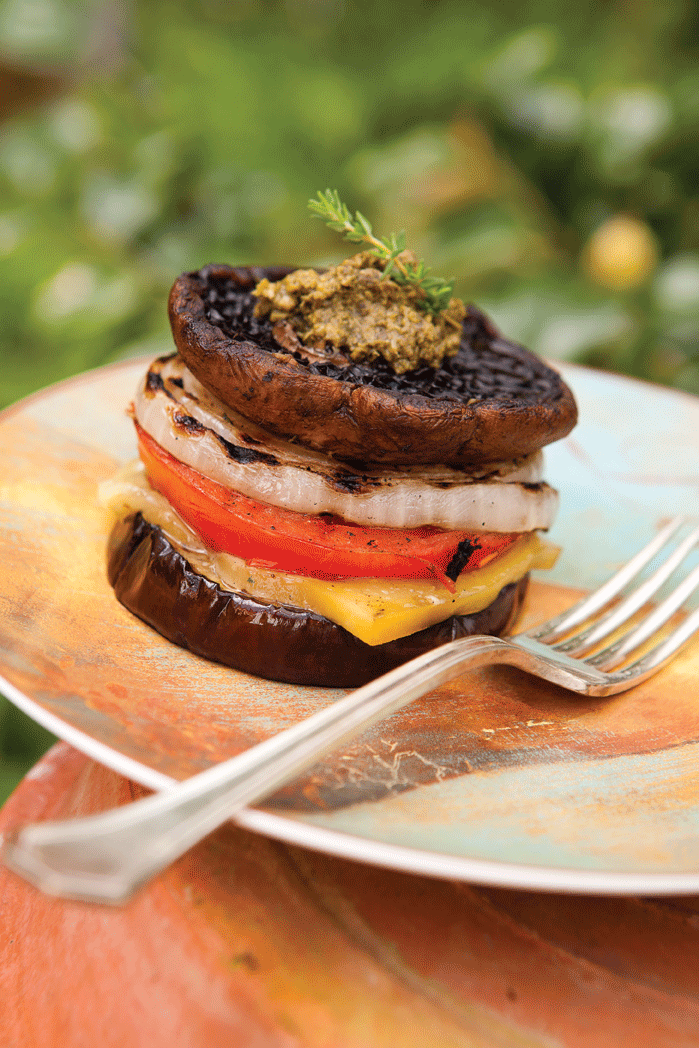 Grilled Eggplant with Fontina Cheese
1 large eggplant, cut into 12 slices
3/4 teaspoon salt, divided
1/3 cup olive oil
2 tablespoons fresh lemon juice
1 garlic clove, peeled and smashed
1 teaspoon fresh lemon thyme leaves
1/4 teaspoon freshly ground black pepper
6 thin slices fontina cheese

Put the eggplant on a baking sheet lined with paper towels. Sprinkle with 1/4 teaspoon of the salt. Cover with more paper towels. Let stand for an hour. Rinse with cool water, and pat dry.
Combine the oil, lemon juice, garlic, lemon thyme, the remaining 1/2 teaspoon salt and the pepper. Whisk to blend.
Prepare the grill. Position an oiled grill rack 4 inches above the fire. Arrange the eggplant slices on the grill. Brush with the olive oil-lemon mixture. Turn them once or twice, and cook until lightly browned, about 8 minutes total.
To serve, arrange six slices of the eggplant on a platter. Top each with a slice of the fontina cheese, and then top with the remaining eggplant slices. Serve immediately. (They can be kept warm in the oven if necessary.) Serves 6.
If you really want to jazz the eggplant up a bit more, try grilling thick slices of tomatoes and whole portobello mushrooms. Brush them lightly with olive oil, sprinkle with salt and black pepper, and grill quickly. Then make stacks, alternating the eggplant, cheese, tomato and portobello. (You can also grill thick onion slices.) Spoon fresh pesto on top of the stacks when serving.
I've been also experimenting with kebabs that include chunks of fresh or smoked pork sausage, porcini mushrooms, cherry tomatoes and big green olives. One evening I served the kebabs over rice pilaf, another time over baked cheese grits. Do some experimenting yourself – walk on the wild side!