Claws & effect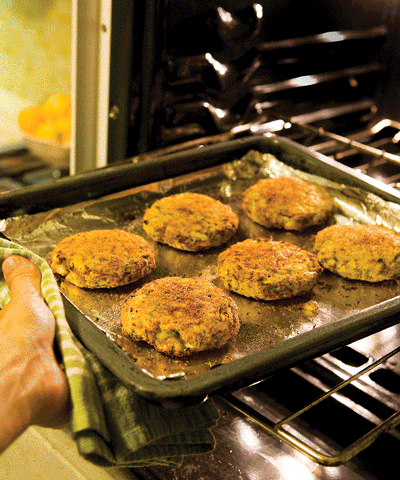 The blue crab is an irascible beast with a fearsome demeanor that belies its inner beauty. Only its scientific name, Callinectes sapidus ("tasty beautiful swimmer"), gives a hint of how sweet and succulent is the meat inside that hard shell. What a job it is to extract the snowy white deliciousness, but what a joy it is to savor it!
Fortunately for those of us who love crab, there are people who make their livings by extracting the meat from blue crabs. I have read that some of them can pick a crab clean in less than a minute, a feat that I can't even imagine. Speaking for myself, getting to the crabmeat is a slow process. Eating boiled crabs requires a patience that just doesn't come naturally to everyone. I suppose the world could be divided into those who enjoy sitting around a newspaper-covered table for hours at a time, methodically picking and eating crabs, and those who don't.
As befits a food that is so precious, freshness is the most important factor when it comes to crabmeat, which is always best when just extracted from the shell. Pasteurized, canned or frozen crabmeat is simply not worthwhile. It's better to have none at all than to have it in any of those forms. When purchasing fresh crabmeat, the integrity of the seller is what counts the most.
One afternoon a few years ago, I was making the rounds of stores in New Iberia, buying foods for a lunch I was cooking the next day for some visiting gourmands.
My ice chests were already mostly full with produce, shrimp and crawfish when I made the last stop of the day at Mike's Seafood, a small store that sells crabs and crabmeat and not much else. To my absolute horror, there was a "Closed" sign on the locked door. It wasn't like I could just go down the street to another establishment and buy pristine jumbo lump crabmeat. Mike's is the only game in town. Without the crabmeat, my carefully planned menu was in big trouble.
On a hunch, I walked around to the back door, and my spirits immediately rose, for the air was filled with the unmistakable aroma of boiling or steaming crabs. A grandmotherly Vietnamese woman came to the door and, in response to my inquiry, said she was sorry, but they had no more crabmeat.
"I have to have 4 pounds of jumbo lump crabmeat for tomorrow," I pleaded.
She smiled. "Don't worry. Come here, to back door, 5 o'clock in the morning. I have for you."
I thanked her profusely and slept soundly that night. At 5 the next morning, I arrived at Mike's back door to find the processing room filled with Vietnamese ladies picking crabs. I have never had fresher or more delicious crabmeat.
There are many dishes you can make with fresh crabmeat, but one of the best is crab cakes. There are various ways to make crab cakes, but they all require very fresh lump crabmeat. In addition to the crabmeat, there are three crucial components of a good crab cake: seasoning, binder and cooking method. Like stuffed crab, which is a close relation, crab cakes can be ruined by what is added to the crab, so restraint is in order at every step along the way.
Cooks vary greatly in how they season crab cakes, ranging from those who merely add a bit of lemon, parsley, salt and pepper and perhaps a touch of cayenne or hot sauce to others who load up their crab cakes with bell pepper, onion, green onion, Worcestershire sauce, Creole seasoning and other assorted flavors and textures.
Seasoning is a matter of personal preference, of course, so there can be no hard and fast rules about this. But crabmeat is delicate and shouldn't be overwhelmed.
Seasoning should serve to accentuate, not mask, the pure taste of crab.
In order to form a crab cake, you need something to bind the crabmeat together, but whatever you use should be added in moderation. Eggs and bread crumbs are probably the most common ingredients for this purpose. It's worth remembering that bread crumbs vary greatly and that those you make yourself from good bread are superior to what you get in a box. The overuse of bread crumbs as a filler ingredient is a common fault of commercial crab cakes. There should be just enough binder to hold the crabmeat together and no more. When I put a fork to a cooked crab cake, I want it to flake or crumble at the slightest pressure.
Cracker meal can take the place of bread crumbs, though I can no longer find cracker meal in the stores. (This is easily remedied by crushing saltines with unsalted tops.) Other bindings that are sometimes used include mayonnaise and béchamel sauce.
The most usual way to cook crab cakes is to dip them in some combination of flour, egg and bread crumbs or cracker meal and pan-fry or sauté them in clarified butter or a mixture of butter and oil. Less successful, I think, is deep frying, but broiling is an option for those concerned about their intake of fat.
Generally, I am happy with a squeeze of lemon on my crab cakes, but there are many other possibilities, including tartar, rémoulade, ravigote, brown-butter-and-caper or beurre blanc sauces.
Pan-Fried Crab Cakes
1 pound lump crabmeat
2 tablespoons lemon juice
1 tablespoon chopped parsley
1 tablespoon chopped green onion tops
1/2 cup crushed saltines with unsalted tops
1 egg, beaten
Salt, black pepper and cayenne to taste
FOR FRYING:
4 tablespoons butter
1/4 cup olive or vegetable oil
1/4 cup flour
1 egg, beaten with 1 tablespoon water
1/2 cup crushed saltines with unsalted tops
In a mixing bowl, combine the crabmeat, lemon juice, parsley, green onion tops, crushed crackers and egg. Mix gently with a fork, being careful not to break up the crabmeat. Season to taste with salt, black pepper and cayenne. Form the mixture into six cakes.
In a large skillet, heat the butter and oil on a medium flame or setting. Lightly dredge crab cakes in flour, then egg and then crushed crackers. Fry them until they're nicely browned, about three minutes. Then turn them, and cook on the other side until browned, about another three minutes. Drain cakes on absorbent paper.
Broiled Crab Cakes
This recipe is from Warren Burke and Monique Soileau-Burke, Louisiana natives who now live in Baltimore, where Old Bay powdered seasoning is as common as Creole seasoning is here.
1 pound lump crabmeat
1/4 cup minced onion
1/4 cup chopped bell pepper
1 tablespoon chopped parsley
1 tablespoon lemon juice
1 teaspoon Louisiana hot pepper sauce
1/4 teaspoon black pepper
2/3 cup bread crumbs
1 egg plus 1 egg white, beaten
FOR BROILING:
2 tablespoons olive oil
1/4 cup bread crumbs
Old Bay seasoning
Preheat the broiler. Combine the crabmeat, onion, bell pepper, parsley, lemon juice, pepper sauce, black pepper, bread crumbs and egg, being careful not to break up the crabmeat. Form the mixture into six cakes, brush them with olive oil, and dredge them in bread crumbs.
Broil on high for four minutes, turn, and broil for another four minutes. Sprinkle with Old Bay.