Antebellum Return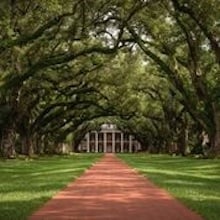 With the allure of the Hollywood epic, coupled with the historical worldliness of a fairytale, there's no chance Oak Alley would leave a visitor with anything but awe. The near 200-year-old homestead is unparalleled to any place in America and is a captivating vortex of wonder and beauty. You will certainly be swept away by the larger than life presence, which oozes from this cinematic scene (also a National Historic Landmark) in Vacherie, Louisiana.
Its antebellum charm exudes from every corner of the Greek Revival estate, and you can all but see the swaying hoop skirts dashing across the gallery and distinguished noblemen of the day entering the mansion.
Once standing in front of one of the most photographed and storied southern plantations under its infamous long alley of 300-year-old live oaks whose canopy of branches seem to be holding hands, you too, will be taken by the soulful and perhaps surreal site.
It's no wonder people from around the world ardently await the moment they can stand in her presence, admire her exquisiteness and soak in her deep dramatic history.
A visit here will unveil what the "Golden Age" of sugar plantations was really all about, from the slaves upon whose backs the plantation was built to the sugar cane they cultivated for Jacques T. Roman's family's colossal empire. The Roman's history and influence – which stretches from Opelousas, Louisiana, to New Orleans and Gulfport, Mississippi – played a pivotal role in not only the family's fortune but also the economy of this southern region.
To begin unveiling this enthralling history, a tour of the "Big House" itself is a perfect introduction to much more that awaits your exploration on the grounds of Oak Alley. Here you will learn about the families who resided at Oak Alley and view several artifacts belonging to the owners. (Fact: All oratorized details given in the tour are based solely on historical facts). The lavish lifestyle of the Roman family and the substantial spending of Celina Roman, Jacques Roman's wife, is also uncovered during the tour.
In a complete paradox, the plantation's slave exhibit entitled: "Slavery at Oak Alley" offers an intimate look at the slaves whose hands made the Roman family flourish and allowed for their extravagant existence. Here you will not only learn about one of the darkest periods in America, but you will also learn about Antoine, an enslaved gardener and expert grafter of pecan trees, and Zephyr, a freed slave, among others who have fascinating stories of their own. The cottages also hold artifacts including tools and devices used by the enslaved and those used to keep them in bondage, like shackles. (Tip: Every Friday, a historical interpreter is present at the cottages and offers even more information about the lives and legacies of the slaves).
There's also blacksmith shop with live presentations and a Confederate Commanding Officer's Tent with an historic interpreter. (Tip: Call ahead of time to find out the times and dates of the live exhibits.) Oak Alley also boasts a Sugarcane Theater with a film on the crop that is responsible for the Roman's empire and the south's "Golden Age." The documentary also explores the complete process of cultivating sugar cane from the 1800s to today. There is also a sugar cane exhibit, which includes an 1800s-era plow and sugar barrel, a sugar kettle and skimmer. (Fact: Descendants of the Stewart family, the longest inhabitants of Oak Alley still live and work at the plantation).
You will need several hours to take in all the history and beauty of the 25-acre estate or better yet, stay overnight in one of Oak Alley's historic or newly built cottages of which further details and tips are given below.
Be sure to grab a refreshing signature plantation cocktail while enjoying the grounds. You can wet your whistle at Oak Alley's Spirits Bar with their famous Mint Julep or if you want a different twist on this traditional southern concoction try the tasty Lemon Julep or Frozen Blackberry Mint Julep. (Tip: You can enjoy your drink of choice while touring the plantation).
Hungry? Oak Alley Restaurant offers scrumptious southern Cajun/Creole house-made dishes sure to please everyone. The chicken, smoked sausage, and andouille gumbo, as well as the Vacherie burger with its special Creolaise sauce (creole mustard, mayonnaise and seasonings) are sure crowd pleasers. (Tip: Regulars ask for extra sauce to dip their French fries). The seafood au gratin, red beans & rice with smoked sausage, and a Cajun medley, which features a cup of gumbo, crawfish étouffee, and red beans and rice, are also popular dishes.
(Tip: A favorite among many plantation employees is the open-faced, sloppy, roast beef and gravy po' boy.) The combination of the roast beef marinated in a special house herb vinaigrette dressing and the succulent gravy makes this sandwich a winner; this is certainly a 'wet' sandwich, which will force you to eat this southern delicacy with a fork and knife. No matter what you order, take care to wash it down with a tall glass of their homemade sweet mint iced tea. While at the restaurant, make sure you meet Mrs. Rheba, a fixture at Oak Alley who is quick on her feet as she waits tables even as she boasts true-Southern hospitality and charm.
Save lots of room for dessert, especially for the pecan praline cheesecake topped with a dark rum sauce. If that doesn't work, try the mouthwatering buttermilk pie or Oak Alley Plantation's famous bread pudding with whiskey sauce, made with real French bread. (Tip: They can wrap up a whole pie for you to enjoy when you return home).
After getting your fill of delicious Southern food and the plethora of history and exhibits offered at Oak Alley Plantation, visit neighboring St Joseph's Plantation, a working sugar cane planation located right next door to Oak Alley. St. Joseph Plantation houses several pieces of original furniture, tools, and dishes among other artifacts. Ready for still more? Just a five-minute drive away lies Laura Plantation, which is steeped in Creole history, and has 12 buildings on the national historic registry.
Of course, one of the biggest natural draws to Oak Alley is the mighty Mississippi, which put the iconic planation and other River Road plantations on the map. In front of Oak Alley, you can pull your car right up to the levee and sit on one of the benches to watch the lazy river and the riverboats and barges traverse through this iconic waterway. However, for the best seat in the house, be sure to sit on the bench, which sits dead center above the legendary row of Oak Alley trees. The view of the plantation from this vantage point is a sight to behold, and you can turn around and look at the majestic river, too.
Looking for activity? Before you arrive, call Baton Rouge Bicycle Rentals, and Gaston Gravois will deliver bikes to you with helmets and locks for your enjoyment. Take your two wheels atop the levee on the 3.1-miles of paved asphalt, also used for walking and running. The trail runs right across the front of Oak Alley, St. Joseph and Laura Plantations – which allows you to planation hop on your bike (or just explore the area with the breathtaking Mississippi skirting alongside your ride).
After a day of being swept away by Antebellum charm and a history, be sure to have one of the best sleeps of your life courtesy of the AAA-approved, three diamond accredited Oak Alley Cottages. You can stay in either one of the century-old cottages or a newer deluxe cottage, all of which have kitchens. With all the amenities you could want, plus a Tempur-Pedic mattress, you are sure to have a restful stay. (Tip: Cottage No. 6 is an historic suite with two bedrooms and a back porch with a large oak tree. Room numbers 7, 8 and 9 are the newer cottages with king-size beds.) Dinner is served in your room only, and you can choose from their menu before you check into the cottages. (Fun Fact: Overnight guests use the flashlights supplied in each cottage to walk around the grounds at night under the oaks. Be sure to turn off your flashlights to completely enjoy the enchanted star studded night sky).
Another option is to head three and a half miles from Oak Alley to B & C Seafood Market and Cajun restaurant in Vacherie. The Cajun Sampler with catfish, crawfish kickers, alligator, boudin balls and hushpuppies is a popular appetizer with regular patrons; you can also indulge in mouthwatering seafood platters, soft shell crabs, fried alligator and frog legs. Another great choice is DJ's Grill where Chef Brandon Naquin creates delectable dishes for the lengthy menu, which includes gourmet pizzas, choice steaks, seafood, Italian dishes and, of course, Cajun specialties. (Tip: Although reservations are not required, they are strongly suggested, especially on weekends).
Back at your home base of the beautiful Oak Alley, comes a full southern breakfast each morning, the price of which is included with an overnight stay. There are several items from which to choose including plantation-sized omelets, bacon, beignets and delicious Community Coffee's gourmet "Gold Cup" coffee. (Tip: For an additional fee, be sure to reserve the "Do Not Disturb" package, which includes wine or house-made Mint Juleps, plus a fruit and cheese tray and chocolate covered strawberries. This package also includes breakfast brought to your room).
As you leave this historical wonder behind, you will not only take home a storied history unlike any other, but a filmic scene as well, one that will be forever etched in your mind.
For more information: http://www.oakalleyplantation.com, http://www.brbikerental.com, http://www.bncrestaurant.com, https://www.facebook.com/DJs-Grille-140725221480/