With Honors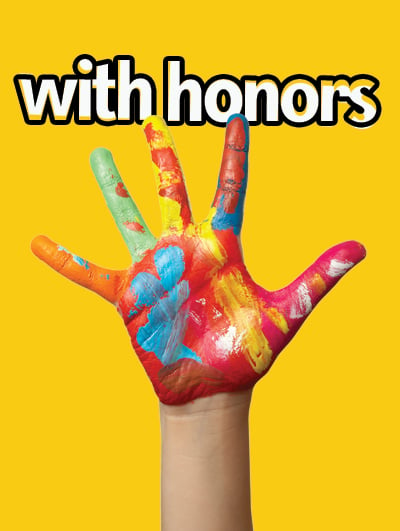 Our Lady of Fatima School (Lafayette)
Specialty: 5th Grade
LSU (1971)
Alicia Fortenberry knows that part of her passion for teaching comes from Our Lady of Fatima School itself. "That school is in my heart and the blood that flows through it," she says.
Fortenberry knew she wanted to be a teacher because she'd "always loved school." She grew up in Catholic family Plaquemines Parish, but because there were no Catholic schools there in her childhood, she and her siblings were students at Catholic boarding schools. She finished her secondary education at St. Joseph's Academy and earned a degree in education at Louisiana State University in 1971. She taught for 12 years at various schools after that, before finding her true home at Our Lady of Fatima, where she has taught for the last 29 years.
Her approach to education is simple. "Although I feel that I am a strong disciplinarian, I spend a lot of energy having fun with kids," she says. "I try very hard to build a relationship with them. Hopefully, they all know that I love them even when I am spending my energy to teach them right from wrong. More than content, I try to teach them life skills, work ethic and a love for God."
In the 41 years that she has been teaching, Fortenberry has noticed some changes in the way education works, particularly in the culture of the students in her care. "Teaching responsibility to the children is tough for parents and educators," she says.
She has two pieces of advice for people considering education as a career. "Get in classrooms early in their education to observe and determine if they like being there," she says. "The other advice I give to them is to try to have fun while demonstrating strong and confident leadership to children. If you, the college student, can show children love and boundaries, you can be a successful teacher. It is a fine line, but if they can find that fine line, their career can be very rewarding."
Of the things Fortenberry finds rewarding in her career, her winning the 2001 Louisiana Education Foundation Educator of the Year award stands out. "But, I have other moments that are of equal value," she says. "When I have adults who I taught come back and tell me what they have accomplished in life since they were in my class, I have a sense of pride that I may have played a small part in their successes in life."
In her personal life, Fortenberry has been married for 43 years. She has two grown children and two grandchildren, both of whom will be students at Our Lady of Fatima. "My family is my life," she says. "I spend most of my physical, emotional and spiritual energy being the best I can be as a wife, mother, and grandmother. My grandchildren are the gifts of my life. Spending quality time with them at the beach, taking them to museums, going to the zoo, and teaching them that they are gifts from God takes up most of my leisure time."

---

Academy of the Sacred Heart (Grand Coteau)
Specialty: Prep Science, Math and Religion
University of Louisiana at Lafayette (1993)
In the process of this interview, Mark Clack found herself juggling "theater rehearsals, our fundraiser, the arrival of our new robots, oh, and teaching. It's an exciting year at Schools of the Sacred Heart."
An alumna of Sacred Heart herself, Clack has been teaching there for 20 years. Clack, who grew up in Youngsville, has known she wanted to be a teacher since fourth grade. "Being an educator for me was less of a choice than a calling," she says. "I never wanted to be anything else."
However, finding herself as a teacher of math and science was not anything she ever expected. "In fact, these are two subjects in which I had the most trouble," she says. "When I was offered a job at ASH, it was as if the Holy Spirit said to me 'you're going to teach your most challenging subjects.' Because of my love of learning and a stubbornness that wouldn't let me give up, I have thrived in this position."
Clack says that teaching these subjects to young women is rewarding as it helps them develop interest in the field. "As I tell my girls every year, 'We don't just study science — we DO science. We are all scientists in my classroom,'" she says. Her favorite thing about being a teacher is the "light bulb" moment. "When a student has been struggling with a concept or particular skill, frustrated to the point of quitting, then they get that moment when it all becomes clear," she says. "The smile on their face is why I am still a teacher after all this time."
Her approach to education is holistic. "You must teach a young person how to respect others and themselves in order to have a successful student," Clack says. "Also, that success looks different for each student. Each and every girl I teach is unique with God-given gifts. Our challenge to find those gifts and celebrate them."
​As for the future of education, Clack says it's both challenging and exciting how tech-savvy students are becoming. "Our challenge is to channel that enthusiasm for social media and devices into an educational and safe setting," she says. "Young people are exposed to so much at such a young age. Education isn't just about teaching facts but about guiding students to be better people and make a difference."
Clack is a member of the National Science Teachers Association, the International Society for Technology in Education and the Louisiana Association of Computer Using Educators. Through NSTA, she made contact with Dr. Pam Blanchard of LSU Coastal Roots and began the robotics program at Sacred Heart. Through parent and alumni donations, the school was able to purchase two NAO robots and begin a robotics program this year, which Clack believes is the only such program in Acadiana and possibly Louisiana. "Robotics is the fastest-growing industry and most advanced technology used in education and research," she says. "The NAO humanoid robot is the ideal platform for teaching or researching in science and technology."
As for her family, Clack's daughter is a 10th grade student at Sacred Heart and has attended the school since infancy. They enjoy traveling, including taking mission trips and trips to New York, where Clack attended the Broadway Teachers Workshop. "I help with our all-school musical each year by handling the sound and lighting for the production, so this workshop was a wonderful way to spend our vacation and learn about producing musicals," she says. "My daughter and I love the theater and try to attend as many shows as possible."
In her personal time, Clack enjoys road skydiving, road cycling and running. She was one of 50 teachers in Louisiana chosen to participate in a Zero G flight, has completed a two-day 150-mile bike ride from Hammond to McComb, Mississippi, and regularly runs 5K's with her daughter.

---

Woodvale Elementary School (Lafayette)
Specialty: Science Lab
University of Cincinnati (1978)
University of Louisiana at Lafayette (1988)
Susan Yerino began her professional life working as a geologist for four years. "I love science and always have. I'm happy outside, so geology was a good fit," she says. However, upon starting a family, she felt that the schedule of teaching would be a better fit, since fieldwork as a geologist took her away from home for up to six weeks at a time. However, she feels "it was the best decision" she ever made.
Yerino was born in Massachusetts. Her father was in the Air Force, so she moved frequently and didn't have what is usually thought of as a hometown. However, she has lived in Lafayette for 28 years and feels it is her home. She and her husband have three grown children, two of whom are students at University of Louisiana at Lafayette. In her spare time, she is involved with her church, as a Red Cross CPR trainer, an adult literacy educator, canoeing, traveling, and being a "judo mom."
She has been teaching for 20 years, 15 of them at Woodvale Elementary. Before joining the faculty at Woodvale, she taught junior high in Kentucky, where one particular student stands out in her memory as cementing her love of teaching. He had challenges with reading, but, with Yerino's dedication, attention, and assistance on his final paper, he managed to earn an A-. "He told his mom that was the first paper he was really proud of, because he felt smart for the first time in his life," she says. "He wrote to me when he graduated, sending a picture in his cap and gown. He said whenever school got hard he'd think about his great work in my class and keep trying. He went on to certify to repair air conditioners and heat pumps. In what other profession could I get such a rich reward?"
Upon settling in Lafayette, she turned to elementary education, which she found she truly enjoyed. "I love turning them onto new ideas. I love seeing that interest and spark when they discover something. I really love when a child who struggles with reading finds out he is great at science: building and designing things, experimenting and graphing his data on computer, or figuring out circuits," she says.
However, she feels the future of education holds certain obstacles. In addition to difficult home lives for students, student behavior, and a lack of resources in schools, Yerino feels that "we seem to be missing the point — teach the children. In today's classroom, we pretest in every subject, teach, then posttest in every subject. It becomes a race to assess at every stage, leaving smaller and smaller chunks of time to teach and smaller amounts of time to inspire students and show them the joy of lifelong learning."
Yerino also feels that there is a "lack of respect" for career teachers – those who spend their educations and daily lives working with children. "Instead we're making changes because a college professor who never taught a 6-year-old thinks this is better," she says.
She is optimistic about the future, however. "I hope teachers will have a little more input into what works well and what does not. I hope teachers can be given enough freedom and flexibility to adjust their teaching to their own students. I hope we can stop treating our students as statistics in rating a school and be more concerned about our students gaining the skills, knowledge and curiosity that makes learning possible," she says.
When it comes to paperwork and educational fads, Yerino hopes to stress to prospective teachers that "this too shall pass." In addition, she advises that new teachers "be flexible. Special events pop up constantly, so adjust. And remember: they're kids. They won't ever be perfect – neither are you – but sometimes they can achieve great things, and fill your heart to overflowing."

---
Cathedral-Carmel School
(337) 235-5577
cathedralcarmel.com
Grades: Pre-K through 8th
Affiliations: Catholic
Enrollment Size: 800
Faculty Size: 85
Epiphany Day School
120 Jefferson St., New Iberia
(337) 364-6841
eds-ni.com
Grades: pre-K through 5th
Affiliations: Independent Episcopal
Enrollment Size: 110
Faculty Size: 15
Episcopal School of Acadiana
721 E. Kaliste Saloom Road, Lafayette
(337) 993-2263
1557 Smede Road, Broussard
(337) 365-1416
ESAcadiana.com
Grades: Pre-K-3 through 12th
Affiliations: Episcopal School
Enrollment Size: 500
Faculty Size: 86
First Baptist Christian
201 W. Convent St.
Lafayette
(337) 237-1546
fbcslafayette.com
Grades: Pre-K through 8th
Affiliations: Baptist
Enrollment Size: 220
Faculty Size: 18
Our Lady of Fatima School
2315 Johnston St., Lafayette,
(337) 235-2464
fatimawarrior.com
Grades: Pre-K through 8th and Department of Exceptional Children
Affilitions: Catholic School in the Diocese of Lafayette
Enrollment Size: 926
Faculty Size: 105
Our Lady Immaculate Catholic School
600 Roberts Ave., Jennings
(337) 824-1743
olischool.org
Grades: Pre-K 3 through 8th
Affilitions: Members of the National Catholic Educational Association and accredited by the Southern Association of Colleges and Schools
Enrollment Size: 237
Faculty Size: 32
Opelousas Catholic School
428 East Prudhomme St.,
Opelousas
(337) 942-5404
ocsvikings.com
Grades: Preschool-12
Affilitions: Private nonsectarian Catholic
Enrollment Size: 725
Faculty Size: 55
Maria Immacolata Catholic School
324 Estate Drive, Houma
(985) 876-1631
micsbluejays.org
Grades: Pre-k through 7th
Affilitions: Catholic schoo
Enrollment Size: 196
Faculty Size: 20
Schools of the Sacred Heart
Grand Coteau
(337) 662-5275
sshcoteau.org
Grades: Pre-K3 through12th for girls, Pre-K3 through12th for boys
Affilitions: Independent Catholic, ISAS and AdvancEd Accredited
Enrollment Size: 495
Faculty Size: 5
St. Genevieve Catholic School
Elementary Campus
201 Elizabeth Ave., Lafayette,
(337) 234-5257
Middle Campus
91 Teurlings Drive, Lafayette,
(337) 266-5553
stgen.net
Grades: Pre-K4 through 8th
Affilitions: Catholic
Enrollment Size: 540
Faculty Size: 48 members
St. Edward School
175 Porter St. New Iberia
(337) 369-6764
SaintEdwardPandas.com
Grades: Pre-K3 through 3rd
Affiliations: Catholic
Enrollment Size: 364
Faculty Size: 46
St. Ignatius School
Grand Coteau
(337) 662-3325
stignatiusschool.us
Grades: Pre-K–8th
Affilitions: Catholic
Enrollment Size: 391
Faculty Size: 34
St. Matthews Episcopal School
(985) 872-5573
stmattsschool.com
Grades: Pre-K through 7th
Affiliations: Episcopal
Enrollment Size: 166
Faculty Size: 20
St. Pius Elementary School
205 E. Bayou Parkway, Lafayette
stpiuselementary.org
Grades: Pre-K 3 through 8th
Affiliations: Catholic
Enrollment Size: 730
Faculty Size: 90
St. Thomas More Catholic High School
450 E. Farrel Road, Lafayette
(337) 988-3700
stmcougars.net
Grades: 9th through 12th
Affilitions: Catholic
Enrollment Size: 1077
Faculty Size: 125
Teurlings Catholic High School
139 Teurlings Drive, Lafayette
(337) 235-5711
tchs.net
Grades: 9th through 12th
Affilitions: Catholic
Enrollment size: 735
Faculty size: 45