What is a Creole?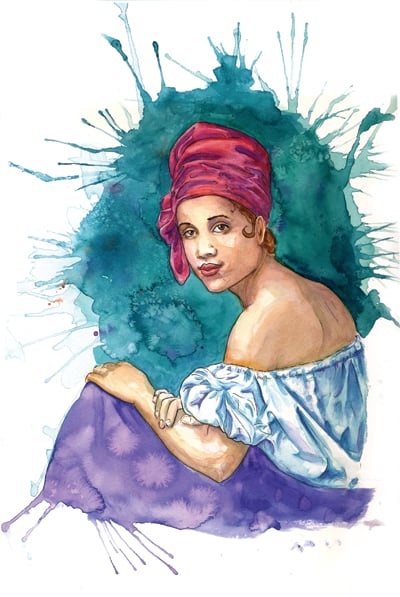 This is a question that seems to have as many answers as people who answer it. A typical endless discussion around a table covered with old newspapers and bushels of crabs can get started with questions such as: "Who was the best quarterback at LSU?" or "Where is the best place to buy boudin?" People will talk for hours without ever reaching a consensus. However, the most passionate, and often the least informed debates, often revolve around the question, "What is a Creole?"
We can say that the word Creole is born of misfortune. Its exact origin is disputed as well as its meaning. Some say it comes from the Spanish criollo, according to The Royal Commentaries by Garcilaso de la Vega in 1609. "Children of the Spaniards who were born in the Indies are called criollo or Creole; Negroes gave this name to their children who were born in the Indies, to distinguish them from those who were born in Guinea …. Spaniards have taken this name from them." The Littré dictionary defined Creole as "a white man or a white woman from the colonies." Littré challenges the Latin origin of Creole, from the verb creare or "to create" because "If we do have it come from the Spanish criar, raising, feeding, its formation is quite irregular, others argue that it is a Caribbean word, the Spanish Academy says it is a word coined by the conquerors of the West Indies and transmitted by them." Others say that the term is older and only applied to slaves who were born in the colonies to distinguish them from those who came directly from Africa. At any rate, the word Creole was forged in the crucible of colonialism, slavery and what Charles C. Mann called "the New World created by Cristobal Colón," that is to say, the meeting of Africa and Europe in America.
We know that in Louisiana before the Civil War, people were divided into three: whites, blacks and free people of color. In the latter, there were other sub-divisions of astonishing complexity. To differentiate themselves from the "Americans" of Anglo-Saxon origin, those whites of French or Spanish origin called themselves Creoles. In a strict sense, they were all Creoles: black, white or in-between; they were all born in the New World, not to mention the Native Americans who were mixed in there, too. Nonetheless, there is a difference that makes the Creoles come from a shared experience. Suffice it to say that, in general, whites and free people of color had something in common that they do not share with blacks: freedom. Although in an intermediate class between the other two and therefore a lower level socially, people of color were not the property of someone else. It was in this space of freedom that the Creole culture, among whites as well as people of color, developed in Louisiana. It is true that some whites were indentured servants; some free people of color owned slaves; and not all blacks were slaves. After the war, the free colored people, despite their fusion into the category of blacks, kept the memory of their glorious past and perpetuated it.
Painful relations between the people of this period going from Jim Crow to the Civil Rights movement created new divisions. Wrongly, little by little, the white French all became Cajuns, even if they have little or no Acadian ancestors, and all black French became Creoles. Our history tells us that it is not so simple. We would do well to remember that even if you say you're Cajun, you're somewhat Creole, too. Today Creole is a culture, an approach to life and a special sense of family and community more than the amount of melanin that one has received with one's chromosomes. It is a sensibility that goes beyond the suffering of the past to give birth to peace and an unparalleled understanding of the human condition. Being Creole is freedom.