Wednesdays Downtown at Wild Child Wines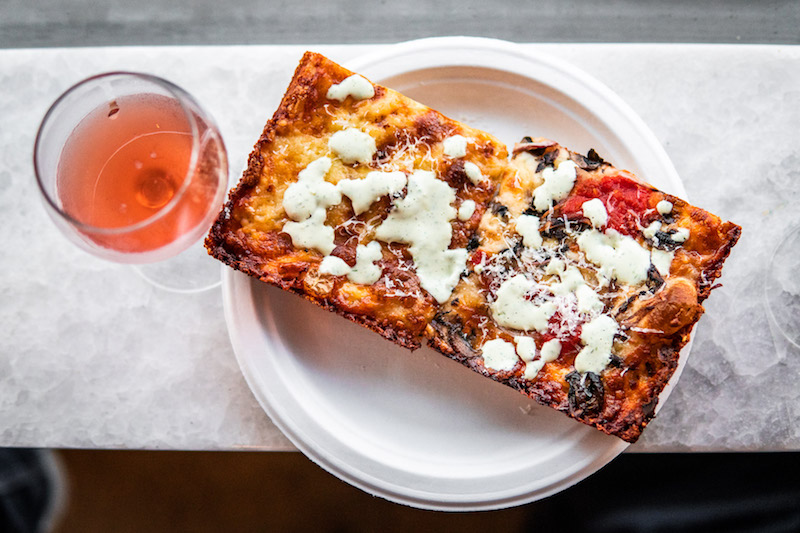 It's the start of the week, you're halfway done with your work schedule, and as you look down the barrel of the next few days, you start to feel like you might need some help getting through the rest of the week. Insert Wild Child Wines on Vermillion St. in Downtown Lafayette. Providing connoisseurs and average Joes with natural, locally sourced wines from smaller vineyards around the country, Wild Child is a wine shop and wine bar that seeks to provide customers with a social alternative to a coffee shop, just with wine!
Particularly making Wednesdays so special at this bustling little wine shop is the addition of Detroit style pizza from the local pop-up, Pool Party Pizza. Every other Wednesday, you can buy stand alone slices of pizza for $5 per slice or buy $3 slices with the addition of a glass or bottle of wine. The delectable pizza is made on a crust of focaccia and is both salty and oily, and pairs well with the extensive list of natural and organic wines that Wild Child provides. Speaking from personal experience, a sparkling pinot noir combo with the Detroit slice is a great combo.
Wild Child was created when owners Denny and Katie Culbert traveled to New Orleans and were introduced to the world of natural wine. Since Lafayette was missing a natural wine scene of its own, they decided to create their own shop and contribute to the downtown's growing list of restaurants and businesses. Their hope for their customers is for the shop to feel like a "part wine shop, part hang out/bar," says Katie Culbert. Denny and Katie want to cultivate a social atmosphere for all, centered around good conversations, laughs and most of all, wine.
Wild Child has already captured the hearts of many Downtown locals as it was bustling when we arrived last Wednesday evening. After a bottle of wine, four slices of pizza and many laughs, people were still coming in and some even brought instruments. Seated right outside of the window where we sat, a group of four musicians broke out two fiddles, a steel guitar and an acoustic guitar, and just started playing for whoever would listen. The mix of old Hank Williams and Cajun music was the perfect way to wind down the night as the culture of this awesome region continued to live out in front of us.
Wild Child Wines is a fantastic addition to Downtown Lafayette, and it will definitely be a recurring venue in our weekly routines.