Tsunami Sushi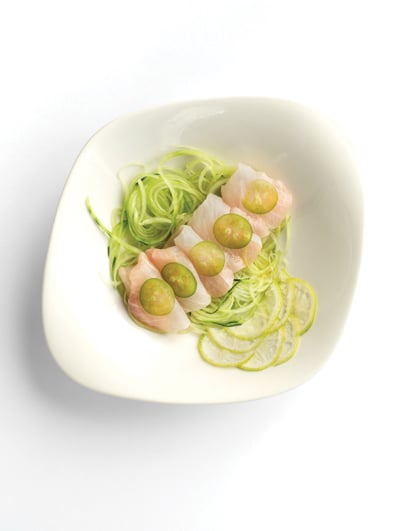 In 2000, forward-thinking entrepreneurs, revivalists and sisters, Leah Simon and Michele Ezell, started a revolution when they opened Tsunami, a West Coast-style sushi restaurant — complete with a rotating roster of in-residence sushi masters flown in from Japan — in downtown Lafayette. The region had never seen anything like it, and Tsunami was an instant, white-hot success. Ezell said when they launched Tsunami they tried to keep the offerings very traditional Japanese but customers soon started driving the menu. Hence, the incorporation of alligator, crawfish and soft shell crab on the bill of fare.
Four years after the opening of the Lafayette location, Tsunami Baton Rouge opened in the Shaw Center on the city's shockingly underutilized riverfront, affording stunning views from the sixth-floor rooftop dining room. The LSU Art School is located downstairs so the place is always bustling with a chic crowd taking advantage of the Tuesday-through-Friday happy hour specials, some days the specials are for drinks, others for rolls, but there are bargains to be had. Now heading into its 13th year in business, Tsunami shows no signs of age and its outdoor terrace is surely the number one destination in the city for those on a date wanting to make an impression. It's hard not to get dreamy-eyed by the stunning view. The eclectic Manship Theater, also located downstairs, makes it possible to take in an exquisite dinner and a show, play or film without leaving the elegant building.
Tsunami prides itself on "LA flair with southern care" by offering a diverse menu that takes sushi in inventive, globally-inspired directions. Across the Tsunami brand, the menu is extensive, with traditional Japanese dishes and sushi bar standards augmented by signature flavors showcasing a Louisiana influence. There are fried oysters with wasabi tartar sauce, the Ragin' Cajun roll with panko-crusted alligator and the John Breaux roll, named for the longtime U.S. Senator from Acadiana, filled with spicy crawfish. Soy-braised fish, short ribs over congee, pork belly ramen and calamari Ika "fries" are other distinctive dishes, as are Luscious Lemonfish sashimi with jalapeños, lemon and ponzu, the Pimp salad (seared tuna, snow crab, "krab" stick, cucumber, tomato, asparagus, avocado, masago and sesame-soy-ponzu dressing) and Cisotaki (thin slices of seared choice tenderloin with ponzu, Sriracha and cisco sauces). Not to be missed is the TransBestBite roll with no rice, minced spicy tuna, tempura shrimp, kani, cream cheese and asparagus. It's wrapped in soy paper, breaded in panko, fried and served with ponzu and tsurai sauces.
With sake selections that include many draft, hot and cold varieties, an extensive specialty cocktail list and less-than-common offerings in beer, red and white wine, and champagne, the libations list is as vibrant and sexy as the rest of the Tsunami experience.
Kolache Kitchen 4245 Nicholson Drive, Suite B Baton Rouge 225-757-6666 kolachekitchenbr.com
Kolache Kitchen 7930 Jefferson Highway Baton Rouge 225-248-6430 kolachekitchenbr.com
Tsunami 100 Lafayette St., 6th Floor Baton Rouge 225-346-5100 servingsushi.com
---
GOOD BETS
If your date night at Tsunami goes spectacularly well and you are in need of an impressive breakfast, look no further than Kolache Kitchen. In 2013, Will Edwards, a newly minted LSU grad and a Houston native, stepped up to fill the kolache void in Baton Rouge when he opened his first shop on Nicholson Drive. Wildly popular and super thrifty, the kitchen's kolaches are hot, freshly baked pastries prized for their soft, pillowy dough and versatile fillings that include both sweet and savory such as boudin, sausage, spinach, bacon, raspberry, apricot and cherry. Breakfast tacos, empanadas, cinnamon rolls and muffins round out the morning offerings. Lunch brings a menu of inventive sandwiches and fresh tacos. The sandwiches include brisket and pork that are marinated in a guarded recipe and then slow-smoked for 12 hours.
---