Think Cool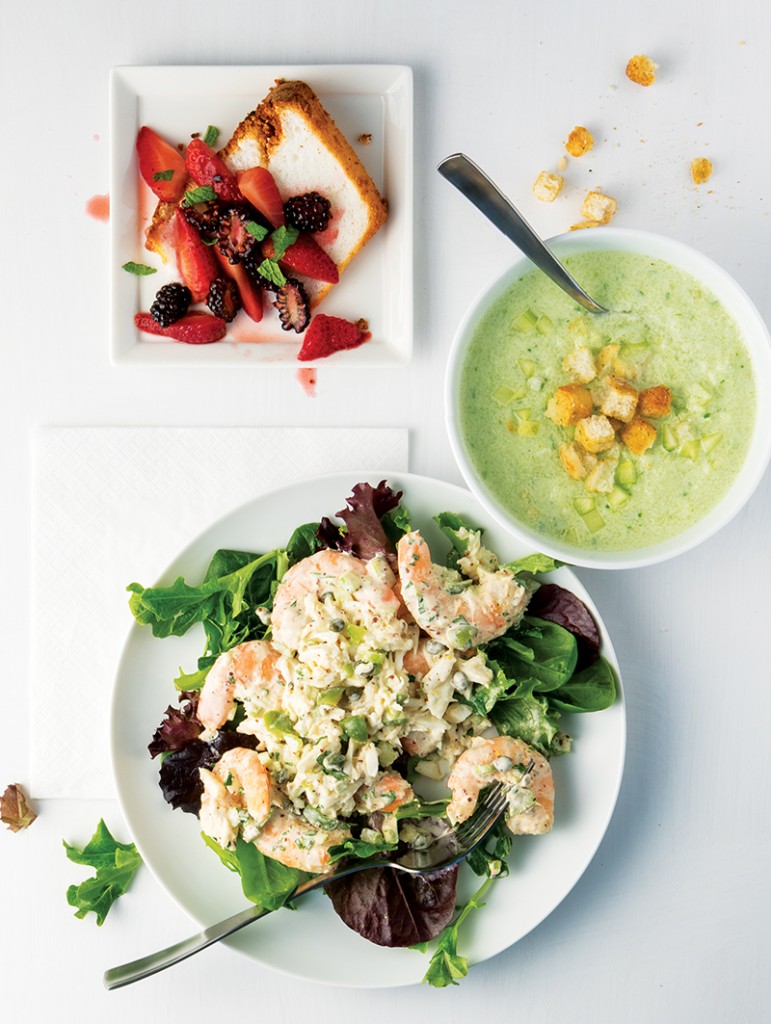 While everyone is cursing the high temps and humidity, I'm as happy as a clam at high tide. I agree August days can be as hot as Hades, and the mere thought of cooking can certainly make one break out in a sweat, but my rule is don't cook or eat until the sun is dipping into the western horizon. Fortunately I live on the banks of Bayou Teche, so I believe in the saying "if you are lucky enough to live on the water, you're lucky enough." I may not be on the white sugar sand beaches of our southern neighbors of Alabama and Florida, but there is a sense of tranquility in the languid flow of the bayou shaded by willows, oaks and cypresses. As far as I'm concerned, an evening meal taken on my lush patio is relaxing and enjoyable after the heat of the day dissipates. I find eating outdoors is what summer is all about. But, I am also of the opinion that food preparation should be kept to a minimum.
My philosophy for this time of year is think cool, eat cool and be cool. I've picked the last of the cucumbers and they are nestled in a basket on my kitchen counter with lemons and limes. A squeeze or two of citrus juice in my tea, lemonade, cola or gin and tonic is always a winner. A salad of thinly sliced cucumbers and onions tossed with mayonnaise or yogurt is a favorite dish as is chilled cucumber soup.
---
STARTER
Cold Cucumber Soup
Puree 6 medium-size cucumbers (peeled, cut in half lengthwise, seeded and thinly sliced) in a food processor or blender. Add ¼ cup finely chopped green onions (green part only) and 2 teaspoons minced garlic and process again until smooth.
Add 2¼ cups plain yogurt and process until the mixture is smooth. Refrigerate for at least one hour before serving.
Season with salt and freshly ground black pepper to taste, and garnish with 2 tablespoons chopped fresh mint leaves.
Makes about 6 servings
---
MAIN COURSE
Summer Seafood Salad
3 pounds medium-size shrimp, boiled and peeled
1 pound lump crabmeat, picked over for shells and cartilage
½ pound coarsely chopped cooked lobster tail meat (optional)
3 tablespoons chopped fresh parsley leaves
½ cup finely chopped celery
2 tablespoons fresh lemon juice
¾ cups (more or less to taste) mayonnaise
3 tablespoons Creole or Dijon mustard
2 tablespoons capers, drained
2 tablespoons chopped green olives
Salt, freshly ground black pepper and cayenne to taste
Hot sauce to taste
4 cups assorted salad greens, washed, patted dry, and torn into bite-size pieces
2 tablespoons extra-virgin olive oil
Combine seafood, parsley, celery, lemon juice, mayonnaise, mustard, capers and olives in a large salad bowl. Season with salt, black pepper, cayenne, and hot sauce, then toss gently to mix. Chill for at least one hour. In another mixing bowl, toss the salad greens with olive oil and season lightly with salt and black pepper. To serve, line a large serving bowl (or for individual service line salad plates) with salad greens. Arrange the seafood salad on top of the greens. Serve immediately.
Makes about 6 to 8 servings.
---
TIP
This seafood salad can be made with alone, but you can also add shrimp and chunks of lobster meat.
---
THE DESSERT
Best Ever Angel Food Cake
This angel food cake is light and airy, and it can be topped with assorted berries such as strawberries, blueberries, or blackberries.
1. Heat the oven to 300 F. Sift 1¼ cups cake flour onto a piece of wax paper and set aside. Sift 1¾ cups sugar into a small mixing bowl and set aside. Put 1¾ cup egg whites (from about 12 extra-large eggs) in a large mixing bowl and sift 1 teaspoon cream of tartar over the whites. Add ¼ teaspoon salt and beat the egg whites to very soft peaks.
2. When bowl is tilted, whites should just flow and not run or slide out of the bowl. Sprinkle 2 tablespoons of sugar over the surface of the whites and fold in very gently. Repeat until all sugar is thoroughly folded in. Be gentle. Sift 2 tablespoons of flour over the whites and fold in very gently. Repeat until all flour is incorporated.
3. Sprinkle in 1½ teaspoons vanilla extract, ¾ teaspoon almond extract and ¾ teaspoon fresh lemon juice over batter and fold in gently. Pour batter into an ungreased 10-inch tube pan with a removable bottom and smooth the top with a rubber spatula. Bake until pale brown and springy to the touch, about one hour and 10 minutes.
4. Remove from the oven, turn the pan upside down and cool in pan for about one hour. Turn the cake right side up and loosen around the edges and around the central tube with a thin knife. Remove the cake gently from the pan. Serve with 3 cups assorted berries, cleaned, hulled, and crushed and 1 cup heavy cream, whipped (optional). Makes one 10-inch cake.
---
TIP
Macerate berries in a bowl, sprinkle with a little sugar and perhaps a splash or two of brandy or rum, chill for an hour or so in the refrigerator, then spoon the mixture on slices of cake. Make this a day or two ahead of time and store it lightly wrapped in foil until ready to serve.
---