The Legacy of Native Acadiana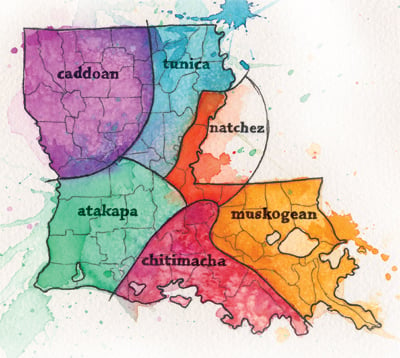 "France once had, in North America, a vast empire stretching from Labrador to Florida and from the shores of the Atlantic to the most remote lakes of Upper Canada." Thus begins Atala by François-René de Chateaubriand, a love story between two Indians in the pure romantic tradition of the early 19th century by the master of the genre in France. His literary career began with this book that has as its backdrop a Louisiana that is as exotic as it is made-up and is part of a larger work entitled The Natchez. Basically, it recounts the conversion of "savages," the uncivilized, to Christianity, the first stage of their assimilation into the "real" culture. This work is by no means an anthropological monograph on the original inhabitants, but an eloquent hymn to the civilizing power of Western values, as was the custom of the time. Therefore, the description of the Indians found there is as true to life as that of the mountains and deserts of our state, that is to say, not at all. With this book and others like Voyages to Canada by Jacques Cartier and The Cannibals by Michel de Montaigne, the myth of the "noble savage" is so rooted in our minds that we forget that they were real flesh and blood men and women who were able to tell their story themselves, if only one had thought they had a story worth telling.
In the region that is now the Teche-Vermilion basin, some anthropologists and archaeologists believe that humans have lived there continuously for at least five thousand years, and perhaps much more. On the banks of Bayou Vermilion, for example, until the Flood of 1927, there was a fresh water spring called Chargois Springs. It has dried up today, completely blocked by sediments from the historic flooding of the Mississippi. However, the place still bears the name and older Lafayette residents remember if not being able to bathe there, at least stories from the time the water flowed. For a long time, students of Paul Breaux High School turned in to the principal after every good rain arrowheads and pieces of pottery that were on the school grounds. Other findings strongly suggest that not only have people lived here for a long time, but also in relative large numbers. It was probably a meeting place where trade of all kinds took place. Sources of fresh water, in combination with its location on a ridge between the Atchafalaya Basin to the east and the prairies to the west have made this an ideal habitat. It is not surprising, despite what we have been led to believe (or at least tried to make us forget), that the first inhabitants are still here.
Toponymy, the science of place names, is often the guardian of the memory of previous peoples. Louisiana, in addition to our French and Spanish heritage, counts several names of Amerindian origin. Some are virtually synonymous with the state: Bayou, Atchafalaya, Opelousas, Attakapas or Catahoulas. Petit Manchac, the original name of Lafayette, even before Vermilionville, means the little back door! Did D. L. Menard know more than he let us know? In addition, when our European languages were lacking to describe the new flora and fauna, Indians lent us their words: Chaoui for raccoons, boscoyo for cypress knees, choupique for bowfin and mamou for … mamou. Sometimes there are no other words.
Today, the Louisiana Indians speak more and more for themselves. Whether it's Houmas or Attakapas claiming official recognition or Koasati or Chitimachas reclaiming their ancestral languages, they are emerging from the long shadow cast by years of silence. It's not so much that they were silent; it's just that nobody was listening. At least at first the early European settlers listened to them about how to build bousillage houses, what plants are used for food or medicine, or simply how to survive in this new environment. It is high time that we listened again. We need to.