The Germans, Those Forgotten Creoles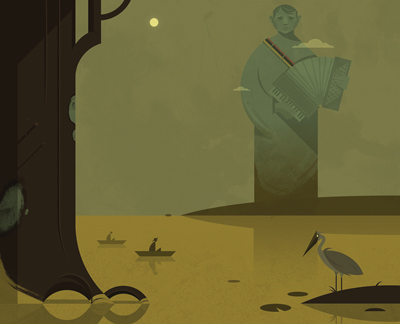 Experts agree on a definition of Creole that recognizes, among other things, European origins. As the Acadiana flag shows, it focuses on only two countries: France and Spain. Our status as a former colony of these former empires, along with the preponderance of French and Spanish surnames, contributes to an over-simplification of a situation that is far from simple. From the 1720s on, well before the Grand Dérangement and other immigration waves due to revolutions in France and Haiti, people from Alsace-Lorraine were among the first European settlers. Today, Alsatians and Lorrains will correct you quickly if you confuse the two. In fact, the term Alsace-Lorraine is generally used to refer to the territory lost to the German Empire in 1871 and its reconquering was a major factor in France's participation in the First World War. Anyway, in 1716 when John Law took over the trade monopoly in Louisiana, he called out to Alsatians to move there. They arrived in 1721 and founded the city of Des Allemands. Other German speakers from the Rhine Valley, Switzerland and Belgium also followed the same path to form the German Coast, now the parishes of St. Charles, St. John the Baptist and St. James. Without the produce supplied by their farms in the 1730s, New Orleans would probably have collapsed from famine. It is difficult to imagine that one could starve in Louisiana, but the threat was always there in the beginning. Despite several families who claim Cajun roots with names like Waguespack, Zaunbrecher, Schexnayder or Zeringue, we do not often take into account the importance of German immigration in our history and their contribution to our cultural gumbo.
The area around New Orleans was not the only place that welcomed the Germans. Each October, Roberts Cove, established in 1881 by the brother of Father Peter Thevis, a German priest Archbishop Odin recruited to serve the German speaking population of New Orleans, honors his heritage with Germanfest. Mervine Kahn, a French-speaking German immigrant, played a key role in Cajun and Creole music. In 1884 he opened a store in Rayne. We do not know exactly how, but Kahn began importing and selling German accordions. The instrument quickly became popular before the advent of sound amplification. The war stopped imports, creating a shortage of an instrument that was greatly appreciated. Louisianians, resourceful as ever, took them apart to learn how to repair and build them themselves. This tradition, which has become a small industry, is still going strong.
The war had a negative impact on the German language also. Act 114 of 1918 specifically prohibited the German language in all public schools, at all levels, under penalty of a fine of twenty-five to one hundred dollars and/or imprisonment of between ten and ninety days. Young Francophones were not the only ones being punished because they did not speak English at home. Previously, German was so widespread that in addition to German-speaking priests, there was a newspaper, the "Louisiana Staats-Zeitung" published in New Orleans between 1850 and 1866 "Die von Geheimnisse New Orleans" or "Secrets of New Orleans" first appeared serialized in these pages. It is a long novel in German, detailing the life of that time reissued by Editions Tintamarre in Shreveport, best known for such publications in French.
My maternal great-grandfather, a Rebstock, arrived very young in Louisiana from Prussia before the Civil War. His son, an American soldier, went to fight in the Great War. One of my most prized possessions is a postcard he sent to his mother before leaving New York. It was written in Cajun French. To my knowledge, he never spoke German, but my mother used to say that from time there were men who came to see him from New Orleans and they were talking in a language she did not know. Was it German? If Louisiana history has taught me anything, it is that anything is possible.