sushi spots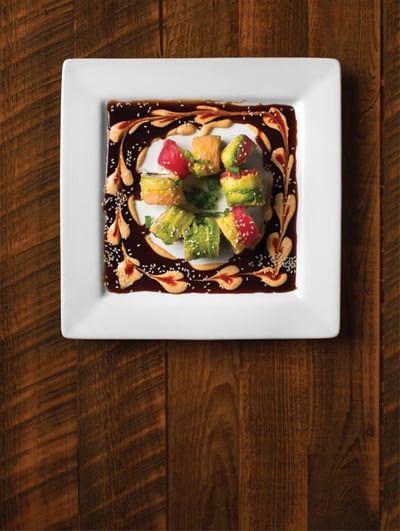 In 2000, forward-thinking entrepreneurs, revivalists and sisters Leah Simon and Michele Ezell started a revolution when they opened Tsunami, a West Coast style sushi restaurant – complete with a rotating roster of in-residence sushi masters flown in from Japan – on Jefferson Street in downtown Lafayette. Lafayette had never seen anything like it, and Tsunami was an instant, white-hot success. Ezell says when they launched Tsunami they tried to keep the offerings very traditional, but customers soon started driving the menu. Hence, the incorporation of alligator, crawfish and soft-shell crab on to the bill of fare.
Four years after the opening of the Lafayette location, Tsunami Baton Rouge opened in the Shaw Center on the city's shockingly underutilized riverfront, affording stunning views from the sixth-floor rooftop dining room. The LSU Art School is located downstairs, so the place is always bustling with chic youths taking advantage of the Tuesday-Friday happy hour specials. Some days the specials are for drinks; others for rolls, but there always some bargains to be found.
Last summer, the Lafayette-based restaurant company that turned grilled alligator into a sushi bar mainstay added a new Tsunami outpost to the Cypress Bayou Casino in Charenton in St. Mary Parish.
Tsunami prides itself on "LA flare with Southern care" with a diverse menu that takes sushi in inventive, globally inspired directions. Across the Tsunami brand the menu is extensive, with traditional Japanese dishes and sushi bar standards augmented by more signature flavors showing a Louisiana influence. For instance, there are fried oysters with wasabi tartar sauce, the Ragin' Cajun roll with panko-crusted alligator and the John Breaux roll, named for the longtime U.S. Senator from Acadiana, filled with spicy crawfish. Soy-braised fish, short ribs over congee, pork belly ramen and calamari Ika Fries "fries" are other distinctive dishes.
Other favorites include Escolar Kazar, which pairs the muscular Gulf fish with a zesty cream sauce. Not to be missed is the TransBestBite roll with no rice, minced spicy tuna, tempura shrimp, kani, cream cheese and asparagus. It's wrapped in soy paper, breaded in panko and fried and served with ponzu and tsurai sauces.
Longtime Lake Charles sushi favorite, Mikayo, retains a solid following with traditional Japanese sushi including Nigiri, Gunkan, Norimaki and Temaki styles presented in a straightforward elegant Asian setting. Meanwhile, relative newcomer Wasabi is popular for its friendlier, value-driven approach. Check out crab lagoons (jalapenos stuffed with cream cheese and crab, tempura-fried and drenched with a spicy mayo and eel sauce blend) and Louisiana-inspired crunchy rolls. Locals flock here for lunch specials that include twp rolls plus soup or salad for $8. Any roll can be enjoyed with soy paper or a cucumber instead of seaweed wrapper for no additional charge.
---
Bonus Bite
You can satisfy and en vie for pretty much anything at the Silver Slipper Cajun Hibachi Grill in Arnaudville – fine, hefty steaks, juicy burgers, towering seafood platters – you name it. It should be noted that all the beef served here comes from Kirk Martin Slaughterhouse just up the road the Carencro so this may explain the inability to limit the menu to sushi. The result is a place where you can gaze upon the mossy Bayou Teche to the background strains of a fine fiddle while downing a top notch Bloody Mary loaded with all manner of pickled vegetables. The sushi list extensive but standouts include the Arnaudville Roll (fried alligator and avocado roll topped with lump crab), the Beau Chene Roll, combines crispy chunks of fried catfish, sushi rice and peppers all wrapped in lettuce. In the middle is a sumptuous daub of lump crabmeat topped with sliced avocado, all with a spicy mayo dipping sauce. For the Leonville Roll a crab and cucumber roll is battered, deep-fried and then sliced into crunchy little coins, served with crawfish etouffee with a piquant tang ladled generously across the top.
---
Miyako Japanese Restaurant 915 E. Prien Lake Road, Lake Charles, (337) 478-1600, miyakolakecharles.com
Silver Slipper Cajun Hibachi Grill 2818 LA-31, Arnaudville, (337) 879-2050, silverslipper-hub.com
Tsunami 100 Lafayette St, 6th Floor, Baton Rouge (225) 346-5100; Cypress Bayou Casino, 832 Martin Luther King Road, Charenton, (337)924-3334; 412 Jefferson St., Lafayette, (337) 234-3474, servingsushi.com
Wasabi 3905 Ryan St, Lake Charles, (337) 477-1755.
---