Spring Celebrations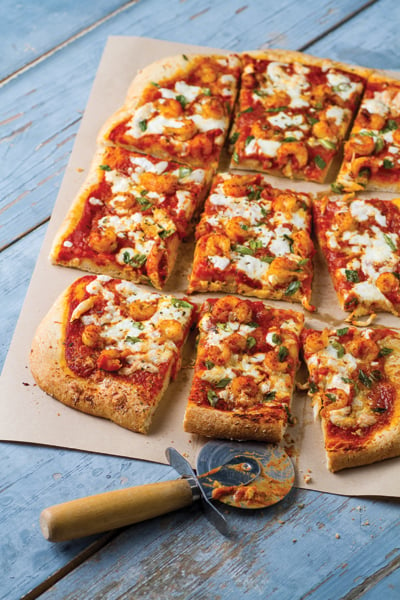 There isn't a weekend in April and May when there isn't some kind of festival going on in South Louisiana. When the weather cooperates, spring is glorious in Louisiana. Temperatures and humidity are still mild, and everyone wants to be outdoors enjoying good food, great music and well, just being alive. It's party time!
Being of a certain age, I own up to attending the very first New Orleans Jazz & Heritage Festival held in April 1970. On the Wednesday before the festival, I had minor surgery on my arm but was being kept in the hospital for "observation." I pleaded with my doctor, who gave me a three-hour pass to attend the Friday afternoon festivities, which was then held at Congo Square. The line-up of entertainers included Mahalia Jackson and Duke Ellington, Pete Fountain, Al Hirt, Clifton Chenier, Fats Domino, The Meters, The Preservation Hall Band and the parading Olympia Brass Band and Mardi Gras Indians. I don't remember eating much, but I know I went back to the hospital with a good buzz from too many ice-cold beers.
In the following years when the festival moved to the New Orleans Fair Grounds, I joined the beer-drinking throngs and stood in long lines to get my portion of Crawfish Monica, cochon du lait poor boys, gumbo and muffulettas.
When I moved from New Orleans back to my hometown, St. Martinville, I made the journey to the Jazz Fest several times, but it coincided with the Breaux Bridge Crawfish Festival and the Festival International in Lafayette so I sometimes opted to say closer to home.
A few years ago, my husband suggested that we have our own festival in our big, tree-shaded yard on the banks of Bayou Teche. It wasn't that we were getting too old, we just decided we had just reached a point in our lives when it was more comfortable to have access to a bathroom rather than those portable outhouses. True, we don't have live music, but we can choose what music we like and it can be heard from the speakers on our lush patio. (I checked out this year's music line-up and I was happy to see that there are still artists I know – Eric Clapton, Bruce Springsteen, Santana, Aaron Neville and my all-time favorite, Irma Thomas. I hate to admit I have no idea who Phish, Vampire Weekend and Public Enemy are.)
The food, also important to our festivities, must qualify as what I call "walking food" that is, food that can be picked up and wrapped in either foil or a napkin, or plopped in small disposable cups or plates, to carry around is set up at several "booths" or stations on our tree-shaded lawn that slopes toward the water and an attraction not featured at Jazz Fest: a periodic boat that rides up and down the Bayou Teche to enable us to gulp in some fresh air.
The food offerings have varied over the years and have included tacos, crawfish pies, fried shrimp on a stick, mini chicken kabobs, red beans and rice, crab stuffed mushrooms,
super-duper hot dogs, pecan pie, homemade ice cream, and andouille poor boys, all washed down with cold beer, lemonade, mint flavored ice tea and rum frappés. This is our menu for this year's event. This is street food, no frills, just something good to munch on. You can purchase those pizza bread crusts on which to build your pizza in the bread department of many supermarkets. Some already have cheese in the dough.
---
CRAWFISH PIZZA
• 1 large pizza bread crust
• 2 tablespoons olive oil
• 1½ cups tomato sauce or commercial pizza sauce
• ¼ cup chopped green onions (green part only)
• 1 pound peeled crawfish tails
• Salt and cayenne to taste
• ½ pound freshly grated mozarella cheese
• ½ cup freshly grated Parmesan cheese
• 1 tablespoon dried oregano leaves
Preheat the oven to 350 degrees.
Line a baking sheet with parchment paper, or lightly oil the baking sheet.
Place the pizza bread crust on the prepared pan, then spread it evenly with one tablespoon of the olive oil.
Spread the tomato sauce evenly over the oil. Set aside.
In a skillet over medium heat, heat the remaining tablespoon of olive oil.
Add the green onions, the crawfish tails and season with salt and cayenne.
Cook, stirring, for about two minutes. Remove from the heat and cool.
Spread the crawfish mixture over the tomato sauce; then top with the cheeses.
Sprinkle with oregano.
Bake until the cheese melts and the sauce bubbles, about 20 minutes.
Cut into wedges to serve.
MAKES ABOUT 4 SERVINGS
---
ITALIAN BREAD WITH OLIVES AND CHEESE
• 1 large loaf French bread, cut in half lengthwise
• 1 stick butter, at room temperature
• 1 cup mayonnaise
• 8 ounces freshly grated Mozzarella cheese
• ¼ cup chopped green onions (green part only)
• 1 small can chopped black olives
• ½ teaspoon garlic salt
• ¼ teaspoon freshly ground black pepper
Preheat the oven to 350 degrees.
Spread the butter evenly on both halves of the bread.
Then spread the mayonnaise evenly over the butter.
Sprinkle with the cheese, the green onions and arrange the olives evenly.
Season with the garlic salt and black pepper.
Place the bread halves on a baking sheet and bake until the cheese melts, about 15 minutes.
Remove and cut the bread crosswise into 1/2-inch pieces to serve.
This can be made ahead of time, then reheated when ready to serve.
It can be kept warm in a chafing dish.
MAKES ABOUT 8 SERVINGS
---
SPINACH AND ARTICHOKE CASSEROLE
• 2 (10-ounce) packages frozen chopped spinach, thawed, and well-drained
• 1 (6-ounce) jar marinated artichoke heats, drained
• 6 ounces cream cheese, at room temperature
• 2 tablespoons butter, at room temperature
• ¼ cup milk
• ¼ teaspoon salt
• ¼ teaspoon black pepper
• ¼ cup freshly grated Parmesan cheese
Combine the spinach and artichokes in a large mixing bowl.
In another bowl, combine the cream cheese, butter, milk, salt and pepper.
Mix well, then stir into the spinach mixture.
Spoon the mixture into a lightly greased casserole, sprinkle with the cheese and bake, covered, for 30 minutes.
Uncover and bake for 10 minutes more.
This dish can be made with just about any kind of fresh seafood.
Here I've combined crab and shrimp, but you could also substitute crawfish for the shrimp.
MAKES 12 SMALL SERVINGS
---
SEAFOOD AU GRATIN
• 6 tablespoons butter
• ¼ cup chopped celery
• ½ cup chopped bell peppers
• 1 cup chopped yellow onions
• 4 tablespoons all-purpose flour
• 2 cups milk
• 2 tablespoons chopped pimientos
• ¼ cup chopped green onions (green part only)
• 1 tablespoon chopped fresh parsley leaves
• ½ teaspoon garlic powder
• 1 teaspoon Worcestershire sauce
• 1 teaspoon salt
• ¼ teaspoon white pepper
• ½ pound lump crabmeat, picked over for shells and cartilage
• ½ pound small shrimp, boiled in water, peeled and deveined
• 1 cup freshly grated white cheddar cheese
Preheat the oven to 350 degrees.
In a medium-sized skillet, heat two tablespoons of the butter over medium heat. Add the celery, bell peppers and onions, and cook, stirring, until they are soft and lightly golden, four or five minutes. Remove from the heat and set aside.
In a large saucepan, heat the remaining four tablespoons butter over medium heat. Add the flour and whisk to blend, cooking for about one minute. Slowly add the milk and whisking constantly, cook until the mixture thickens. Add the pimientos, green onions, parsley, garlic powder, Worcestershire, salt and pepper.
Add the vegetable mixture and stir to blend. Remove from the heat. Arrange the crabmeat and shrimp on the bottom of a lightly buttered casserole. Pour the sauce over the seasfood and sprinkle with the cheese.
Bake for 30 minutes.
If you can get your hands on some sweet, plump and juicy Louisiana strawberries, you can make this refreshing dessert to serve at the end of the day.
MAKES 14 SMALL SERVINGS
---

STRAWBERRIES ROMANOFF
• 1⁄3 cup sugar
• 1⁄3 cup Grand Marnier
• 2 teaspoons freshly grated lemon zest
• 2 pints fresh strawberries, washed, hulled and patted dry
• 2 cups sweetened whipped cream
Fresh mint sprigs for garnish
Combine the sugar, Grand Marnier and lemon zest in a large bowl and stir to dissolve the sugar.
Add the strawberries and stir gently to coat evenly.
Cover and chill for four or more hours.
Spoon into individual cups or bowls and top with whipped cream.
MAKES 6-8 SMALL SERVINGS
---