Smothered With Success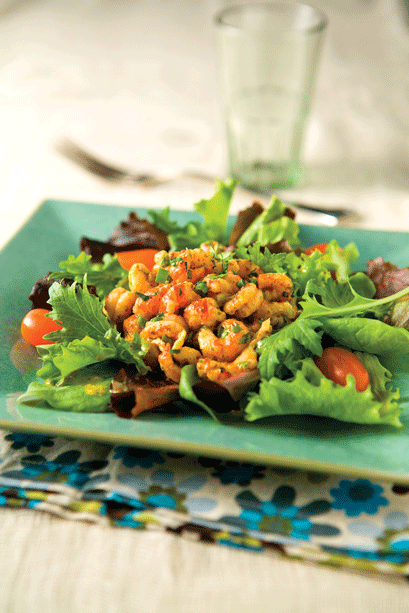 Did you ever wonder where the first crawfish étouffée was prepared? Probably not, but being curious about the origins of many of our local dishes, I began asking the question about 20 years ago. Who else better to query than J. Richard "Dickie" Breaux, currently proprietor of Café des Amis in Breaux Bridge?
Dickie, as everyone calls him, is a native of Breaux Bridge, worked as the sales manager for Evangeline Pepper Co. in St. Martinville and went on to serve in the Louisiana House of Representatives from 1968 to 1976. He was a member of the "young Turks," who advocated reform and change in politics and legislative procedures.
I think of him as a bon vivant, a great storyteller and a fountain of information about local history and cuisine.
He can entertain for hours on end. And so it came to pass that I asked him about the origin of crawfish étouffée, and he whipped out a little book he had self-published in 1991 titled How to Simply Cook Cajun.
According to Dickie, "the first establishment to serve crawfish commercially was the Hebert Hotel in Breaux Bridge in the 1920s." The owner, Mrs. Charles Hebert, and her two daughters, Yolie and Marie, were known for their authentic Cajun dishes. "The Hebert sisters gave Mrs. Aline Guidry Champagne of Breaux Bridge the recipe to what has now become the most famous, but most misunderstood, crawfish dish of all times. Aline named the dish 'étouffée' (which means 'to smother.')"
Aline's father, Henry Guidry, had a restaurant in Henderson known as Guidry's Place, which had many private dining rooms that allowed guests to enjoy boiled crawfish (and other crawfish dishes) behind closed doors because they weren't comfortable eating crawfish – pinching, peeling and sucking the freshwater crustaceans – in front of strangers.
Eventually Aline and her husband, Harris, opened the Rendezvous Restaurant on the Henderson Highway in 1947 and began serving crawfish dishes that are popular still to this day. And one more morsel of trivia: Henry had a brother, Mulate, who also had a restaurant in Henderson, which he moved to Breaux Bridge and which is now known as the world-famous Mulate's.
Now, let's go a little further in detail about étouffée, which as we said earlier means literally "to smother." In culinary terms, this simply means to cook whatever (crawfish; shrimp; crabmeat; and yes, even chicken) in its own juices. Simple enough. Here, in fact, is Dickie's recipe for crawfish étouffée:
Crawfish Étouffée
2 medium onions, chopped
Cayenne pepper
1 stick butter or margarine
1 pound peeled crawfish tails
(and fat from the heads if available)
Salt
Chopped parsley and green onion tops
Sauté the onions and cayenne in butter or margarine. Add the crawfish fat. Cook on a medium to low fire for 15 minutes. Add the crawfish, and cook for 5 to 10 minutes. Crawfish are done when the tails curl up. Season to taste with cayenne and salt. Stir in the parsley and onion tops. Serves 4.
Easy, right?
These days, much like jambalaya and gumbo, everyone has his or her own recipe for crawfish étouffée.
Many, many years ago I remember my parents discussing/arguing about making their first étouffée of the season.
This was when crawfish came from the Atchafalaya Basin, long before anyone ever heard of pond-raised crawfish.
At the time, you couldn't buy a pound of peeled tails. You had to boil (or blanch) the whole crawfish and then peel them to use the tails for the étouffée.
Papa said that you had to make a roux – a small one – and that it shouldn't be darker than sandpaper for the basis of the étouffée. My mother argued that if you made a roux, then you ended up with a stew.
Well, traditionally a stew is a dish that is made by simmering a mixture of meat or fish and vegetables with liquid (stock, beer, wine) for several hours. In South Louisiana, however, most of the stews as we know them are made by first making a roux to which onions, bell peppers and celery are added. Stock (or water) and whatever meat or fish is being used are then added, and the whole thing is simmered long and slow.
It was my mother's contention that the delicate crawfish tails shouldn't be cooked for a long period of time and that her étouffée took less than 30 minutes to prepare. So there!
Again, everybody has a recipe for étouffée: Some do begin with a roux, and there are some cooks who say that a tablespoon or two of tomato paste adds a little spark and color to an étouffée, but my étouffée is golden in color, just like my mother said it should be. A friend says that he never adds bell peppers to his étouffée, but I do. Who's right? Well, I always say that you should make your étouffée to please your taste buds, so make it however you like. Discussion like this is what South Louisiana cooking is all about. Everyone has an opinion. If you really want to get into a heated culinary conversation, ask your friends how they boil their crawfish. I have my way; you can do it your way.
But let's continue with the subject of crawfish étouffée. This is my mother's recipe for what she called "stew-fay" simply because of the slurry, a combination of water and cornstarch, that's added to thicken it up a bit.
Crawfish "Stew-Fay"
1/4 pound (1 stick) unsalted butter
2 cups chopped yellow onions
1 cup chopped green bell peppers
1/2 cup chopped celery
2 pounds peeled crawfish tails
1 tablespoon cornstarch dissolved in 1/2 cup water
Salt and cayenne to taste
2 tablespoon chopped green onions
1 tablespoon chopped fresh parsley leaves
Cooked long-grain rice
Heat the butter over medium heat in a large, heavy pot. Add the onions, bell peppers and celery, and cook, stirring, until soft and lightly golden, 6 to 8 minutes. Add the crawfish, and cook, stirring occasionally, until they begin to throw off a little liquid, about 5 minutes.
Add the cornstarch mixture; reduce the heat to medium-low; and cook, stirring occasionally, until the mixture thickens, 3 to 4 minutes. Season with salt and cayenne. Remove from the heat. Add the green onions and parsley. Serve in bowls over rice. Serves 4 to 6.
This is another take on étouffée. It comes to me by way of my husband, who tells this story about his father:
There was a time that when you bought peeled crawfish tails, you got a little package of extra crawfish fat, but then the food police stepped in and banned the contribution of the fat. Mr. Lasserre was some mad, so he came up with a "secret ingredient" to add to his pot of étouffée to make it really rich. That secret ingredient is cream of shrimp soup. Don't laugh. Most of my friends turned up their noses when I told them about this, but once they tried this version, they became big fans.
Lasserre's Magic Crawfish
6 tablespoons butter
2 medium onions, chopped
2 garlic cloves, minced
1/2 green bell pepper, chopped
1 rib celery, chopped
1 10.75-ounce can cream of shrimp soup
1/2 cup water
1/3 cup dry white wine, sherry or dry
vermouth
1 pound peeled crawfish tails
Salt, cayenne and hot sauce to taste
Minced green onions for garnish
In a heavy black iron pot, melt the butter, and sauté the onions, garlic, bell peppers and celery until wilted. Add the soup, water and wine, and stir. Simmer for 30 minutes. Add the crawfish tails, and season with salt, cayenne and hot sauce. Simmer another 10 minutes. Add the green onions. Serve over steamed rice.
I want you to know that I checked several Cajun cookbooks, and most of the étouffée recipes are very similar to my mother's. One book had several recipes: one if you have crawfish fat available; one if not (add more butter to the pot); and, of course, there was one in which a tablespoon of tomato paste was added. So you'll just have to experiment, and see what tickles your taste buds.
And here are some other crawfish dishes from my repertoire:
Crawfish Jambalaya
This is the recipe I use when I have a big casual gathering. Serve it with a tossed green salad and lots of French bread.
2 cups chopped onions
1 cup chopped bell peppers
4 ribs celery, chopped
6 tablespoons bacon drippings or
vegetable oil
2 cups uncooked long-grain rice
4 cups water or chicken broth
2 pounds peeled crawfish tails
2 teaspoon salt
1 teaspoon cayenne
1/2 teaspoon garlic powder
Cook the onions, bell peppers and celery in the bacon drippings or vegetable oil in a Dutch oven over medium heat until they are transparent, about 6 to 8 minutes. Remove the vegetables from the pot, and set aside.
Add the rice to the pot, and, stirring constantly, cook until the rice turns golden. Return the vegetables to the pot, and add the water or broth. Cover with a tight-fitting lid, and simmer for about 20 minutes.
Stir in the crawfish and seasonings. Cover, and cook for an additional 20 minutes. Add a little water if the mixture becomes too dry. Serve warm. Serves 12.

Crawfish Corn bread
My sister-in-law Sarah gave me this recipe, and it's become a family favorite and can be served with just about anything – it's great to accompany fried seafood of any kind.
2 large eggs
1 teaspoon salt
1 teaspoon baking soda
1 cup chopped yellow onions
1/2 cup vegetable oil
1 cup yellow cornmeal
1 cup shredded mild Cheddar cheese
1/4 cup chopped pickled jalapeños
1 cup cream-style corn
1 pound peeled crawfish tails,
coarsely chopped
Preheat the oven to 375 degrees. Lightly grease a baking pan.
Combine all the ingredients together in a large bowl. Pour into the prepared pan, and bake until lightly browned, about 30 minutes.
Remove from the oven, and let sit for several minutes before cutting into squares to serve. Serves 8 to 10.
Crawfish Pizza
My nieces and nephews think this is the best stuff!
1 large pizza bread crust
2 tablespoons olive oil, divided
1 1/2 cups tomato sauce or commercial
pizza sauce
1/4 cup chopped green onions
(green part only)
1 pound peeled crawfish tails
Salt and cayenne to taste
1/2 pound freshly grated mozzarella cheese
1/2 cup freshly grated Parmesan cheese
1 tablespoon dried oregano leaves

Preheat the oven to 350 degrees. Line a baking sheet with parchment paper, or lightly oil the baking sheet. Place the pizza bread crust on the prepared pan, and then spread it evenly with 1 tablespoon of the olive oil. Spread the tomato sauce evenly over the oil. Set aside.
In a skillet over medium heat, heat the remaining tablespoon of olive oil. Add the green onions and the crawfish tails, and season with salt and cayenne. Cook, stirring, for about 2 minutes. Remove from the heat, and cool.
Spread the crawfish mixture over the tomato sauce, and then top with the cheeses. Sprinkle with the oregano.
Bake until the cheese melts and the sauce bubbles, about 20 minutes. Cut into wedges to serve. Serves 4.

Crawfish in Creole Mustard
This one is just for lagniappe.
1/4 cup Creole mustard
1/2 cup olive oil
1/4 cup rice or red wine vinegar
1 tablespoon fresh lemon juice
2 tablespoons Worcestershire sauce
1 teaspoon finely chopped garlic
1 tablespoon ketchup
1/8 teaspoon (about 6 dashes) Tabasco sauce
Zest from 1/2 lemon, finely chopped
1 pinch chopped parsley, plus 1 tablespoon chopped in reserve
1 tablespoon chopped green onions, plus 2 tablespoons chopped in reserve
Cracked black pepper to taste
1 pound peel crawfish tails, rinsed in cool water and patted dry
Combine the first 11 ingredients (except for the 1 tablespoon chopped parsley and 2 tablespoons chopped green onions) in a mixing bowl, and whisk until all is well-blended. Refrigerate for at least 24 hours and up to one week.
When ready to use, whisk again. To serve, toss the rinsed crawfish tails in some of the sauce, according to your personal taste. Season with the black pepper, and add the reserved parsley and green onions. This is excellent served atop assorted mixed salad greens or on chilled marinated white beans or even with cold pasta as a salad.
Serves 4 to 6, in appetizer portions.