Seafood in Acadiana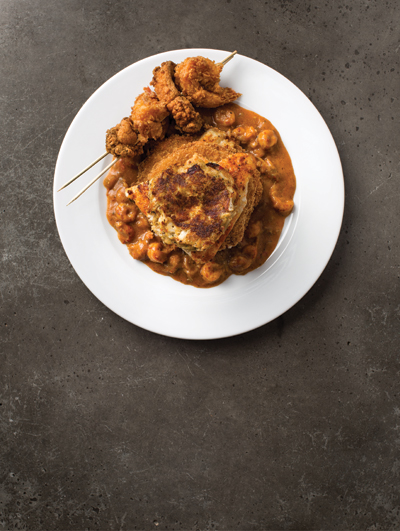 Perhaps it is divine payback for the miseries the French Acadians endured at the hands of the British during Le Grand Dérangement when the they were forced from their homes in Nova Scotia to resettle in southwestern Louisiana and start again with nothing, but centuries later Louisiana's Acadians are in possession of an enviable culture undeniably rich in music, art, and gastronomy.
While most world cuisines are based on the bounty of either the land or the sea, the Cajun pantry is based on both: game, fowl, and domestic meat – mostly pork – pour in from the prairies along with vegetables and spices, and both finfish and shellfish are hauled in by the bushels from the rivers, lakes and bayous.
When it comes to eating and living, well, in general, the Acadians have it all.
If you grew up in Louisiana, there's as good chance you have a childhood memory of visiting one of the Don's Seafood restaurants scattered throughout the state and into Texas. Some of us literally cut our teeth on their children's menu.
The original Don's opened in Lafayette in 1934 as Don's Beer Parlor, but the thoughtfully expanded building and its crowd-beckoning neon lights are so lovingly maintained as to bear no signs of age. The place glows in the evening light with glossy paint, scrubbed sidewalks and well-heeled patrons. Devoted old-timers, families with children and young hipsters pack the sprawling restaurant and its two waiting rooms and bars for the classic, potent Old Fashioned (complete with cocktail monkeys, maraschino cherries and rock sugar stirrers); silky-rich crabmeat au gratin; big, juicy steaks; luscious crawfish étouffée; towering fried seafood platters; and dense, buttery bread pudding for dessert.
Joseph Dupuy began harvesting and selling oysters for 5 cents a dozen in 1869. Three generations and 146 years later his namesake Abbeville restaurant, Dupuy's Seafood & Steak, is still a go-to for the saltiest, plumpest, creamiest bivalves around. Locals also flock to the white clapboard eatery, which recently underwent a modern facelift for live music, fried seafood and Cajun dishes. Outdoor seating is a plus. There is a running competition with nearby Shuck's for who serves the best oysters, and locals are firmly divided into two camps.
When he finally decided enough was enough, the long-time manager of the once world-famous Mulate's in Breaux Bridge was able to afford the purchase price on the building but not the famous name, so he re-christened the restaurant Pont Breaux and booted the kitchen back into the gear that made it famous in the first place. Come for authentic Cajun cuisine – check out the Swamp Trash Plate with sautéed crabmeat shrimp and alligator over rice – and traditional live Cajun music every night. This is a great place to take the kids. Located in nearby Henderson, Crawfish Town USA's La Bam Breme, is a towering concoction of fried eggplant, grilled catfish, a crab cake, fried shrimp and oysters presented all threaded together and served atop a pool of crawfish étouffée. If you're not in the mood for seafood another must-do is the Jacked Up Chicken with its blanket of melted pepper jack cheese and andouille cream sauce. Located inside an authentic barn that dates back to the early 1900s, this place is also exceptionally family-friendly.
---
Bonus Bite
Johnson's Boucaniere in Lafayette has a cult following for its toothsome boudin, which is made from the family recipe that made Johnson's Grocery in Eunice world famous. Both a take-out and outdoor dining destination, the treasured boudin here sells out early, particularly on Saturday, so get in line with the rise of the sun. Though the smoking methods and recipes here may be traditional, some of the applications definitely are not: The Parrain Special and Stevie's Stuffed Grilled Cheese are the stuff happy heart attacks are made of.
---
Crawfish Town USA
2815 Grand Point Hwy., Henderson, (337) 667-6148, crawfishtownusa.com
Dupuy's Seafood & Steak
108 S. Main St., Abbeville, (337) 893-2336, dupuys.com
Johnson's Boucaniere
111 St. John St., (337) 269- 8878, johnsonsboucaniere.com
Pont Breaux
325 Mills Ave., Breaux Bridge, (337) 332-4648, pontbreauxcajunrestaurant.com
Shucks!
701 W. Port St, Abbeville, (337) 898-3311, shucksrestaurant.com
The Original Don's Seafood & Steakhouse
301 East Vermilion St., Lafayette, (337) 235-3552, donsdowntown.com
---