Pour la maison: Metal Harmony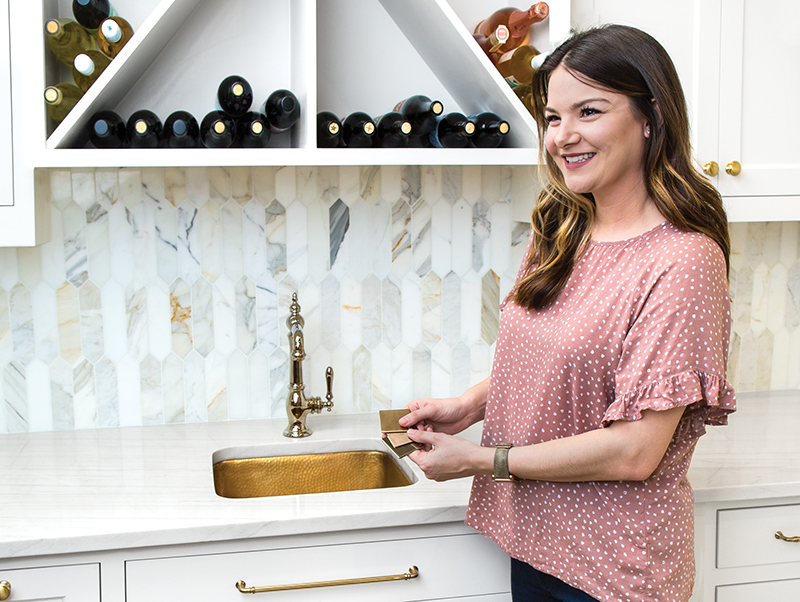 Ask any designer for advice about creating a classic look, and chances are they'll talk about mixing: old with new, highs with lows, bolds with neutrals. Just like your mawmaw's gumbo, there's not an exact recipe to follow. It's all about balance.
"It's more of a put together feel — it's not all matchy-matchy," explains interior designer Paige LaVergne, owner of Acadiana-based LaV Designs.
LaVergne says metal finishes are no exception to this rule. In other words, just because you're a big fan of polished brass, doesn't mean it should be reflected on every knob and fixture in your home.
She advises her clients to choose two (no more, no less) complementary finishes to balance throughout their home. Her current favorites are brushed gold with polished nickel because they are on completely different ends of the spectrum. She also likes mixing matte black and chrome.
"Choose things that are opposite," she explains. "Opposites complement each other."
LaVergne prioritizes the finish on plumbing fixtures, such as faucets and pot fillers, first, opting for a more classic finish because most people will live with these choices for a long time. She says she recommends a secondary finish for light fixtures and cabinet hardware.
One of the biggest mistakes she sees people make is trying to shop for fixtures and hardware online, which can quickly become overwhelming. She prefers buying these pieces locally, so "you can touch and feel and see the finish in person."
"You don't want to invest in something that may not be the quality you're hoping for," she adds.
However, her No. 1 tip to nailing the mixed metals look is to make absolutely sure your selections all adhere to the same design aesthetic.
"Whether it's modern or traditional or transitional you can mix metals easily," says LaVergne. "You want to keep within your style to make sure it all works well together."
---
How To Mix Metal Finishes
❶ Determine your space's overall style.
❷ Choose your favorite primary finish.
❸ Select a contrasting secondary finish.
❹ Pick out permanent fixtures, like plumbing, first.
❺ Opt for your secondary finish on hardware and lighting.
❻ Use furniture and accessories to balance the finishes.
❼ All selections should fall within a consistent design style.
---
Paige LaVergne, LaV Designs / 337-962-1508. paige.lavdesigns@gmail.com. Instagram: @Paige.LaVdesigns. FB: LaVDesignsLafayette.
---
About the designer: Paige LaVergne is the owner and principal designer at LaV Designs. She holds a degree in interior design from the University of Louisiana at Lafayette and specializes in residential design, from new constructions to full remodels.
---