Personnes d'Acadiana: The Brothers Brew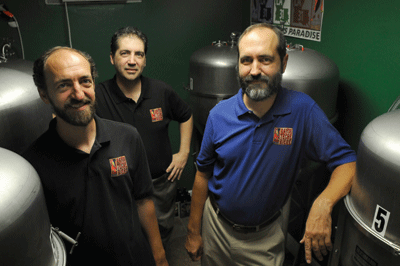 In this delightfully distorted, 5 percent-alcohol-by-volume version of the American dream, the brewmaster (that's Karlos Knott) is the only employee who hasn't been to brewing school; the guy who does all the running around (that's Byron Knott) has a broken leg; the talker of the family (that's Dorsey Knott) isn't around to speak; and the Union Pacific railroad car housing all this fun is bustling, moving and shaking, but it isn't on any tracks.
It's 10:03 a.m. Friday at the Bayou Teche brewery in Arnaudville – Acadiana's emerging beer beacon and grown-up's Candy Land – and a Wonka-ish vibe of creativity melds with the unmistakable scent of freshly brewed coffee. Karlos, brandishing a seldom-seen and partially hidden intense look beneath his trademark Wooly Willy black beard, mutters something indistinguishable to Byron regarding the day's challenge. It sounds serious. Byron nods.
A couple of days ago, representatives from Lafayette-based Mello Joy, which boasts the tagline "the original Cajun coffee," approached the Knott brothers about a beverage collaboration – incorporate our coffee into your beer. Sounds good, Karlos told them. Ideas immediately started percolating/fermenting in his head. Traditional coffee-beer blends are usually fused with porters – dark ales that originated in England. But nothing about the founding of Bayou Teche Brewing or its modus operandi is traditional, so Karlos went another route. "What would happen if the coffee paired with a Belgian noble ale?" he wondered.

"It's kind of like making a sandwich or a gumbo," Karlos says on a break from tinkering with this 5-gallon test batch. "Like when you make a gumbo, if you add different things, you make different gumbos. A beer is kind of the same way. I know the basics of making a beer, so in my mind I might just add different crystal malts or different hops. I've never worked with coffee before, so we'll see.
"There's some mad scientist to it," Karlos continues. "People understand how wine is made, but most don't know how beer is made. So when you tell them, they stare at you almost like you're a wizard or something, a shaman."
Karlos pauses for a moment. "Or they look at you like you're not quite right."
Regardless of the method – or the weird stares it draws – the Knott brothers have quickly planted the Bayou Teche Brewing flag all over Acadiana and much of the Gulf South since the company began selling beverages commercially in early 2010. Four Bayou Teche beers – Bière Pâle, Grenade, Boucanée and Bière Noire – can easily be found at bars, restaurants and convenience stores by looking for the familiar Louisiana State Highway 31 label. Demand has ballooned so much and so quickly that some of Bayou Teche's production is temporarily handled at the Lazy Magnolia Brewing Co. in Kiln, Miss., while construction continues on a larger 10,000-square-foot facility on the Knott family farm. Beyond upping its quantity, Bayou Teche validated its quality this past summer when it took home a silver medal at the World Beer Championships hosted by the World Beer Institute.
"Even last night I was telling some people I met that two full years ago, I would have never thought I'd be in the beer business," Byron says. "And now here we are. I wasn't even dreaming about it. It just sort of happened."
Well, there's a little more to it than that.
The story of Bayou Teche Brewing's exponential rise begins more than a decade ago in Germany, where Karlos was stationed during a six-year deployment as a U.S. Army Calvary Scout.
"I come in there, a typical South Louisiana young guy," Karlos says, recalling his military days, "and I know two things: 1. We know how to drink beer in South Louisiana, and 2. America's got the best beer in the world."
Then, the naïve young Karlos ordered his first German beer.
"And they bring out this half-gallon," Karlos says. "So I'm like, 'Hmm, maybe there's something to learn here.'"
As his beer palate matured, Karlos observed and eventually embraced the overwhelming civic identity and pride German regions attached to their local breweries. At festivals and gatherings, townies bragged on their home-based brews with the same gusto and devotion with which Louisianians root for the New Orleans Saints or their neighborhood high school football teams. These weren't just beer enthusiasts, Karlos noticed; these were fanatics.
What's more, there existed a fluid synergy between the town's brewery and the food tastes of the area. The beer brewed was designed to complement the indigenous dishes. If dining preferences changed in that area, the town's brewery tweaked its formula ever so slightly to compensate for the shift.
"That was an eye-opener for me," Karlos says. "We're from Louisiana, we've got the best food in the world, and all we have to drink is the Zatarain's root beer my grandmother used to make or iced tea. So when I came back, I told my brothers, 'You know we really need to brew beer for us, beer for our food.'"
And the brothers did, albeit slowly and for a partisan audience. The Knott brothers crafted beers for holidays and functions at the Arnaudville VFW. The reviews were positive, prompting Dorsey and Byron to nudge Karlos into leaving his day job and brewing beer commercially for a living. Karlos was wary of the risk. He still is. Even now, after all of Bayou Teche's success, Karlos only technically tangles his toes in this new endeavor; he still works nights for a Lafayette railroad company.
After a tedious year-and-a-half-long wait to obtain the proper licensing, the Knott brothers converted an old railroad car into their hub. It was originally placed by the banks of the Bayou Teche, but state officials forced the Knotts to move the business closer to the highway. So they did, sprucing up the place with design additions such as an old-timey looking "tasting porch," which gives the place a more homey effect and eases the eyesore on the neighbors.
Within the first week, the Knott brothers sold out of the initial supply, thus beginning a never-ending mad scramble to keep up with demand. To help, the Knotts hired a bunch of family members to handle everything in-house – from accounting to advertising.
"It's been a blessing," Karlos says. "The only problem, the only concern, is as we expanded, we're running out of family to hire. I guess we'll have to start adopting. I think that's our biggest worry right now."