Pat's Fisherman's Wharf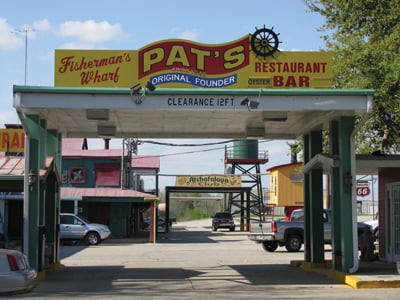 Most drivers on I-10 have little reason to exit the interstate in Henderson, the tiny outpost of just 1,500 residents at the edge of the long stretch of elevated roadway that slices through the cypress bayous of the Atchafalaya Basin.
You might stop here to get gas or a quick bite, but unless you drive through the heart of Henderson, you'll miss its biggest tourist attraction, a hybrid restaurant-motel-dance hall-roadside attraction called Pat's Fisherman's Wharf.
The yellow "Pat's" billboard reaches high above the simple one-story homes along Henderson Highway and assortment of fishing camps on Bayou Amy. Its namesake is Pat Huval, who got his start in 1948 selling hamburgers and sacks of crawfish from a stand he rented on the Atchafalaya Basin.
By 1952, Huval had done well enough to buy the stand and the adjacent dance hall. He made a name for himself in the restaurant business and became the first mayor of Henderson after its incorporation in 1971. Huval was mayor for 17 years.
During his time in politics, Huval made friends with former Gov. Edwin Edwards. While Edwards served time in prison, he vowed to earn his freedom in time for Huval's 82nd birthday in 2011. Edwards kept his promise, showing up at Huval's birthday party at the restaurant.
Pat's restaurant has grown significantly from its early days as a shack without electricity or indoor plumbing – now it's a nationally renowned Cajun restaurant with accolades from the likes of Gourmet Magazine, The New York Times and National Geographic.
Present-day Pat's serves enormous platters of seafood and home-style Cajun cooking Huval learned from his mother, such as seafood gumbo, fried oysters, crawfish etouffee and fried frog legs. Diners sit at tables with red-and-white checkered tablecloths spread around a large fireplace or on the porch overlooking the bayou.
Huval also owns the dance hall next door, the Atchafalaya Club. On Saturday nights, live bands belt out the tunes, and it seems the entire town of Henderson is here, dancing the two-step late into the night. Visitors need not drive home late at night; you can crash at Pat's Edgewater Inn, the third business on campus. The motel opened in 2009 with 28 rooms overlooking the bayou.
The businesses are a family affair, with Huval's children Cynthia, Jude and Harvey now involved. Jude, a graduate of the Louisiana Culinary Institute, is the restaurant's head chef. Pat is still active in the kitchen from time to time, though he also enjoys greeting his guests. If you're lucky, you might just see Pat himself greeting visitors by the front door of his restaurant.
---
Pat's Fisherman's Wharf: 1008 Henderson Levee Road, Henderson, (337) 228-7512