Nouvelles des Villes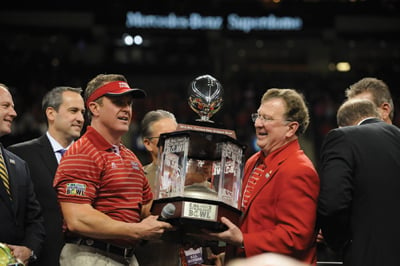 Ragin' Cajuns Win Again in Postseason
LAFAYETTE – For the first time in school history, the Ragin' Cajuns football program posted back-to-back postseason wins as ULL secured its second consecutive New Orleans Bowl title, this time downing East Carolina 43-34 in front of 48,000 fans at the Mercedes-Benz Superdome. With the win, the Cajuns duplicated their 9-4 record of last year.

Behind 316 yards passing and 108 yards rushing from sophomore quarterback Terrance Broadway, ULL raced out to an early 28-7 advantage and managed to hang on in the fourth quarter thanks to two field goals from kicker Brett Baer.

"There's not a whole lot now that fazes our football team," Cajuns head coach Mark Hudspeth said after the game. "We can be up by 20, down by 20; we're just gonna keep playing and try to make plays. And they believe in one another. … I just couldn't be more proud to see the look in their eyes and on their faces after they win a game – especially a bowl game in the Superdome."

The Cajuns finished the 2012 regular season with an impressive 8-4 record, notching victories against Sun Belt Conference rivals Louisiana-Monroe, Troy, South Alabama, Western Kentucky, Florida Atlantic and Florida International. But perhaps the Cajuns' best effort was given in a near-upset 27-20 loss to national power Florida on Nov. 10, 2012. The heavily favored Gators escaped thanks to two fourth quarter touchdowns, including an improbable game-winning blocked punt return with 2 seconds left in regulation.

Waddell Assumes Control of 256th Louisiana National Guard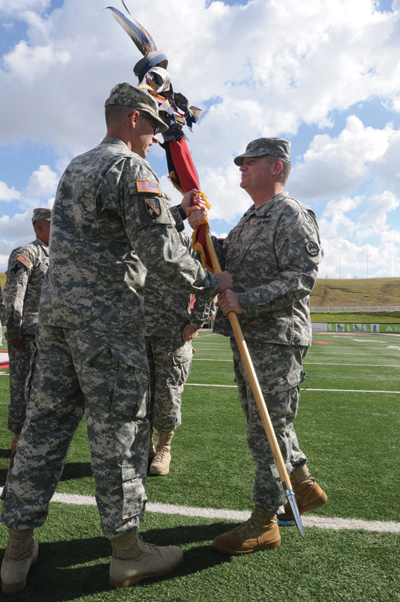 LAKE CHARLES – Col. Keith Waddell, a Lake Charles resident and previous commander of the 769th Engineer Battalion and the 139th Regional Support Group, has been re-assigned to the same position with the Louisiana Army National Guard's 256th Infantry Brigade Combat Team. He replaces former commander Col. Jacques Thibodeaux.

The Louisiana Army National Guard's 256th Infantry Brigade Combat Team welcomed Waddell at an official change of command ceremony at Cajun Field in Lafayette on Dec. 2, 2012.

While with the 769th, Waddell served in Baghdad during Operation Iraqi Freedom and also commanded during domestic affairs such as hurricanes Katrina and Rita in 2005. He originally hails from New Roads.

The 256th Louisiana National Guard was deployed to Iraq for portions of 2004 and 2005 to assist in the third phase of Operation Iraqi Freedom. The final weeks of that international assignment fell close to the landfalls of Katrina and Rita, allowing the brigade to take part in relief efforts in New Orleans and Southwest Louisiana.

In the spring of 2010, the Infantry Brigade left for its second deployment in Iraq, staying abroad until the end of the year.

Wallis Wins New Hollywood Award, is Up for Oscar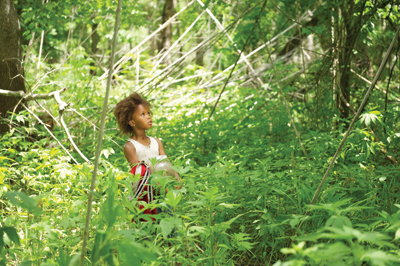 HOUMA – Quvenzhané Wallis, the 9-year-old star of the critically acclaimed Beasts of the Southern Wild, won a 2012 New Hollywood Award for her role as Hushpuppy, a storm survivor living in the mythical coastal Louisiana town of Bathtub. On Jan. 10, it was announced that Wallis is also an Oscar nominee in the Best Actress category.

According to the Hollywood Reporter, "Some handicappers are … calling her the front-runner in the category, which, if their predictions pan out, would make her the youngest winner of a competitive Oscar in any of the acting categories."

Prior to appearing in Beasts of the Southern Wild, Wallis had no formal acting training.

The film, directed by Benh Zeitlin, received positive buzz during screenings at film festivals such as Sundance and Cannes in early 2012. Later that summer, the movie premiered in theaters in New York and Los Angeles. The entire project was filmed in Terrebonne Parish.

Since the film's release, Wallis has attended a handful of media appearances but remains a full-time fourth grade student in her hometown of Houma. This past summer, Wallis landed a role in the soon-to-be-released Twelve Years a Slave. That film, also shot in Louisiana, is directed by Steve McQueen and stars Brad Pitt.

Rebuilding Starts for St. Matthew's Episcopal Church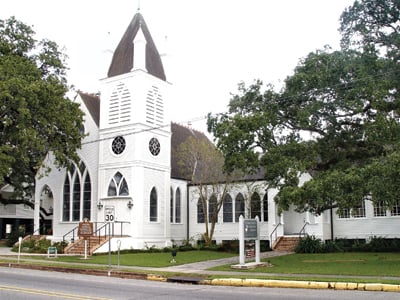 HOUMA – Exactly two years after a fire destroyed the historic St. Matthew's Episcopal Church, pastor Craig Dalferes and other clergy members broke ground on the same site. Through a combination of insurance money and donations, church officials believe they have sufficient funds to begin construction of a new worship center.

In the early morning of Nov. 11, 2010, neighbors phoned authorities when flames were spotted emanating from the church. Firefighters arrived on the scene and battled the blaze for hours. When it finally subsided, the 19th-century church was nothing but soot and rubble. At the time, St. Matthew's – located downtown on Barrow Street, near the Terrebonne Regional Medical Center – was the second-oldest church in Terrebonne Parish. Investigators determined the church burned because of an electrical fire. The adjoining school was mostly unharmed, and classes have continued since then. No one was injured in the fire.

Initial blueprints for the new church very much mirror the design and layout of the original building – testament to the brilliant architecture of the time. The seating area should be able to accommodate more than 200 church-goers and better-equipped with ramps and railings to handle those with special needs.

"Cajun RVera" Scheduled to Open This Spring

NEW IBERIA – Construction continues on the "Cajun RVera" – a modern RV park project spearheaded by the Acadiana Fairgrounds Commission. The new development – which is scheduled to be completed in the spring – features 200 spots for campers and motor homes, an expansive clubhouse and nearly 10,000 square feet worth of swimming pool space, along with perks such as mini-golf, beach volleyball courts and a video game arcade.

The RV park is strategically located next to the Acadiana Fairgrounds' SugArena in order to accommodate staff and attendees of its many weekend events and functions. The thought is that the new park will be an enticing nugget for show coordinators and will fill up the few available spots left on the SugArena's calendar. Commission officials estimate the new park will generate revenue exceeding $1 million during its first year of operation.