New Orleans Noshing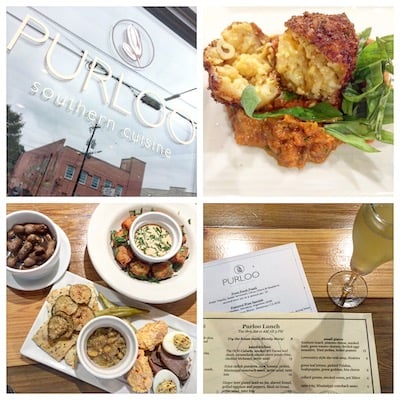 About three or four times a month, I get a call, text, email or Facebook message from an out-of-town friend or acquaintance asking for New Orleans restaurant recommendations. It's usually for their own upcoming visit or that of a friend or family member. During my time living and working at the daily newspaper in Austin — another popular tourist destination — as well as Houston, a popular place to go for business (but people are discovering it's a great place to vacation and I agree), I started ongoing recommendation lists to shoot out to people upon request. (Warning: When you ask a lifestyle reporter for information, the response is usually given in a highly detailed and meticulously organized format. It's in our DNA.) Last week alone, I received three requests. One of them mentioned that the traveler would be on a budget and asked if I could send suggestions for at least one nicer restaurant and then a few inexpensive choices. This prompted me to add a dollar sign code to the list to indicate price. I can't help myself! Having visited New Orleans frequently for the better part of 10 years and after living here for going on two, my list has grown and is covering more geographical territory. It's by no means a comprehensive restaurant guide to all of the amazing eating establishments in New Orleans. Rather, it's my (current — it changes like the weather) favorite places, frequent haunts and a few places I have on my to-do list. So, I thought I'd share it. Bon appétit!
Pricing key: If there is no dollar sign, it's relatively inexpensive or has budget-friendly options. For dollar signs, each one represents a significant rise in price, but always check the menu in advance if you can't spend freely. Even some of the most expensive restaurants sometimes offer a dish that won't break the bank or happy hour and lunch deals.
(Note: This doesn't include pizza, burger, steak and otherwise typical American restaurants. I've tried to include the sorts of places that have food you might not get elsewhere.)
French Quarter
Café Amelie Housed in a circa-1800s carriage house, the lush courtyard here is one of my favorite places in the city and has been since the first time I set foot in New Orleans. Get light Creole fare, history, delicious cocktails and seriously romantic vibes. $$
Cafe du Monde The legendary purveyor of beignets and café au lait and a must on every visitor and locals list. But, if you want to avoid the lines, Cafe Beignet on Royal is quite charming and the beignets are delicious. But maybe I'm biased, because I've never met a beignet I didn't like (or a Pinot Grigio, but that's another list).
Cane and Table A favorite of the cool kids, this upscale casual eatery features rustic and innovative farm to table cuisine and is known for its craft cocktails. $$
Galatoire's This place is an institution. Expect old school New Orleans flair and French Creole fine dining. Dress to impress. $$$$
Irene's Cuisine For a taste of true New Orleans Italian and an authentic local hang, this is the place. The wait is long, but worth it. Just enjoy a drink at the bar while you wait and people watch. $$
Salon by Sucre A fab new-ish establishment featuring small plates, Sucre is the perfect chi-chi spot. Have lunch or happy hour then get macarons at Sucre downstairs on your way out. (There also is a Sucre on Magazine in the Garden District, if you want more macarons.)
Central Business District
Cochon This Cajun Southern haven is one of those places I haven't yet gotten around to, but have literally never heard anything other than over-the-moon praise. I've sent countless friends here and they all are satisfied customers. $$
Cochon Butcher Think of this as the casual deli version of Cochon. It's also the place where I had what might have been the best BLT of my life. The house made pickles are pretty spectacular too. You will not be disappointed.
Central City
Purloo Housed in the Southern Food and Beverage Museum, Purloo is both a wonderful place to eat and a great place to learn about Southern cuisine. Chef Ryan Hughes is knowledgeable and loves to share that knowledge, so try to get a seat in front of the exhibition kitchen, so you can ask the staff questions about your meal. Craft cocktails will round out the experience.
Uptown
Le Petite Grocery A marvelous farm-to-table bistro, Le Petite offers fresh, local cuisine at prices that won't induce sticker shock. I've been to brunch here a few times and dinner once and it scores points on food, service and atmosphere. They know how to mix up a proper Gin French 75, too, which gives them extra high marks in my book. If you ever see the peaches with ricotta on the menu, order it. $$
Toast A delightful breakfast and brunch place with surprisingly reasonable prices, Toast has be come a go-to, especially when we are out biking in the morning or early afternoon on the weekends. House made jams, sweet and savory crepes, quiches, omelets and some wonderful creation called aebleskivers (puffed pancakes with powdered sugar and sauce) make me want to work in a few extra miles on the bike after a meal.
Shaya The most recent effort by rising star chef Alon Shaya and serving up modern Israeli cuisine, Shaya is a hometown hit. The pita bread is the stuff dreams are made of and my coworkers and I obsess over it multiple times per week. It's addictive. $$
Superior Seafood and Oyster Bar Creole dishes, French Brasserie flair and some of the best raw oysters in the South are offered up at Superior. They shake off any points purists might take off for being part of a chain by sourcing those tasty oysters in nearby St. Bernard Parish and other Louisiana seafood locally, as well as trying to incorporate as much local produce whenever possible, according to general manager John Michael Rowland. The daily happy hour is packed with locals from 4 to 6:30 p.m., for the 50 cent raw oysters shucked by experts in front of you, the two for one frozen mojitos, half off house wine bottles (including bubbles) and $3 draft beer. Your view: St. Charles Avenue and the streetcars.
Garden District
Coquette Innovative Southern cuisine is the order of the day. They do their own house made charcuterie and it's heavenly. $$$
Commander's Palace I'm a firm believer that everyone should eat here at least once in their life. If the regular prices aren't in your budget, consider going on Friday for the popular $1 martinis with entrée lunch. This is very fine dining — complete with a dress code — specializing in Creole food. The Jazz brunch on Sundays is another local institution. If this isn't the best service you've ever received, I'll eat my words. $$$$
Mid-City
MoPho Another one for the addictive list, MoPho has innovative Asian-fusion cuisine. You of course can't go wrong in New Orleans with Vietnamese food. There is a large Vietnamese population here and the cuisine is legit. This particular establishment takes liberties and is not traditional by any stretch. The crispy pork belly and shoulder bowl tastes so good it might be illegal.
Irish Channel
Parasols I'm not going to get into a debate about the best poor boys, because while fun, it would be endless. This is where we go for poor boys when we want one and holy cow, they are magical. Share one, because they also are huge. There happens to be a dive bar attached too, so win-win.
Speaking of bars, my next list will be of my favorite watering holes — both dives and more elegant establishments.
Click here to see my recent list of favorite coffee shops.
What are your favorite New Orleans restaurants? Share in the comments or email me at Melanie@MyNewOrleans.Com.