New Orleans Courtyards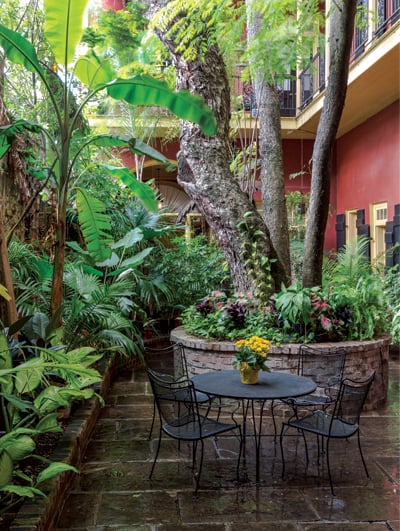 With a combination of Old World and Caribbean influences, French Quarter courtyards embellish New Orleans. Hidden behind brick walls and iron gates, shaded by trees and greenery, complemented by the relaxing sights and sounds of water features, they are ideal places to escape the summer sun. Here are four of our favorites – two public and two private – that showcase the hidden beauty of the city.
---
Stay A While
Designed by renowned antebellum architect Jacques Nicolas Bussiere de Pouilly in 1839 and named for original owner Marie Ann Bienvenue Olivier, the French Quarter's Olivier House Hotel is a gem of Creole, Greek Revival architecture. Its two courtyards epitomize the cool respites favored by both French Quarter residents and the visitors who flock to the historic neighborhood annually. The 42-room hotel's main courtyard consists of approximately 1,000 square feet centered around a large Golden Rain tree that shades the outdoor space, making it a desirable spot for small outdoor events – usually booked by hotel guests (inquiries from non-guests are welcome, as well.) "The rain tree provides fantastic shade and carpets the courtyard with yellow golden flowers in the fall," says Bobby Danner, whose family has owned and operated the hotel since 1970. "Then it blooms with reddish orange blooms that look like Chinese lanterns." The second courtyard is home to the hotel's intimately-sized pool, which dates from the 1960s, when the then-private residence was converted to apartments. Guest rooms overlook both courtyards, which feature lush greenery and flagstone.
---
Lush Living
The courtyard garden of Gary Williams' 1825 Creole Cottage has a rambling, forest-like quality. Laid out in the 1980s by landscaper R.J. Dykes, it features a wandering flagstone pathway that leads to two separate outdoor spaces – right to a brick patio with a well and a fountain and left to a pond with a flagstone bridge. The patio, closest to the cottage, is furnished with a bench, antique wire chairs and a marble-top table. Its aquatic feature is ornamented with a statue of a fish and cherubs. Its abundant greenery includes red leaf bananas ginger, potted plants, night blooming jasmine, philodendron, aspidistra and walking iris. The second of the two outdoor rooms is located at the rear of the property, which abuts the stone wall of a former convent. Its focal point is a pond highlighted by a copper sculpture of a musical frog and surrounded by large banana trees, angel trumpet, jacobina, tea olive, crinum lilies and sago palms. To the right of the pond is a tangelo tree (a cross between a tangerine and orange) that bears fruit in late summer. The garden also includes a transparent green house for supplies and storage, savannah holly trees and tomatoes. "Gardening takes a lot of time," says Williams, who does the pruning and clipping himself. "But in spring, it's great."
---
A Natural Remedy
The New Orleans Pharmacy Museum – and its brick courtyard – come with an impressive heritage. Constructed in 1823, the French Creole townhouse housed the apothecary of the first licensed pharmacist in the United States. Since the 1950s, it's been a museum. A beautiful example of 19th-century architecture, it attracts private events, weddings and parties year 'round. The courtyard's weathered brick walls, 19th century-style lamp posts, iron fence capped with a jasmine-covered trellis, large round fountain and native plants – magnolias, sweet olives, palms and banana trees – have an unmistakable, historic New Orleans flavor. The 2,200 square foot space has the capacity for a 130-person cocktail reception and a 75-person seated event. "It's got the traditional southern foliage, indigenous plants and setting," says Liz Sherman, museum director. "We're a hidden gem, but we're also right in the middle of the Quarter."
---
Cinematic Splendor
Landscape architect Peter Raarup designed this courtyard for a Hollywood producer and cinematographer, who makes New Orleans an occasional home-away-from-home. The challenge was to find a way to bring the rectangular space, which lacked room for planting, to life. "Its very narrow, so you couldn't really plant at ground-level," says Raarup. "The only option was to make it a vertical garden." To honor "the nicely decaying look of the building," and create an assembled-over-time aesthetic, he chose ceramic pots with an aged Aegean look and designed an irrigation system that uses copper piping with a weathered, verdigris finish. (Wall-hung plants and potted plants on the ground are all irrigated for easy maintenance.)He also added a small fountain at one end of the courtyard, which is paved with ballast stone. Shaded and sheltered by its 19th-century residence, the walls of neighboring buildings and a cypress tree, the courtyard gets little direct sun and enjoys the advantage of natural air currents. Greenery includes indigenous cypress and banana trees, English ivy cascading from wall containers, Fatsia japonica, variegated brake fern, crinum lily, dwarf elephant ear, Sunpatiens and bronzed leaf waxed begonia.
---