NEW IBERIA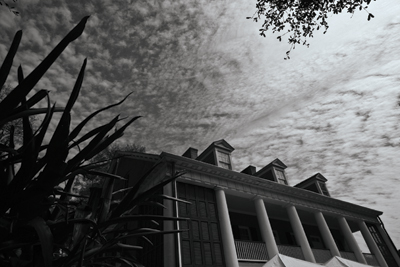 As Taylor Barras — the Louisiana Speaker of The House in temporary title, a proud product of New Iberia in perpetuity — takes a walk down memory lane, he's soothed by the knowledge that the road remains the same, even if the sturdy, wood-frame country store is long gone.
In the 1950s and most of the 1960s, if you lived in New Iberia and needed flour for that roux, eggs for that birthday cake, or sugar for your coffee, the best place to find all of that under one roof was the grocery owned by Barras's father, Elton. The scents changed with the seasons and the sections of the store, the yeasty smell of baked goods in one corner, a refreshing waft of produce in another. The patrons used pleasantries with the shop hands — the littlest pair belonging to Taylor. Throw in a whistling theme-song for a soundtrack, and it was pretty much Mayberry.
"I don't know if I could call it working," says Barras. "I called it working, but I'm sure my father would question that use of the word, considering we were busy enjoying the candy counter and the cookie counter, for sure. But it was a different time. You paid cash, and if you didn't have cash you put it on a tab and came back at the end of the month and paid my dad for your groceries. And I'm just like wow, that was credit before I even knew what credit was. But these are the type of stories that if you don't come from New Iberia, if you're in a bigger larger community, you wouldn't have the opportunity to appreciate. "
For the next few minutes, as he tries to beat a nasty-looking storm home from Baton Rouge to New Iberia, Barras reminisces about the past before purposely fast-forwarding to the here and now. As much fun as it is to reflect on what New Iberia was, analyzing what New Iberia is also produces the same warm fuzzies as venturing back into yesteryear.
New Iberia is a vital and strategic economic piston powering South Louisiana, a tiny town in population but nonetheless an energy and agricultural titan that's home to the Port of Iberia, a 2,000-acre industrial and manufacturing site for more than 100 companies in fields like oil and gas fabrication and production, materials handling and marine services.

---
It's a community with quality neighborhoods and schools, teachers that I still know today, a close-knit church and faith family, and jobs that can provide. So, it's carried me far and it's carried a lot of other people far.
---
New Iberia is home to a public education system whose district performance scores have increased for nine consecutive years and a vocational/technological college that partners with local businesses to turn out graduates that are "work-ready" for highly-skilled, competitively-compensated jobs.
New Iberia is witnessing an infrastructural revolution. Bridges and roads are being expanded and repaired at a dizzying pace while the Acadiana Regional Airport is experiencing a complete transformation including a brand new terminal along with other improvements, not to mention the 64.3-acre site on the property that was recently certified and is now classified as "development-ready."
And finally, New Iberia is a downtown destination on Friday nights, Saturday nights, heck, really, any night. Nestled along the Bayou Teche, Main Street features new shops, restaurants, museums and is the backdrop to some of the most well-attended festivals in the state, the Sugarcane Festival provides, more than enough reason for the thoroughfare to be recognized at a National Register Historic District, and for it to win the Great American Main Street Award by the National Trust for Historic Preservation.
For all that (and more, which we'll get into) New Iberia is Acadiana Profile's City of the Year for 2017 — a place that has evolved but done so without compromising its cultural authenticity.
"Considering I'm born there, grew up there, went through elementary, junior high and high school there and live there now, you can say New Iberia has been a part of my entire life," Barras says. "It's a community with quality neighborhoods and schools, teachers that I still know today, a close-knit church and faith family, and jobs that can provide.
"So, it's carried me far and it's carried a lot of other people far."
Like many communities in Acadiana along the Highway 90 — a major asphalt artery of the energy sector — New Iberia certainly wasn't immune to the two-year long economic sucker punch to the gut caused by the drop in oil prices. The bad news? In June 2016, Iberia Parish reached 10.3 percent unemployment — its highest rate since the turn of the century. The good news? The price per barrel looks like its slowly crawling up from the canvas, causing a quick bump for those seeking work according to the latest number at press time. Oct. 2016 reports from the U.S. Bureau of Labor Statistics puts the unemployment rate at a more tolerable 8.7 percent.

---

The closed theater is now the Performing Arts Center, and an old sports club where guys would go and play cards and smoke cigarettes and have sports on in the background is now a museum.
---
"Oil and gas is still king," says Mike Tarantino, CEO and President at the Iberia Industrial Development Foundation. "The vast majority of our economy either supports or is directly involved with the oil and gas business. So, of course, 2015 and 2016 have certainly been a challenge for all the parishes that are heavily involved in oil and gas, but we're optimistic about 2017."
Perhaps Tarantino's positive thinking is rooted in economic developments at the Port of Iberia in 2016, where several major expansions of existing facilities or construction of new businesses were announced last year.
Logan Industries, an oilfield services and equipment company, is currently building a $4.5 million dollar facility to store deep-water drills — similar to the building found at company headquarters in Texas. Once operational, Logan Industries estimates it will hire 300 employees to man the new site. Bayou Companies, an oil pipe producer, is spending $39 million to modernize its facility. Dynamic Energy Services International has begun delivery on the topside modules fabricated at the Port of Iberia for the Sasol Ltd., ethane cracker project being built in Lake Charles. They are also currently working on fabrication of a number of modules for Shell Oil's Appomattox project. In total, Dynamic Energy hired 500 workers combined for these two projects.
"We're attractive (for businesses) because we're a coastal community and we market ourselves as intermodal," Tarantino says. "In other words, if you want to bring in goods, or bring in raw materials and ship out goods, you can move those things in our parish through water, air, rail or truck — anyway that you can move items, we can do it here.
"We have great assets, great workers, great work sites, but the thing we're focusing on is improving the infrastructure — roads, bridges, sewer pipes — so that when oil and gas comes back like we all predict it will, we're ready to take full advantage of that economic upswing."
One road that crews in New Iberia can pretty much leave alone is Main Street. This once depressing vestige of the 1980s oil bust was resuscitated roughly a decade ago. Without question, the Shadows On The Teche remains the crown jewel of downtown. Built in 1834, this former sugar plantation is visited by more than 25,000 tourists annually and was the first National Trust for Historic Preservation site in the Gulf South. Downtown also hosts the annual World Championship Gumbo Cook-off, an event so flavorful the Chamber of Commerce tells those looking for directions to "Drive into Iberia Parish on Hwy 90, Hwy 182, Hwy 31 or Hwy 13. Roll your window down — inhale — and follow your nose to downtown New Iberia. Aroma should get stronger as you get closer."
"It's been a transformation, a good transformation," Barras says of downtown. "The closed theater is now the Performing Arts Center, and an old sports club where guys would go and play cards and smoke cigarettes and have sports on in the background is now a museum. Little bit of culture, a lot [of] art and historical properties — it is just an interesting combination that allows the whole community to appreciate it."