Natural Education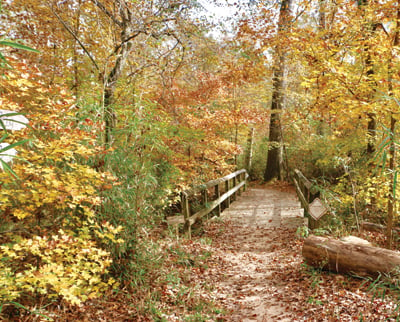 Nature centers are wondrous places that share woods and wildlife with youngsters and seasoned nature lovers, and the comforts and colors of fall make this a great time for visits.
The last big news about one of our locally managed nature centers was grim: the big Louisiana Nature Center in New Orleans, ruined by Hurricane Katrina, had closed.
That was then. Today's news is that the Louisiana Nature Center has merged with the Audubon Nature Institute (operator of the Audubon Zoo, Insectarium and Aquarium) and will reopen this September or October.
Meantime, devote some fine fall days to other centers, starting perhaps with the oldest, the Walter B. Jacobs Memorial Nature Park west of Blanchard in Caddo Parish. Established on land donated in 1970 by two brothers to honor their nature-loving father, it's well known for easy-elevation trails and "vernal pools" (fed only by rain) where the absence of fish allows unusual plant and animal life to thrive. Unique trail markers were donated by nature artist Don Edwards (see "Go"), who also created wildlife dioramas for the Interpretive Center (a virtual natural history museum and gathering place for events like "Owl Night Hikes" and the scary Oct. 28 "Bugs, Bats and Bones" hike).
Under the guidance of wildlife biologist and master falconer Rusty Scarborough, the Jacobs center now boasts raptor rehabilitation facilities and the unique Birds of Prey Aviary.
Across Red River, at the Bossier Parish School System's Cypress Nature Study Center near Benton, woodland animals and birds flourish along bottomland and upland trails donated by the Jacobs family. A classroom and exhibit facility displays curiosities like turtle shells, local rocks and minerals, bird nests (with eggs) and live hard- and softshell turtles.
At Lafayette's Acadiana Park Nature Station natural science curator Stacy Scarce says it's the location of her trails on the lip of the Mississippi River floodplain that provides their variety: prairie, bottomland, the escarpment edge of the floodplain and the primordial river bottom itself. A three-story interpretive center provides dramatic views of its surroundings and "exhibit drawers" filled with nature's curiosities. Just outside, the little François Coulee stream serves as a canoe and kayak launch for explorations of the Vermilion River.
In our capital city a natural swamp has been transformed by the Baton Rouge Recreation and Park Commission into the Bluebonnet Swamp Nature Center where trees killed by 2008's Hurricane Gustav have returned nicely, along with the raccoons, foxes and otters. Monthly bird walks reveal why the spot is vital to the Louisiana Bird Observatory program.
In addition to mineral displays, working beehives and small animal residents, the giant interpretive center houses a large collection of vintage hand-carved duck decoys donated by the late collector and author Charles Frank Jr.
Next door to Fontainebleau State Park, the trails of Mandeville's Northlake Nature Center traverse acres of longleaf pines and savannas along Bayou Castille. Major annual events include the big Louisiana Birdfest in spring and the Sept. 28 "Wings and Wine" fundraiser (details on the website).
By the time you're home from that statewide circuit, it's likely the Audubon Louisiana Nature Center will be open and great things await you. From the huge exhibit pavilion's life-sized swamp diorama and boardwalk views of the replanted acreage, to peaceful picnic spots and space flights at the restored planetarium, the wonders restored and created by this $10 million restoration will thrill generations to come.
Check the website for details on the mid-November Fall Family Fest (Audubon's first major event), and be a frequent visitor to all nature center websites for news of regular and special hikes, classes and exhibits.
(TOP) Walter B. Jacobs Memorial Nature Park (LEFT) Acadiana Park Nature Station (RIGHT) Don Edwards painting
(LEFT) Audubon Louisiana Nature Center (MIDDLE) Conservation Learning Center (RIGHT) Bluebonnet Swamp Nature Center
---
GO……………………
It's only natural: nature inspires art, so it is no surprise that the 51-year-old Norton Art Gallery of Shreveport (4747 Creswell, 318-865-4201, rwnaf.org) has chosen the landscape and wildlife paintings of Don Edwards for its first-ever one-man exhibit honoring a living local artist.
Edwards, winner of countless awards in the arts, creator of duck and wild turkey stamps and current president of the Louisiana Wildlife Artists Association travels the world painting, but credits Caddo Parish's Jacobs Nature Park for much of his inspiration.
"Especially in the fall," he says, "when the hickories and sugar maples of that near-virgin forest just explode with color."
Visit his "open-usually" Nature's Art Gallery (2855 Summer Grove Drive, 318-207-2229, donedwardsart.net ) and his big "Alaska to Zimbabwe" exhibit remains at the Norton until Jan. 7.
---
DETOURS…………………
In addition to trails at local Nature Centers, many can be found on Nature Conservancy lands
(lafo@tnc.org), at state parks (crt.state.la.us) and Wildlife Management areas
(wlf.louisiana.gov/wma) throughout Louisiana.
Some National Wildlife Refuges (fws.gov/refuges/profiles/ByState.cfm) even offer full-fledged nature centers, a prime example being Black Bayou Lake National Wildlife Refuge north of Monroe (480 Richland Place, 318-387-1114, fws.gov/northlouisiana/blackbayoulake).
"People like the variety of terrain here," says ranger Nova Clarke, "from cypress swamps and hardwood forest to prairieland and waterfront habitat. The trails pretty much follow the lakeshore and Bayou DeSiard — very nice."
The Arboretum Trail has 150 Louisiana tree species, the "pollinator gardens" at the visitor center/museum present indigenous flowers in season, and the Conservation Learning Center houses critters like a giant snapping turtle and pair of rare/endangered Louisiana Pine Snakes.
---
Walter B. Jacobs Memorial Nature Park
8012 Parish Road 4, Shreveport
318-929-2806 • caddo.org
Cypress Nature Study Center
545 Beach Circle, Benton
318-965-5800 • bossierschools.org/cnsc
Acadiana Park Nature Station
1205 E. Alexander St., Lafayette
337-291-8448 • naturestation.org
Bluebonnet Swamp Nature Center
10503 Oak Hills Parkway, Baton Rouge
225-413-5355 • brec.org/swamp
Northlake Nature Center
23135 Hwy 190 East, Mandeville
985-626-1238 • northlakenature.org
Audubon Louisiana Nature Center
11000 Lake Forest Blvd., New Orleans
504-587-2105
audubonnatureinstitute.org/nature-center