Music Museum in the Making
News Brief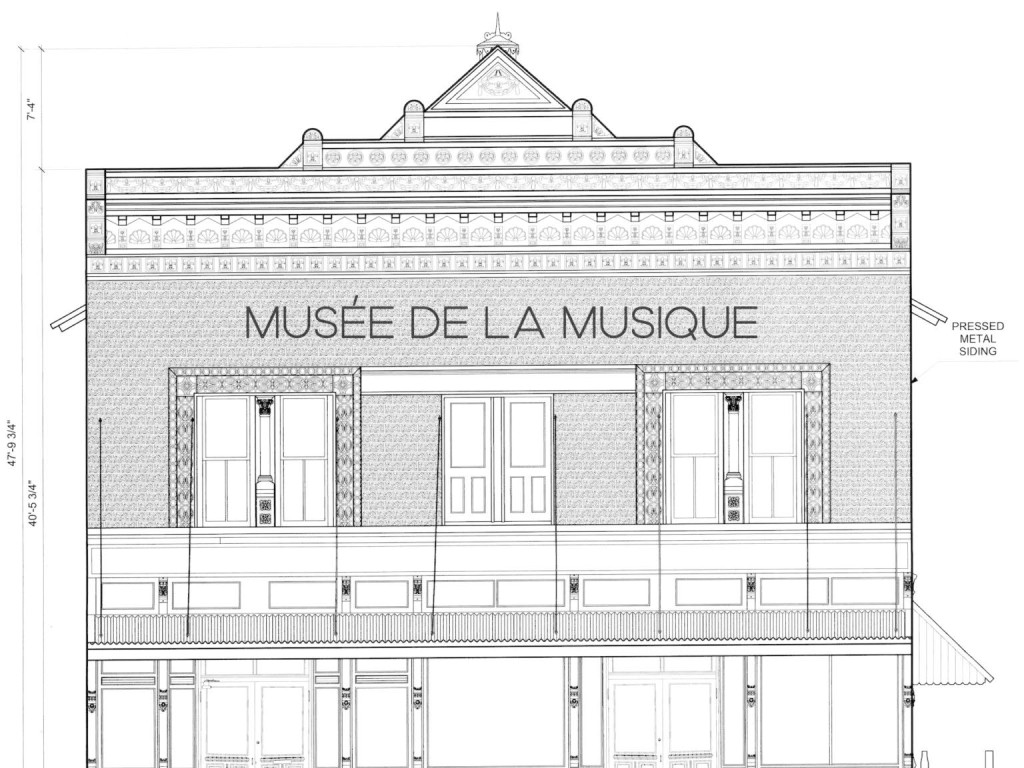 Lafayette
Acadiana Center for the Arts is launching a public capital campaign this summer to raise exhibition and curatorial funds for its new 10,000-square-foot Louisiana Music Museum, to be housed in the former 130-year-old Lafayette Hardware Store. Pending AcA's (non-profit) funding success, the construction phase will launch this fall. Acadiana's diverse musical styles and stories spanning generations will be showcased, with the added allure of a traditional dance hall. AcA supports art, music and festivals across Acadia, Evangeline, Iberia, Lafayette, St. Landry, St. Martin, St. Mary and Vermilion parishes (info@acadianacenterforthearts.org).
Affordable Housing Underway
Lake Charles
New Orleans-based HRI Properties announced plans for Woodring Apartments, a new 130-unit mixe
d-income housing development in downtown Lake Charles. Designed to provide more affordable housing (with green building standards emphasizing hurricane disaster resiliency), the $35 million project is set to break ground by the end of 2022. Thanks to tax credits, rent for one-bedroom apartments will be around $600; amenities include a fitness center, park, community garden and grilling areas (hriproperties.com).
Youngsville
More Sports, New Hotel
The 70-acre Youngsville Sports Complex is expanding with an additional 46 acres that will soon bring collegiate baseball fields, an amphitheater, cornhole and pickleballl courts, jogging trails and a fitness station, plus a large dance floor (youngsvillesportscomplex.com). Youngsville's first hotel will be located across the street from the Sports Complex as part of a $25 million, 14.4-acre mixed-used project by the XAG Group, a Houston-based development firm (xaggroup.com).
Summer Animal Fun
Broussard
Hop on the Safari Express Train at Zoosiana to see baby Gabriel the giraffe showing off his new home in the new Giraffe Center. Then visit two new tiger cubs, brothers Michael and Mitchell, fight-playing as they purr and growl in their roughly 12,000-square-foot enclosure that includes a tiger swimming pool with two sun tanning ledges (facebook.com/ZooFan/).
U.S. Energy Approves Exports
Lake Charles
The Department of Entergy has approved additional export flexibility for Glenfarne Group LLC's Magnolia LNG (liquefied natural gas) project based near Lake Charles. This gives the U.S. (the global leader of LNG production) and Louisiana (the top exporting state) expanded exporting opportunities abroad. "This will allow for more American natural gas to replace Russian gas in Europe," said U.S. Congressman Garret Graves. "We can create more jobs, a win for Louisiana, and cut off funding for the Russian military, a loss for Putin."
Safeguarding PPE Supplies
Broussard
While other PPE (personal protective equipment) manufacturers around the U.S. have aborted plans on making PPE products (thus extending our dependency on Asian imports), SafeSource Direct has insightfully started operations (and hiring) at its massive plants in St. Martin Parish, producing everything from nitrile gloves (27,000 per hour) to N95 respirators that meet NIOSH requirements. Ochsner Health's SafeSource Direct is now the only U.S. provider-owned PPE manufacturer with verifiable U.S. provider-owned quality control (safesourcedirect.com).
Game Changer for Flood Control
St. Mary, Terrebonne, Lafourche, St. Martin, Assumption, Iberville
A ribbon-cutting ceremony was recently held to celebrate the completion of the Bayou Chene Floodgate, an $80 million permanent structure that took 2 years to complete. It will prevent the Atchafalaya River backwater flooding from impacting 30,000 residents, 6,000 homes and 1,000 businesses in 6 parishes. Bollinger's Amelia yard built the massive 446-foot barge as part of a holding structure that can be moved into place across Bayou Chene. Sealevel of Thibodaux was the major contractor.
Keep On Trucking
Carencro
A new 45,000 square-foot complex for Kenworth of Louisiana (known for its custom fabrication facilities that can implement virtually any custom accessory imaginable for trucks) is slated for completion later this summer (located next to Don's Specialty Meats in Carencro along I-49 at 4100 NE Evangeline Thruway). Designed to expand Kenworth's smaller 26,000 square-foot facility (Veterans Memorial Drive), and to accommodate the area's influx of large commercial traffic along I-49 (kwlouisiana.com).
New Discount Grocery Store
New Iberia, Lafayette
Louisiana's second Aldi store recently opened along New Iberia's E. Admiral Doyle Drive featuring discount groceries (only 10% of the store is reserved for name brands and the other 90% is for their products). The German grocery store chain opened its first Louisiana location in Lafayette (Ambassador Caffery Parkway), with a second Lafayette location opening later this summer (Louisiana Avenue). Baton Rouge and New Orleans are among 20 cities slated for Aldi's 20-store Gulf South expansion (aldi.us).
Mega Lumber Expansion
Mansura
Great Southern Wood Preserving, best known for its YellaWood brand pressure-treated pine, recently launched a $22.5 million expansion of its Avoyelles Parish lumber facility, targeting new commercial and industrial markets in Louisiana via the expansion of wood treatments for residential and marine use products. Construction is expected to be completed in 2023 (yellawood.com).