Medicinal Artistry
Lafayette artist and art therapist Gwendolyn Aliexis Richard finds and shares the healing power of art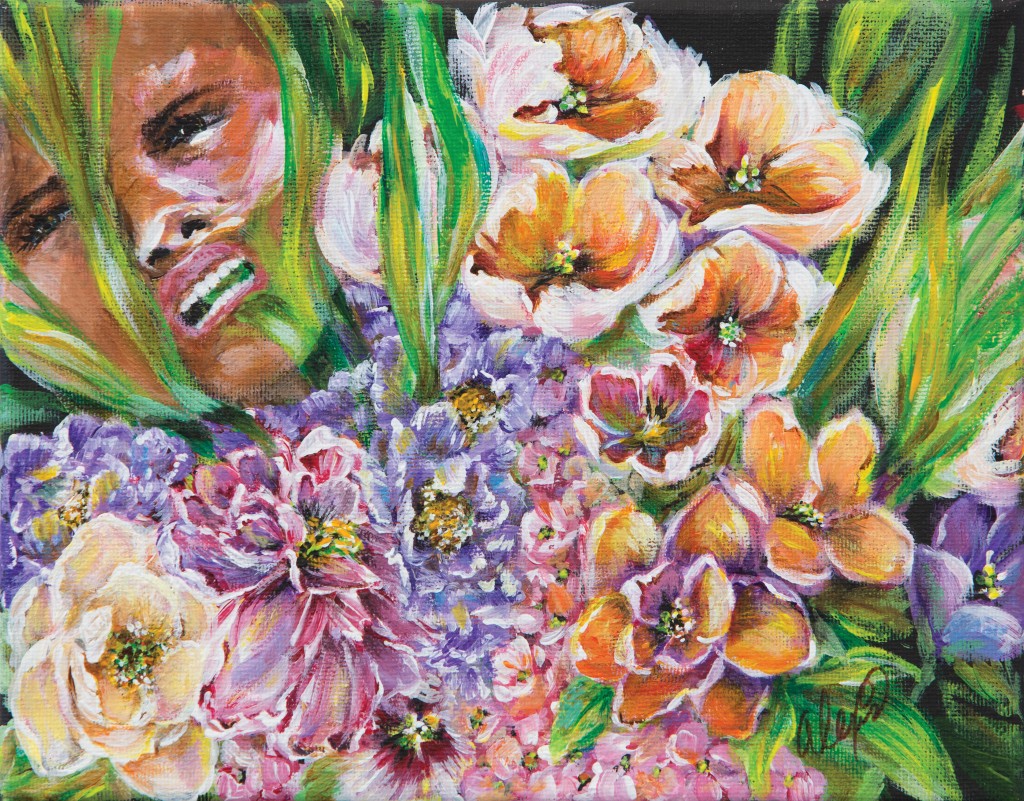 "Art for art's sake" is a popular trope in the art world, but to Lafayette artist Gwendolyn Alexis Richard, art is a place of solace that awakens the imagination to help heal the minds of troubled children and adults.
Born and raised in New Orleans, Richard has had a long career as a fine artist, teacher, art therapist and floral designer. In addition to her art, for the past 15 years she has served as the community development director for the Acadiana Center for the Arts in Lafayette. But most of all, art and the need to help others have been driving forces in her life and work.
"Art has been present in my life for as long as I can remember," says Richard, whose father, husband and children are also artists. "It has been a joy through the best of times and a comforting release through the worst of times. My art sustained me when my mother passed away. My art was then and is to this day my therapy. I wanted to provide others with those opportunities to experience the therapeutic value of creating art."
To that end, Richard knows she has reached those disabled children and adults when she sees "smiles on the faces of those who are non-verbal" or those "who held a paint brush for the very first time."
As to how art helps the disabled, Richard says it's pretty basic ­— everyone has a need to be creative and art stimulates the imagination and encourages creative expression.
"We all see and respond to the world and others in it differently," she says. "We could all greatly benefit from more arts experiences."
Richard's interest in art began when her high school teacher suggested she consider art therapy as a major in college. Then came a scholarship to Xavier University where she studied art therapy, psychology and fine art under the acclaimed artist John Scott. After graduation in 1980, Richard took a job as an art teacher and therapist with mentally and physically disabled adults and later as the outreach director with the Girl Scouts Council in New Orleans. When Hurricane Katrina hit in 2005, the Richards moved to Lafayette.
When not administering the arts grant programs at the Acadiana Center, Richard is deeply involved in her own art, especially her paintings of flowers and the female figure.
"The human body is beautiful," she says. "Each line, scar, dimple, beauty mark and expression is unique to the individual being portrayed. The more wrinkles, the better. To me, this represents a different kind of beauty, earned from the experiences of life. And of course, I am obsessed with painting flowers."
Her expressive ongoing series, "Sisters of Flora," which combines both themes, is inspired by her love of flowers and the pain she has endured since back surgery. A third influence came from a lecture she heard about the "tignon," a colorful head wrap worn by African-American and Creole women in south Louisiana, the Caribbean and in Africa.
"This series in intended," she says, "to be whimsical, surreal, with enough realism to be relatable to the observer, while indulging my obsession with the scent, feel and beauty of fresh flowers and the imaginary woman portrayed. I am mentally and emotionally connecting with strong women, especially my mother, Eloise Clavo Alexis, who have collectively made me strive to be a better person."
That human connection is vital in all of her work.
"I see layers of complexity and beauty in each and every person I meet," she says. "Often, when meeting a person for the first time my mind automatically begins to visually sketch their unique facial features in the air slightly above their heads. To me, this is all magical."
Richard hopes her paintings awake in others some bit of lost memory. But most of all she simply loves to paint.
"I love the feel of the brush in my hand," she says, "the faint smell of the paint, the beautiful array of colors on my palette and watching a blank, white canvas transform by those colors into different stages of artistic expression until completion."
As she says, it's "magical."