Magic Tree House
A Lafayette couple builds for the future on a bayou-front lot steeped in memories of the past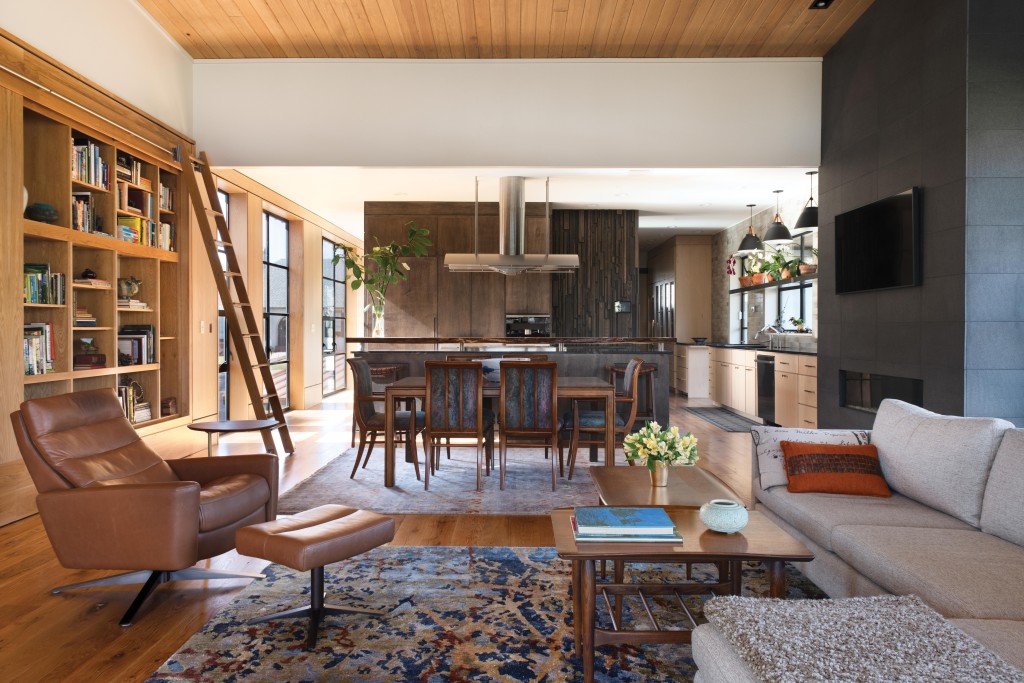 Architect
Chase Marshall Architects, ChaseMarshall.com
Designer
Mary Beyt, instagram.com/MaryBeyt
Cabinets
Cajun Cabinets, CajunCabinets.com
Woodworks
Justin Guillory
It has been a year since moving in, but Bill Finley still opens his kitchen cabinets and closet doors with the joie de vivre of a kid on Christmas morning.
He and his wife, Heather, spent the past decade meticulously planning their forever home, perched on the edge of a natural Vermilion River levee. The couple lived on the property for 20 years before foundation issues prompted them to rebuild, and so their homecoming is especially sentimental.
"We loved this lot from the first time we set eyes on it," says Heather. "It's a downhill slope from our house to the bayou. When we look out at the windows we're on the edge of the canopy."
The Finleys let the natural beauty of the tree-lined watershed take center stage in the home's design — from steel-framed picture windows to a central, sculptural wall, crafted to resemble a tree trunk. Built on pilings, the two-story home features a guest entry and main living space at street level, with a single bedroom suite below.
"It's kind of a striking looking house from the outside," says Bill. "You come inside and it's even better."
The couple worked with Chase Marshall Architects and designer Mary Beyt, who says her goal with the interior was to help the couple bring the outside in. Natural materials and a consistent, soft white color palette for the internal and external walls draws the eye outward to the lush landscape.
"It's all about focal points," says Beyt. "Where's your big ah-ha moment? If you can kind of get those under your belt, it's really easy to make a house that has all these moments, and those moments help you travel through the house."
The Finleys have pockets of passion projects around every corner. Still, Bill says he spends the most time in the upstairs kitchen, complete with a butler's pantry, wine fridge and low-level, built-in appliances. He explains the couple designed the entire space to be ADA compliant.
Heather, a master gardener and member of the Acadiana Native Plant Project, makes good use of the home's ample sunlight. (The sunlight is also a favorite perk of the couple's dog, Oreo.) She says her favorite spot is outside on the balcony overlooking the bayou, which the Finleys swear is so high the mosquitos never bother them.
It may have taken 10 years of planning, but they have clearly thought of everything.