Les Nouvelles Voix d'Acadiana

Jerome Ford
By Markel Guidry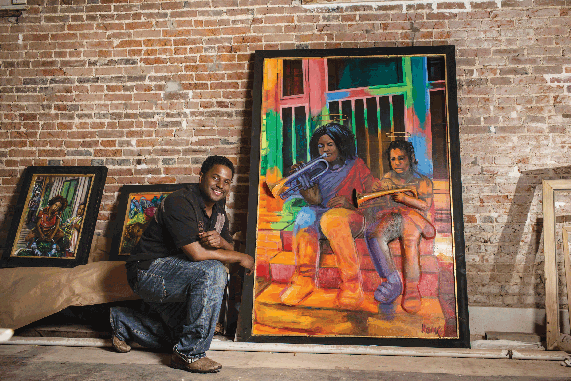 On any given day, Jerome Ford can be found in his small art studio on Main Street in Opelousas, painting away by lamplight while listening to an array of tunes on the radio.
His drafty studio isn't much: just four worn brick walls, an assortment of miscellaneous goods and a door. But the magic of Main Street isn't found in the surroundings of the artist; the magic is in the artist – a warm dark figure, fixed facing the canvas, dampened by sweat and splattered with paint.
"I spend about three hours at a time when I'm here," Ford says as he dips his brush in a spill of blue atop a makeshift table. He is working on a painting called Darker than Blue – The Story Keepers, a piece inspired by a group of Opelousas women who assemble together every Monday to patch quilts and talk freely amongst themselves.
"Jerome is an artist of detail who incorporates his personal experience and rich Orleans heritage into his eclectic craft," said Lavonia Malveaux, an admirer of Ford's work. "His artwork is really explosive; he uses a lot of color."
Ford holds his brush like a master calligrapher, delicately placing every stroke onto the canvas, breathing life into his creation – a work in progress that is as yet nothing more than a mash of fluorescent greens, blues and yellows.
"I minored in printmaking," Ford says, "and in printmaking, you really don't know what the end product is going to look like until you get to it. So that's what I do; I think in layers. The end product isn't put on until the last layer."
Much like his painting, Ford's own life is a blend of intricate layers that play with and complement one another to form an artist who is as unique as his art.
Ford started his art career at Capdau Middle School in New Orleans under the instruction of Richard Thomas, the talented arts program teacher. It had been a longtime dream of Ford's to participate in the program ever since his years in elementary school. His yearning for an education in art, coupled with his artistic lineage (Ford is a scion and sibling of painters), turned Ford into a pupil eager to learn and to listen.
Thomas was keen on professional training at the college level as well as on encouraging his students to go out and teach art, both of which Ford set out to do.
Ford graduated from LSU in 2003 with a bachelor's degree in studio art with a concentration in drawing.
"I asked one of my classmates what he was going to do when he finished, and with the most serious face, he told me, 'Work at Walmart,'" Ford recalls.
Devastated by the realization of what a career in art could entail, Ford says he went home and lamented his choices.
The year after graduation, Ford was working as a longshoreman in New Orleans – brutal work. Every day he had to report to the docks by 5 a.m. just for the chance to obtain employment, work a 12-hour shift and then repeat the process the next day. But Ford never relinquished his dream of becoming an artist – and for good reason.
While working as a longshoreman, a friend of Ford's told him to apply for an art teaching position that wasn't even open. However, Ford was hired because of the hardworking reputation of longshoremen. Soon Ford not only was teaching art but also was back in the studio.
Gradually, his work began achieving acclaim.
"To make it as an artist you have to be social," Ford says. With the selling of pieces to vice presidents of companies such as WWL-TV and Liberty Bank, Ford was becoming a rising star in the art community.
But in August 2005, tragedy struck in the form of Hurricane Katrina, which dealt a punishing blow – not only to New Orleans, Ford's hometown, but to Ford's art career, as well.
"It was devastating because I was an up-and-coming artist," Ford says. "I was meeting people and getting my name out there; it was basically like I was starting over."
After the storm, Ford moved to Opelousas with his wife, Summer, whom he married three months after the catastrophe, and began picking up the pieces (and paintings) that he lost in the cataclysm.
After being commissioned to paint a mural in Opelousas; working on festival posters; and selling a few pieces to dealers and buyers, one of whom is Tina Knowles, the mother of singer Beyoncé­, Ford is edging his way back to the pinnacle, all the while mentoring students in the St. Landry Parish talented visual arts program.
"I try to give the kids the same thing that was given to me: a shot at greatness," Ford says as he applies a hint of crimson to his piece.
Ford doesn't settle for merely teaching his students painting; he introduces them to a variety of media and encourages them to become sociable. As for Ford, his art career, it seems, has clear skies ahead of it, which he attributes to his faith.
"As an artist, there is no formula for success," Ford says, "but you had better have some faith in something. Most artists I know have faith. It'd be a scary experience without faith. That's how I look at life, too. It's the only formula that works. God. Having faith in God."
Tyla Hudspeth
By Linda Allen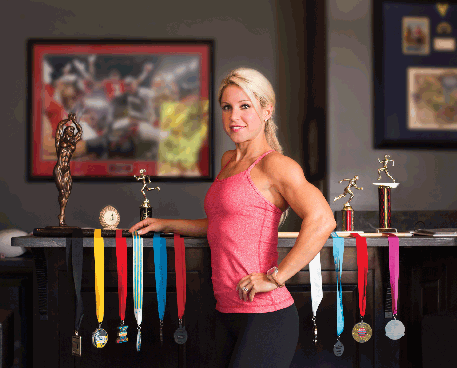 Our biggest fear is not that we are inadequate; our biggest fear is that we are powerful beyond measure," Tyla Hudspeth, wife of ULL's head football coach Mark Hudspeth, optimistically proclaimed with a cheerful and upbeat smile. "This is what I believe."
Tyla Hudspeth's "powerful beyond measure" was displayed as she ran to the rhythm of her heartbeat's cadence and the familiar sound of breath mixed with pounding pavement in early 2012 at the inaugural Louisiana Marathon in Baton Rouge. The Louisiana Marathon presented runners with Louisiana's first multiformat race and drew more than 2,800 runners from 46 states and 12 countries. Participating by running the full 26.2 mile marathon, Hudspeth qualified for the Boston Marathon with a time of 3:38:42, achieving every serious-minded runner's dream. Her time stood 113th overall out of 637 marathon finishers, accomplishing fourth place in her 25-to-29-year-old age group.
"I used to downplay myself to make other people feel good," says the once-upon-a-time small-town girl who grew up in a town with one red light, 25 minutes down the road from Florence, Ala. "You owe it to people to be the best you can be. In high school I actually played certain sports to get out of running. If you played softball, you didn't have to run. We didn't have a track because Lauderdale County High was so small. I hated running. I thought about it all year and dreaded it."
Hudspeth ran her first 5K at the urging of a college girlfriend and placed first within her age group.
"I won by default!" Hudspeth admits. "I didn't know until the results came out in the newspaper [that] there was no second or third place listed as I was the only one in my age group running."
But even though the competition wasn't stiff, running and winning this 35-minute 5K by default is what Hudspeth claims gave her the needed boost of confidence to actually begin running races.
"I thought, 'Man … I like this,'" she recalls effervescently. "I even got a trophy!"
She then began her first attempt at training for a 13.1-mile half-marathon. Hudspeth displays gentle humility as she shares her previous lack of knowledge in the training required for running such long distances.
"Back then we ran 4 miles one day; then we went and ran the entire half-marathon," Hudspeth sheepishly whispers as she notices Jessica Russo, her current Lafayette running trainer and friend, walk briskly into the room to join in the interview.
"She's definitely hilarious," Russo says, teasingly. "Her past training method paralleled the Nike ad – just do it!"
"Well, I didn't think I could stop," Hudspeth counters. "I thought if you said you were going to run a half-marathon, you had to run it – you know, no walking allowed. So I ran it without stopping, at a 12-minute-per-mile pace in two hours and 40 minutes."
The two runners burst out laughing, suggesting that there may be past training mistakes better kept secret.
What one word could be used to describe Hudspeth?
"'Adventurous,'" Russo says with a gleam in her eye that reflects a kindred spirit only this breed of runners can identify.
Russo and Hudspeth met and planned their first run together on a return flight from Memphis to Lafayette. This maiden voyage consisted of a mere 5-mile run, stopping three times for Hudspeth to recuperate.
"Jess had never mentioned how fast she was or how many marathons she had run; real runners don't," Hudspeth says. "She slowed down for me, and it was then that I realized she was legit and I was a wannabe. If I wanted to be friends with her, I knew I needed to keep up."
Russo set out to help Hudspeth train for the Las Vegas Marathon.
"It was love at first flight," coach Mark Hudspeth says, laughing, as he describes his wife and Russo's running friendship.
"Anyone who will drive and meet you outside your front door at 4 a.m. is a friend," Hudspeth says.
Russo is quick to add: "I wasn't running much when we met, just with guys, you know, and they are different. Everything she is saying helped me. As much as it was a blessing for her, it was for me."
The two runners agree that working through the pain of an arduous early morning long run can be a beneficial social time, as well. Rising before the duties of dawn, these women share a great deal more than the athletic physiques achieved by training for marathons.
"I don't enjoy running by myself, and I love getting to know people," Hudspeth says. "Moving often as we do, those long hours running help you know who your real friends are as we talk about our goals and dreams, the good and painful real points of life, rather than just quick chats over coffee."
Waking up and running three hours in the middle of the night would seem to be a sacrifice.
"Not so," Hudspeth says. "I always tell myself that if it's important to you, you will make the time. If it is not, you will make an excuse. I used to make excuses like 'I have to get my child up' or 'I have a doctor's appointment,' but there is nothing to do at 4 in the morning!
"'Wake up today,' I tell myself. Today is the only day I have control of, and I am going to go out and train hard, and that's all I'm going to worry about. Then tomorrow, I'll do it again."
Hudspeth says her strategy is to take training as she takes life: one day at a time.
Although Hudspeth says she never thought it possible that she would run the entire 26.2 miles that a full marathon requires, she now says: "I've learned to quit saying, 'I'll never do this' or 'I'll never do that' because it seems within a year I've checked those things off of my bucket list. After I met Mark, I really began running. He is the kind of person who will make you run through a wall. He will make you think you are going to win the marathon."
The next goal on Hudspeth's bucket list is a figure competition, a class of physique-exhibition events for women emphasizing muscle tone over muscle size. Unlike the beginning of her running days, Hudspeth has been training intensely for this competition with ULL's head strength and conditioning coach Rusty Whitt.
"Twelve weeks before the competition date, you start this crazy diet cutting sodium and eating certain foods at specific times," Hudspeth says. "It's a mental thing like everything else, and I'll mentally have to push away the Lucky Charms cereal.
"Mark is already telling me: 'You're going to win! You're going to win! You're going to be that girl that comes up from behind!'" she says with an enthusiastic smile.
It appears Boston will not be the only "road less traveled" for Hudspeth as she vigorously charts new goals to accomplish on her bucket list.
"What can I say?" she asks in jest as a mischievous grin rises across her face. "The spark has been lit!"
The St. Julien House
By Elizabeth Rose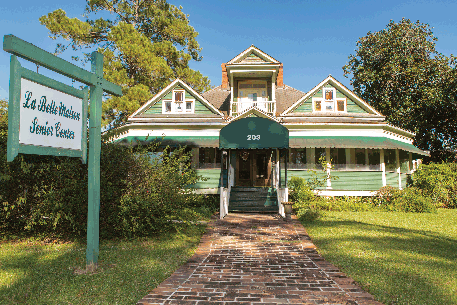 he St. Julien House in Broussard is one of the few establishments on the National Register for Historic Places whose regular patrons are almost as old as the house itself.
Placed on the National Register in 1983 and now known as La Belle Maison Senior Center, the home was built by the widowed Marguerite Roy St. Julien in 1910 to be next door to her daughter, Mrs. Edmond Comeaux. The Comeaux home has since become Nash's Restaurant and is also on the National Register. The St. Julien family merged through marriage with the Billeaud family and became Broussard's elite.
"Well, I used to play here with the little girl [in the Billeaud family] – she was in my class at school, Marian Billeaud," reminisces Agnes Girouard, 90, rounding her vowels in a true Cajun fashion. "They had a large family – don't know how many boys and one girl – a lot of boys. They had lost a baby, too. I remember that. Doodle, Johnny, Jimmy, Raymond, Emile, George. There was a George," she adds with confidence.
As she sits on the enclosed wrap-around porch, chatting with six other women and swapping stories about the house, Girouard, and Louise Garfield, also 90, two of the center's eldest visitors, recall visiting the house when they were girls.
"I knew this house when there was someone living in it," says an enthused Garfield, who settled in Broussard in the 1930s. "It was a very small house, and the Billeauds sold it to this friend of mine, and we did Girl Scouts together. It was wonderful.
"She bought it for $10,000, and then the restaurant came over to make it, and then they gave her $110,000 for it!" she says, laughing. "So everybody got sick about that."

The smell of coffee wafts from their petite foam cups. Vintage photographs of Parkerson Avenue circa 1914 hang above the percolator.
"When they [the Billeauds] had their family reunion over here, they brought an old projector in black and white and showed me pictures of the home," says Bit Owens, 74, who has worked at the center for 18 years as site manager and the sole full-time employee. "It was gorgeous. I guess they sold it when the kids grew up. It wasn't for lack of money; that's for sure."
Owens arrives at La Belle Maison, located at 203 E. Second St., every morning and compiles 32 Meals on Wheels for delivery to homebound senior citizens. The home hosts about 30 people 60 and older for lunch Monday through Thursday after a morning of exercising and playing bingo or pokeno.
"On Fridays, we call it our dead day," Owens says. "This is when all the seniors go get their hair fixed to make their weekend look nice."
"O-21!" echoes through the closed-in back porch, which has windows spanning three walls. Women perched at tables covered with bingo boards do not break for lunch until someone yells "Bingo!" Today, lunch is smoked sausage and gravy, delivered by Bateman Food & Nutrition, which caters for both in-house and Meals on Wheels lunches.
As the lunch bell chimes through the house, the hoary crowd shuffles over to the kitchen bar, appetites at the ready, across original oak floors slick from years of traffic that meet the oak paneling on all walls. The bottom floor boasts 5,000 square feet of former bedrooms converted into social spaces, one with an oak bar with inlaid taupe tile. White lace curtains veil the windows while the hand-carved fireplaces sit unused.
The front porch's windows, a substitute for the fresh air that once billowed through, are shielded from the sun by forest-green awnings blackened by weather.
The paneled walls in the former living room, now the entryway, were recently painted an off-white color deemed "candlelight" and are complemented by chocolate-brown door frames reaching up to the 12-foot ceilings. The door to each of the four former bedrooms boasts its own stained-glass window above it, a yellow rose on each. In the double-wide door frame separating the closed-in porch from the entryway, two stained-glass roses intertwine stems as light beams through to illuminate the dark flooring.
Each former bedroom has a forest-green carpet with cream diamonds, matching the awnings and sidings outside. From the front, the house is symmetrical – the roof peaks to two dormers filled with stained glass that frame the balcony. Directly below is the staircase, where white shoe prints from the recent paint job wander across the steps.
The majority of changes to the home occurred when it was converted into the Broussard Steak House in 1977, something else Girouard remembers.
"We came, our class," she says. "We had our class reunion – we came twice over here. Every year we would get together at the restaurant."
Girouard returned more frequently, often with her sister, once the home was donated to the Lafayette Council on Aging in 1986 and became La Belle Maison.
"I'd come, and we'd do some ceramics," she recalls. "My oldest sister would come and eat, but we wouldn't eat – we would leave. But then we started coming to exercise here, and I didn't eat either because I didn't want to stay here all morning, you know? But now I exercise at home and I come here."
To afford to keep the house running, La Belle Maison's regulars hold an annual quilt fundraiser as well as rent the home out for meetings, showers and weddings on evenings and weekends.
"It's just amazing – I was just thinking about it the other day," Garfield says. "I was just thinking about how I've been here so long. I can't believe that I'm 80 years old – 90 years old! That's nutty, isn't it?"
Stelly's Supermarket
By Markel Guidry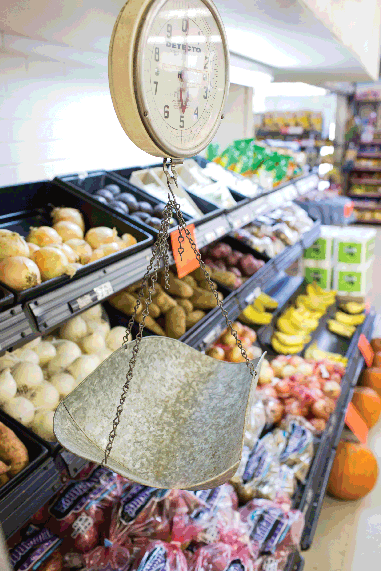 Stelly's Supermarket is more than just a grocery store and restaurant; it's a cache of historical keepsakes and an ex-officio community civic center.
"There's some interesting stuff in every community that you can find out," says James Mayberry, local butcher and employee of Stelly's Supermarket, and for the tiny St. Landry Parish town of Lebeau, Stelly's is about the only place to experience it.
Step inside Stelly's restaurant, and become entranced by the wafting aromas exiting the kitchen similar to those of Granny's own kitchen: warm coffee and fried foods. Customers or curious visitors might take a seat at the dark-green bar near the pie case or in the dining area. However, it doesn't matter where they sit because wherever they choose, they will be greeted with quintessential Southern hospitality and be surrounded by at least two dozen historical artifacts.
The very walls of the place house a visual record of its history: sketches of Stelly's in the 1920s; black-and-white photos of Stelly's in the '50s, selling two types of gasoline: Texaco and Shell; and even a grainy gray photograph of Stelly's under water in 1927.
There are more than the 2-dimensional snapshots of yesteryear. Look around, and find an old-time slot machine housed in a glass case near the door; a wooden telephone booth with sliding doors that moan when slid; a candy cane barber's pole fixed to the wall; and a plethora of stuffed critters or their heads, ranging from deer to alligator, donated to the store by local hunters.
Established in 1920, the petite grocery-restaurant combo is still somewhat of a haven on the barren strip of Highway 71 between Krotz Springs and Bunkie. In fact, because of the construction of Highway 71 in 1926, Stelly's became the highlight of the pint-size town, catering to such luminaries as Gov. Huey P. Long; Cat Doucet, sheriff of St. Landry Parish; country music stars Conway Twitty and Mel Tillis; and a variety of locals, soldiers and travelers.
A bus route used to stop at Stelly's up until 1985, bringing people from all across America to the humble store.
"Just about anybody in the state that has come here and knows where Lebeau is [it is] because of the business," boasts Joel Stelly, third-generation owner of the grocery half of the store and the grandson of now-deceased Bernard Stelly, the original owner.
Stelly's has passed through the hands of three generations: Bernard Stelly and her husband in 1920; Eli Stelly, Eddie Stelly and Russell Huguet, their two sons and son-in-law, up until 1974; and now Eddie Ray Stelly, Joel Stelly and Mike Pilgreen, the grandsons.
Not much has changed with the changing of hands, just the moving of the old building behind the existing one in 1950 and the expansion of the store in 1960, but what has changed is the volume of people.
"It's not like it used to be since the highway [Interstate 49] came in," reads a feature article pinned to the wall next to the bar about Ledee Marks – then 67 years old, now 88 and still busing tables after 62 years. "We ain't busy anymore."
In its heyday, Stelly's was bustling with soldiers during World War II who used to bunk for free in sleeping quarters in a now-nonexistent upstairs. People from a variety of backgrounds and dispositions were attracted to the slot machines, devices that made the Stelly family a small fortune, and locals would come for palate-pleasing plates and cozy camaraderie, something they still do today.
However, the roughly 150 locals depend on Stelly's for more than just meeting and eating.
Mild-mannered, gold-hearted Joel does more than run the grocery side of the store – the only one for miles around. He operates a miniature money institution, cashing checks for the local community from anywhere as far as Palmetto, Lemoine, Morrow, Bunkie and even Opelousas. Stelly's has also employed a sizeable number of the local population at one time or another.
"I bet they have had 1,000 employees," estimates Denise Darbonne, Joel's sister. "I'm not kiddin'; I ain't lying."
In a sense, Stelly's has become a type of community stronghold that the people of Lebeau have come to depend on to provide a number of their needs.
"If we weren't here, I tell you, I wouldn't know what Lebeau would be," Joel says. "One slogan [we had] for years: 'Stelly's – where everyone meets.' I just don't know what Lebeau would become if we weren't here. Everyone just depends on meeting here [and] eating here."
Joel isn't the only one who believes Lebeau wouldn't be much more than a speck on the map without the store.
Dale Jensonne, a local customer of Stelly's, admits: "It wouldn't be nothing here. It would just be a crossroad."