Last Strokes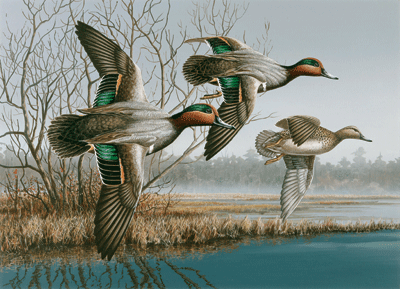 In the hush of his Moss Bluff studio, a room filled with framed photos, filing cabinets, sketches and scores of artist's tools, Elton Louviere selects a thin paintbrush, known as an outliner, and dips its tip in a tiny splotch of white acrylic paint. On his easel stands a new painting, a live oak on tempered Masonite, and its long muscular limbs need a little sun-kissed highlighting to accentuate their shape.
But Louviere knows white alone won't do, not for sunlight. To get the effect his eye seeks, he applies a few dabs of yellow paint to the tip of his brush and swirls the bristles gently along a sheet of palette paper, blending the two colors. Within seconds a creamy yellow tone emerges from his paintbrush, a color reminiscent of afternoon sunlight.
"I've always prided myself in getting the right color," Louviere says. "I've always been able to mix any color in order to get the subject right."
With his right forearm braced against a mahlstick, Louviere makes his first stroke against a limb to highlight it. His stroke is a little shaky, uneven. No matter. Like a jazz musician who plays scales to limber up his fingers, Louviere knows the first stroke is merely a trial run. Unfazed, the master artist pauses for a second, studies the limb he's looking to highlight and carefully paints another stroke over his first one. This time the line begins to run smoothly along the limb. After several more strokes, the effect is complete: Sunlight has broken through.
It's early June, and Louviere's live oak is a day old. But even in its embryonic stage, with its blended earth tones of greens, browns and grays, the painting is beginning to the show intricate details of texture, shape and tone.
Within four to six weeks, the live oak will be in full bloom, illustrating Louviere's self-described style as a contemporary realist, which has made him one of Louisiana's most enduring and successful artists, a storied career that will end this year. The artist is retiring.
On Dec. 31, Louviere and his wife and business manager, Pat, will close Louviere Fine Arts on Highway 171 in Moss Bluff after 35 years in business, a career that produced three art books, numerous state and national art awards and worldwide recognition for the former commercial illustrator.
"It's gotten to the point where I've done everything I ever wanted to do in life," says Louviere, who will turn 81 on Sept. 3. "Earlier this year I walked in my studio and told my wife I wanted to retire. She said, 'When?' I said, 'Right now.' But she said we couldn't do that because there's a lot of people out there who are going to be upset if [I] just up and retire right now."
Louviere has been a leading figure in Louisiana's art scene for more than 30 years, and his paintings of Louisiana's landscapes and wildlife have been renowned for their true-to-life colors, spot-on composition and flawless lighting. As is the case with many artists, his landscape paintings often begin their lives as photographs, templates from which he builds his own impression of what he saw behind the lens, an image his mind and paintbrush will eventually translate into art. The results, however, are anything but impressionistic. Even to an amateur's eye, Louviere's work is strikingly realistic. His painting Turner's Grocery is a good example. The painting is an existing-light scene of a general store in Dry Creek; its focal point is an outdoor lamp that casts a warm pool of light onto the building's wooden façade. The image once struck the eye of a prospective customer who asked Louviere playfully where he was hiding the light source in the back of the canvas, as if the painting came equipped with its own rear light bulb.
Louviere's waterfowls, the paintings for which he is most celebrated, are no different. Whether it's Pintail Heaven, Widgeons II, Red-Breasted Mergansers or Gray Ducks and Whipgrass, Louviere's waterfowl paintings best illustrate his commitment to accuracy in the color and anatomy of his wildlife subjects, right down to the 10 primary and 12 secondary feathers on a mallard's wing. (Louviere will gladly count them for you.) His waterfowl paintings are so true to life that he won Louisiana's Duck Stamp competition in 1990 for his entry Willow Island Greenwings, an accomplishment he equates to a Pulitzer Prize in painting.
Louviere's art has been sold to patrons ranging from ordinary citizens who seek a $150 signed print to eccentric millionaires who have paid thousands of dollars for an original painting. Many of his originals have been sold nationally and internationally to people who simply love Louisiana culture and crave Louisiana art. Phoenix resident Barry Blank, a daytime stock broker, nighttime police officer and lover of all things connected with Louisiana, flew to Lake Charles in 1992 for the sole purpose of buying four Louviere originals, a $16,000 investment. Since then, Blank has purchased 11 more of them. Pat Louviere estimates that more than 90 percent of her husband's original paintings, approximately 600, have been sold to private collectors around the world.
Louviere is the eldest son of French-speaking sugar cane farmers from Franklin, La. His artistic talents emerged in grade school, when he discovered he could draw better than any of his classmates – or anyone else, for that matter. He describes his parents, George and Aline, as practical people who liked art but were not artsy. They did, however, have a subscription to the Saturday Evening Post, which introduced Louviere to Norman Rockwell's paintings, sparking his interest in the early-20th-century artistic movement known as realism.
"Rockwell was the greatest," Louviere says. "I couldn't wait until my parents were through reading the Post so I could tear off the cover and study his work. His paintings were real and lifelike; you could understand them."
Studying Rockwell's paintings, Louviere learned the importance of detail, texture and expression in a subject; how to compose a scene properly; and how to develop light and shadow. Rockwell's Post covers also taught Louviere that art didn't have to be esoteric or highhanded to be respected. A painting could be artistic and democratic – and, yes, it could sell, too.
After graduating from Hanson Memorial High School in Franklin, Louviere saw an advertisement from Arts Instruction Inc. and took its well-known "Draw Me!" talent test in the hopes of receiving a scholarship. A month later, an enrollment specialist from the school arrived on the front steps of the Louviere home. He informed the young prospect that he did not win the scholarship but did have artistic talent and encouraged Louviere to sign up for their correspondence lessons, which he could finish at home in three years. All he needed was the $25 enrollment fee. But his mother would not be persuaded. Sensing her son was about to be taken by a con artist from a faraway place, she refused to give him the money, telling him the man from the art school "was just blowing smoke."
"My parents were great people," Louviere says. "But I think they went to New Orleans too many times and looked up and down Broad Street and saw all these guys with holes in their blue jeans and no shoes on their feet and they hadn't taken a bath in a month. They thought that's what an artist was. They thought that was how an artist lived. I told them I wasn't going to be like that. I was going to be an illustrator."
Undaunted by his mother's refusal, Louviere walked a couple of houses down to the home of his paternal grandfather, Leonard, and asked him for the $25, the equivalent of about $235 today. Without asking any questions, his grandfather gave him the money. Once enrolled, Louviere financed his art lessons by landing a job as an oiler on a barge for Walter P. Villere, a dredging company in New Orleans. After Louviere received his diploma in 1953, the fledgling young artist repaid his grandfather.
Louviere's art career did not begin on canvas or Masonite. It began on steel and spent 18 years traveling on asphalt. By the time he was 32, Louviere was married, a father to six children and had spent nine years as a full-time billboard advertising illustrator, first for Dolby Advertising of Lake Charles and then for The Walker Co. and Townsend Sign Co., both of Detroit. He painted ads for A.C. Spark Plugs, Chrysler and Ford Motor Co. on steel façades that were often as large as 20-feet-by-40-feet. Though the artwork in each advertisement had already been established, Louviere was required to paint them on the billboards to each client's exact design and tonal specifications, tasks that made him an expert on blending color and calculating scale.
After completing a year of art classes at the Center for Creative Studies in Detroit, Louviere was lured back to Louisiana and Dolby Advertising when the agency offered him a job as an illustrator, matching his Detroit salary. A year later, however, Lamar Advertising bought Dolby and moved its Louisiana operations to Baton Rouge. Lamar offered Louviere a job as a designer, but he declined, reluctant to move his family for the third time in three-and- a-half years. Instead, Louviere decided to take his first steps as an entrepreneur and subcontract his work.
Throughout the mid-1960s, Louviere illustrated billboard advertisements from Lake Charles to Lafayette for Lamar and several other Louisiana-based agencies. The money was good and steady, the work, enjoyable. But like the mallards Louviere would later bring to life on his canvas, the fine artist in his soul yearned to spread its wings.
In 1968, the Louvieres purchased a home on the corner of Hodges and East streets in Lake Charles and launched an outdoor sign business, Louviere Sign Co. Two years later, they expanded their business, purchasing a lot across from Hodges Street where they built a building in which they began silk-screening signs for local businesses and political campaigns. At their height, the Louvieres employed seven full-time artists who painted each sign's background and lettering. Louviere, who continued his billboard illustration work during the day, painted each sign's pictorials at night.
Six years later, during a one-month tour of the Far East in late 1975, a brief time in which Pat Louviere recalls having no kids or business concerns to worry about, the Louvieres made the risky decision to sell their sign business and leap into the unpredictable world of fine art. Elton Louviere was 45 years old; most of his children were grown and on their own. The time had finally arrived for Louviere to prove to the world that his art had been worth the wait.
"We had already decided that the first opportunity we had, we would go into the art business," Pat Louviere says.
"So we said let's just do it. This is what we've been aiming for all along. If it didn't work out, we could always go back to what we were doing. But selling Elton's work was the aim from the beginning. We just had a roundabout way of getting there."
Pat Louviere describes herself and her husband as "incurable fixer-uppers." They have repaired and remodeled several homes throughout their 60-year marriage and have the strength and will to work on one more. Recently, they purchased a three-story brick home in Gillis that sits on 15 acres and has a 1,200-square-foot workshop, one-third of which will be partitioned off to make room for Elton Louviere's new studio. There, the man whose paintbrush captured Louisiana's beauty and spirit for more than three decades will spend his retirement, painting for his family and for personal fulfillment. He will continue to cook his two-hen gumbo in an outdoor kitchen he plans to build. He will also keep taking his 1-mile walk every morning prior to attending Mass at St. Theodore's church in Moss Bluff, a ritual he has upheld consistently for the past eight years.
"I've never heard of an artist retiring," Louviere says. "I'm the first one. It used to be that if an artist retired it was because he couldn't hold a brush in his hand. An artist never really retires; they just paint away."