La maison: So Fresh, So Clean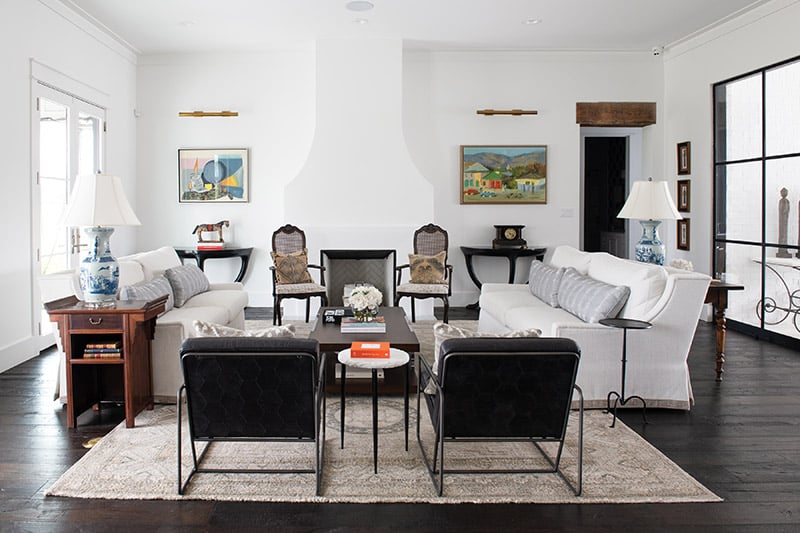 When embarking upon the interior design process for this waterfront home, Lance Thomas, of Thomas Guy Interiors, knew he had to strike the right chord.
On one hand, the homeowner Dr. Richard Roe, a Lake Charles physician, had a specific vision for the space. The architectural plan for the four-bedroom house was personal from the start — a collaboration between his cousin and one of his lifelong friends. He imagined fresh interiors, full of Alys Beach vibes; a space where he could retreat after a long day at work.
On the other hand, as Roe's first large-scale building project, it was not designed as his forever home.
Luckily, Thomas had more than a few tricks up his sleeve to inject Roe's vision into the space, while still achieving a universally pleasing design. Thomas says the home's mostly white walls, bathed in Distant Gray by Benjamin Moore, check multiple boxes. They gave Roe his desired upscale coastal feel, while remaining a neutral palette for any future homeowner. Still, the last thing he wanted was for the space to feel sterile.
"An all-white space can fall really flat, so that was one of the challenges — to get white right," says Thomas.
Thomas specializes in creating collected spaces, cohesively marrying local antiques with contemporary art and furnishings. He brought that approach to Roe's project, layering bold textiles and custom pieces, with the homeowner's collection of family antiques. The result? A space that feels fresh, yet personal.
"You have to pick certain points where you want to make a personal statement and go stronger in those areas," says Thomas. "You gotta pick your place and punch there."
Thomas points to the home's richly hued home office with wood tones and masculine accents, as an example. He says art is also one of his favorite ways to keep an aesthetic from falling flat. He punctuated this project with a combination of the homeowner's own collection, featuring pop artist Ashley Longshore, and new pieces acquired through vendors, such as Wendover and Soicher Marin.
Thomas says the minute a room starts to feel one-dimensional, he pushes his clients to take a risk with a bold accent — as long as it's something they absolutely love.
"When a space starts to feel safe," says Thomas, "you need to weave and do something off in left field to create tensions."
Spearheaded by Lance Thomas (pictured) and Drew Hoffpauir, Thomas Guy Interiors is a full-service interior design firm and home store featuring an evocative, curated style-where traditional meets current and eclectic.
A vibrant, antique rug adds a burst of color and warmth to the home's white-on-white kitchen, while drawing the eye to the dramatic European Oak floors. Thomas says a neutral kitchen is always a crowd pleaser when it comes to resale, but you can add personality with bold textiles and accents.
Taking a detour from the home's otherwise white walls, Roe's office is painted a dramatic Gentleman's Gray by Benjamin Moore. The masculine blackish-blue, complemented by a curated collection of family heirlooms, packs a hefty design punch.
Dr. Richard Roe, a Lake Charles physician, designed the architectural plan for his waterfront home with the help of his cousin and lifelong friend.
---
Interior Design: Thomas Guy Interiors, ThomasGuyInteriors.com
Architectural Design: Adison Cormier, Addison Cormier Designs, LLC, with Caroline Guinn